Star Fox Review Rewind
RECOMMENDATION:

It might not play as smoothly as Star Fox 64, but this SNES classic isn't something that should be ignored. As long as you don't suffer from seizures…

If you have been playing Nintendo games and/or the Wii and DS, you may have seen the little seizure warning message that popped up before you started the game or after you started the system. You may ask yourself, "What was the point of those messages?" to which I answer you, "To cover their ass ends." Yes, to you gamers who may be prone to seizures because of flashing screens and colors, this is to warn you about the dangers you may put yourself into. Why? Because you are too lazy to read the instruction manual, but then again who reads those?
Oh right, I forgot, this is a review. Star Fox. Originally released in 1993, Nintendo and Argonaut Software developed the famous Super FX and proudly plastered it on the Star Fox SNES box art, because back in the '90s people like my six year old self were easily manipulated into thinking things like that were cool. And you know what? It was cool. Seeing early 3-D polygon graphics on a 16-bit console like the SNES was amazing. It also helped that the game was amazing. While Star Fox 64 is widely regarded as the better Star Fox game, it doesn't mean that this SNES classic should be ignored.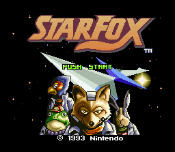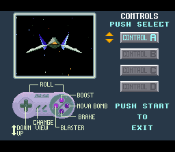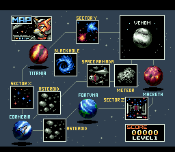 Visuals and Audio
By all accounts, Star Fox (along with 1991's Japan-only Game Boy game, 'X') was a very early glimpse at what Nintendo would do with polygons. Many of the landscape objects you see are basic shapes, including all the enemies and Arwings. The planet and space backgrounds help diversify the game's environments. Star Fox runs at a slow 20 frames per second, and oddly enough the game playing screen doesn't cover the whole TV. This does not detract from the game experience.
Except for the graphical effects. These have something to do with my little talk about seizure warnings. You see, most bosses you fight at the end of each stage blow up and the screen flashes. Strobe-like effects that were in any 8-bit and 16-bit games released on the Virtual Console would have to be programmed out by Nintendo themselves. A good example would be the VC version of Super Mario Bros. 3, if you need proof; defeat Boom-Boom and the flashing effect is now a completely solid color. Hence why we haven't seen Star Fox on the VC yet.
While the graphics are hit and miss, the sound is absolutely fantastic. Composed by Hajime Hirasawa before he left Nintendo, Star Fox is easily the best sounding game on the SNES aside from Squaresoft's own SNES entries. The faux 16-bit orchestra does an amazing job of setting the mood for each stage, with the biggest standouts being Space Armada and Meteor. Sound effects aren't high-end like the music is, but they are easily identifiable, with my favorite being the boss explosions.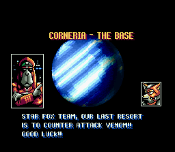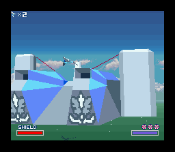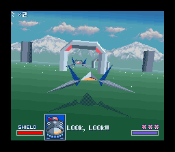 Game Play
Star Fox is basically an on-rails Space Harrier with far more depth. Unlike Space Harrier, Star Fox sets itself apart from other 3-D shooters of the day by giving you more control over your ship, called an Arwing. Star Fox offers four different control schemes; Type A and B are traditional flying controls (inverted y-axis) while Type C and D keep the y-axis real. The Arwing's main actions are shoot/brake/bomb/boost, which Type A maps to the Y/B/A/X buttons. Flying and barrel-rolling aren't as smooth as in the 64 version, but it does not detract from the experience.
Star Fox's main goal is to reach the planet Venom on any of the game's three difficulty routes and defeat Andross. Unlike Star Fox 64, Star Fox's routes are fixed (unless you use a hidden easter egg level). Once you defeat the level boss, it's on to the next level. The level design and boss battles are superb. Each level has different gimmicks and obstacles you have to work around in order to keep your shield intact. Braking and boosting are optional, but some hazards require you to either speed up or slow down depending on the situation you are in. Don't expect a lot of help from your teammates, however. 90% of the time they are absolutely useless and get in the way of your line of fire. You biggest asset in the games are the smart bombs and laser upgrades; bombs can damage bosses slightly and is useful in over-crowding. Twin Laser and Plasma Lasers are vital to your success in the game since single lasers are not that strong.
Obviously, the biggest stars in this game are the boss battles. Ranging from very easy (Titania's super computer) to hair-pulling hard (Great Commander), no two bosses are the same. While most of them do have a flashing weak point or two, some require a level of strategy and thinking in order to best them.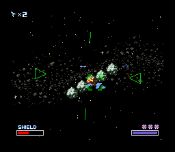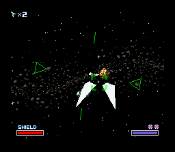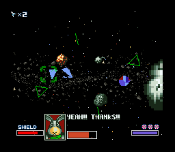 FINAL THOUGHTS
Star Fox is easily one of the best classics on the SNES. While it is a crying shame it is not on the VC yet (for obvious reasons), anybody with a working SNES who has never experienced this game needs to try it out. You will not be disappointed.