Portal 2: Peer Review Review
RECOMMENDATION:

Recommended for Everyone.

I'm almost unsure as to why I'm even bothering to review this particular downloadable expansion to Portal 2. For one, it's totally free, and two, it's more Portal 2. How could anyone complain about that? After playing through the entirely new set of test chambers, I know I can't. Fact of the matter is Peer Review is more of a good thing.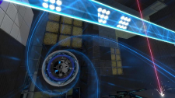 The expansion, for those not in the know, is primarily focused on adding more to the co-operative experience. Rather than just toss a few test chambers at players, Valve has gone through the effort of incorporating them into both the co-op hub and extending the story line and GLaDOS' dialog. While trivial, this helps make the DLC feel like something special that improves and expands the core experience in a meaningful way.
It certainly helps that the new test chambers are extremely well made. Each room poses a different challenge and even after going through the entire game, these tests still manage to adequately stump players while they experiment with the full range of tools featured in the game. Gels, hardlight bridges, thermal discouragement, excursion funnels, and aerial faith plates all make an appearance, and in most cases must be used in conjunction with one another to complete the multifaceted puzzles.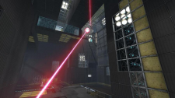 Like the co-op adventure, the new collection of tests incorporate chambers and a "real world" puzzle that pulls you out of the traditional confines. As was the norm in the main game, this puzzle is extremely inventive and fun, allowing players to take advantage of the white gel that holds portals – a personal favorite.
After completing this redeeming set of puzzles, players will be treated to a fun little video that showcases why GLaDOS needed their help. It's the perfect conclusion to this two-plus hour expansion.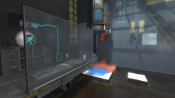 Outside of the new test chambers, Peer Review brings leaderboards to both the co-op and mainline quests. Their implementation leaves something to be desired. They will keep track of how many portals are used and how quickly a chamber is completed, which is great, but the game makes no effort to adequately put your scores in context. Sure, you'll see a graph that roughly charts where you sit amongst all of the others who participated, but it's not specific enough to encourage you to keep coming back to perfect your time and portal usage.
Not to mention the bugs. In a couple instances, we got stuck after a level ended in an infinite loop. It wouldn't progress or even reset to the menu, forcing a restart of the game during a "Now Saving, please don't turn off your console" message. Thankfully no data was lost in the process, but it was an unfortunate bug that directly resulted from the end checkpoint not realizing that I had already crossed the finish line.
Since Peer Review is a free expansion, it's obviously recommended. If you don't have a friend to play with, it'll likely hold little interest to you, but for those who do have a friend, either locally or online, the set of new test chambers makes the download well worth your time and effort.