Nano Assault Review
RECOMMENDATION:

Fans of old school shooters looking for a fresh take on the genre will eat this one up and any 3DS owner who is looking for a good reason to keep that 3D slider all the way up should look no further.

Does anybody remember Body Wars at EPCOT? It was one of those simulator rides that had the passengers shrunk down in order to enter a human body and carry out some kind of mission. I honestly can't remember what that mission was or even if it was successful, but I do remember how amazed I was as a young child, flying through a complete stranger's cardiovascular system, red and white blood cells zooming by my head. It was an awe inspiring experience that has stayed with me, perhaps through the nostalgic lenses of rose colored glasses, and it's a memory tapped by Nano Assault on the 3DS.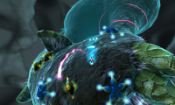 Just as in Body Wars you're charged with piloting a ship that can only be seen through the power of an electron microscope, but instead of delving through the familiar locales of the body, you'll be tasked with purifying the body on a cellular level. Nano Assault doesn't mess around too much with the whos, the whats, the wheres and the whys. There's no time for the formalities of plot when there are infected cells in need of cleansing. Even if the game was clearer with your motives you likely still wouldn't pay that aspect of that game too much attention, because the game's strengths lie elsewhere.
Nano Assault is arguably the first third party 3DS title that actually plays and feels better with the 3D on than off. Taking place on a cellular level, the game has an interesting aesthetic that makes it seem like you're guiding your ship under the gaze of a powerful electron microscope. At times I wondered if the developers scanned in actual cellular images to create the stages and background settings – they really do look that good.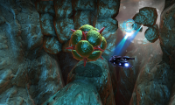 The objective in Nano Assault is to purify different cells of harmful, alien organisms. Levels take literally take place on a single cell and each cell requires a different approach to exactly how you will be controlling your nanite ship. There are the unrestrictive ground missions where you fly all around the spherical cells much as you would in Super Mario Galaxy and there are flight missions that take the on-rails approach to the arcade shooter where you'll blast at enemies as they fly and fire at you on your fixed path.
A majority of the missions are ground based wherein the object is to destroy every enemy organism that has infected the cell and thus purify it. These levels are fun, but don't really challenge the player like the rail shooter and boss levels which makes them feel more like filler used to artificially pad the length of the game.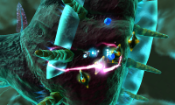 Your ship has two firing modes: main and alternate. The main firing mode consists of a three-wide stream of glowing bullets that can be fired either forwards (X button), backwards (B button), to your left (Y button) and to your right (A button). The alternate fire is controlled with the right shoulder button and is limited by your alternate fire fuel – each different alternate fire consumes a different amount of fuel to different results.
This setup hampers variety as there is only a single main fire mode and even though there are a total of four different alternate fire modes available, only one can be equipped at the beginning of a mission. The ability to switch alternate fire modes or the addition of a few more main fire modes would have made for a more complete experience.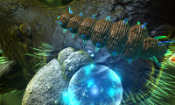 Standard enemy types don't really scream originality, but the bosses that litter the game are well designed and stand out much more. The only complaint that I have is that the various projectiles shot by enemies will at times blend in with the background and other character models, resulting in more than a few frustrating deaths.
Missions are quick, lasting only a few minutes each, which makes Nano Assault ideal for bite sized play sessions during commutes, time spent in line and in waiting rooms. And there are more than enough levels to keep you busy for quite some time.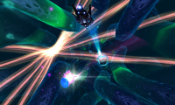 In addition to the main story mode, the game also has an Arcade and Boss Rush mode. Arcade mode is a standard "go for the high score" mode and will pit your numbers against friends online. Boss Rush mode is self-explanatory. Both modes award the player with Play Coins which are used at the Nano Shop to purchase songs that can be played on the game's juke box and entries in the Nanopedia – an encyclopedia of the game's baddies.
Besides the well implemented 3D effects, Nano Assault doesn't take advantage of any of the 3DS' unique features. All of the action takes place in the top screen with the bottom touch panel being relegated to a practically useless HUD that doesn't even allow for touch inputs on the few selection screens presented on it. Better use of the hardware would have made a good game even better.
Nano Assault is priced as a budget title but it offers more than some full priced games. This combination of old school play mechanics with a newer graphical presentation and some fantastic 3D is certainly worth the price of admission and may serve as the first third party title to really "get" what can make games on the 3DS stand out.