UNO Review Rewind
RECOMMENDATION:

It's a great game for family and those who don't normally play video games. Everyone will find great enjoyment in the title's simple gameplay and watercooler like appeal.

At the launch of the Xbox 360, the new Xbox Live Arcade service was introduced but there wasn't a lot to be excited about. Oh sure, ports of Smash TV, Bejeweled 2, and Geometry Wars: Retro Evolved is fine but there was nothing of real substance in the XBLA launch lineup. Fast forward to May of 2006 and a digital version of the card game UNO is released. In less than a year's time, it becomes the first XBLA title to surpass one million downloads. How is it that a title like this has become so successful? UNO succeeds because of the simplicity of the rules and the simple controls.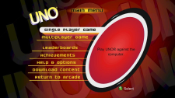 For those who don't know, UNO rules are as follows: every player is dealt seven cards and the goal is to lose all your cards. You do so by putting down one card per turn that matches either the color or the number of the card currently in play. If you don't have a matching card, you have to draw from the pile of remaining cards. Skip cards make the next player lose a turn, Reverse cards reverse the turn order, Draw cards make players take a certain amount of cards from the pile, and Wild cards allow players to change the color currently in play.
Despite its simplicity or rather because of it, it's real easy to just jump into a quick game of UNO without even thinking about it. It's engaging but not engrossing so you can enjoy a game of UNO and then automatically do something else without having to psych yourself out of the mindset you were in. Been playing another title for four hours and need a break? Load this up. Want something to do while you chat with your friend on Xbox Live? Play some rounds of UNO with them. Want to cool down while you prepare another game? Play a few games of this.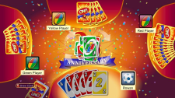 Having said that, by no means is this a title you'll keep putting hours and hours into on its own. You will over time. Achievements will be gained rather easily because they're mostly just a matter of time. However, UNO is not a deep game and will not keep you entertained on its own. It really is the perfect cool down title but not much more.
Apart from the standard UNO rules, Partner UNO is also available. This mode teams you up with another computer player and play against a two player computer controlled team. It's probably not the mode you'll play most often but it's a nice variation to the original game. In House Rules UNO, the rules can also be customized if you don't want to play a score based game or if you want to change other rules from the standard UNO mode, Partner UNO mode, or a third choice called Elimination UNO, in which players are eliminated when they don't have any more playable cards.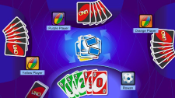 Online play is stable and works well, not that this is a resource heavy title. You can choose from player and ranked matches depending on if you want to play casually or for rank on the leaderboards. The title also features Xbox Live Camera support so you can see who you play against. Multiplayer as mentioned above is a lot of fun but it's online only. No local multiplayer here. It's understandable as there's nothing really preventing those who are in the same room as you from looking at your cards but it would've been nice for some option to be available.
It helps that the presentation is great. Everything is clean and inviting and it all looks great in HD. Everything is easy to see and still manages to be colorful. Sound on the other hand is pretty stock and can become pretty monotonous and boring. I recommend plugging in an iPod or inserting a CD and listening to that using the Xbox 360's music player while playing and turning the sound down in the options. Controls are simple too as you'll never have to use more than three button options at once: one to select cards, one to call UNO, and one to challenge draw fours.
It's easier to play a quick game of UNO than the actual card game, making this very appealing. It does have its flaws, such as the boring music and the lack of local multiplayer but everyone will find great enjoyment in the simple gameplay and watercooler like appeal. It's a great game for family and those who don't normally play video games and it's still a lot of fun for those who do play video games often. Although there are better titles than this on the Xbox Live Arcade, it's still one of the best casual games available for the service all these years later.