Carmen Sandiego Adventures in Math: The Big Ben Burglary Review
RECOMMENDATION:

A decent learning tool for 7-10 year olds.

The Big Ben Burglary is the second case in the ongoing episodic production of Carmen Sandiego Adventures in Math. As such, it features the same Professor Layton inspired gameplay from the The Lady Liberty Larceny, with the exception that the puzzles are more rooted in mathematics than general puzzle solving. This makes for a quest that's a bit duller than the first, in addition to being even briefer.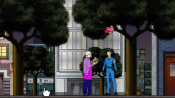 Starting off in London, players learn that the clock and bell from Big Ben has been stolen. Just like the Statue of Liberty in the previous episode, next to no one was around to witness the event. Moving along at a much brisker pace, players must do a lot less bouncing around to gather the three clues needed to identify the V.I.L.E. member responsible for this theft. With only one fetch quest throughout the game, players will quickly make their way from London to Tokyo, and eventually Miami to consult with a rocket scientist.
Along the way, sidekick Ivan Idea will offer up tons of trivia about each locale (as well as an assortment of puns), all of which are fairly interesting and offer potentially little known facts for the game's audience.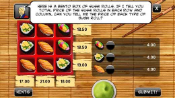 Like The Lady Liberty Larceny, The Big Ben Burglary is host to only 10 puzzles; however, two of the game's puzzles are directly lifted from the first and reskinned to match this game's theme. Considering the puzzle selection is already thin, copying two from the last episode comes across as lazy. This is especially true when one of the puzzles copied is the same coordinate plotting puzzle that began the first game – even worse is that this puzzle is extremely similar to one other coordinate plotting puzzle found later in the game.
Because there's so much less padding in this adventure, the experience will only last about an hour to an hour and a half. The only redeeming characteristic this time around is the ability to import your character from the first case in order to continue building your ranking (which is seemingly worthless anyway).
Given how similar The Big Ben Burglary plays out to the first episode, there's not much to appreciate here if you've already solved The Lady Liberty Larceny. While the developers may have viewed the weekly WiiWare offerings as the ideal way to present the game, it would've done wonders if they were all combined into a single title with some higher production and replay value. Coming hot off the heels of episode one, The Big Ben Burglary is disappointing.