ModNation Racers: Road Trip Review
RECOMMENDATION:

Not Recommended.

Rush job releases are pretty commonplace for the launch of a system, but you don't typically see first party games falling peril to this. ModNation Racers: Road Trip stands in stark contrast to the norm as it carries a wide variety of issues, ranging from slowdown during races, to hefty loading times, to unresponsive menus, and rubber-banding AI.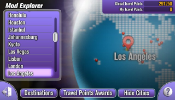 Despite its shortcomings, ModNation Racers: Road Trip does succeed in two places: its core racing mechanics and the track builder. Attempts at making kart-racing titles can be hit or miss when it comes to their implementation. Many in the genre fail at providing a sense of speed and karts don't always feel like they carry heft – Road Trip doesn't suffer from either.
More importantly, it offers a compelling drifting mechanic that controls similarly to the one found in Mario Kart 7. While similar, the effects of using it are quite different. Rather than offering a temporary speed boost after successful execution of the drift, players earn boost, which can be spent at any time for a temporary increase in speed. Mid-air tricks and drafting - both present in past Mario Kart games - also come into play, but the combination of the various abilities gives ModNation its own identity.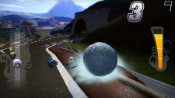 What really impressed me was the smooth and seamless implementation of the track builder, which couldn't be easier this time around. All you must do is drag your finger around the screen to compose the structure of the track. The game will automatically configure heights and overpasses, and you can even allow it to pre-populate the track with impediments, boosts, items, and scenery with the push of a button. If you choose to do it manually, all of the options are there with an easy to understand touch-based interface.
It was empowering to easily construct a course, further expanding the scope of the game beyond the initial content provided out of the box. Hopping into a race in the new track also proved easy, as was sharing it over the Internet for the world to see.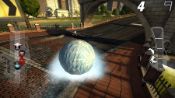 It's a shame that these two core components are squandered by the otherwise shoddy implementation. While the racing mechanics are solid, the races themselves prove frustrating thanks to some of the worst rubber-banding AI seen in years. It doesn't matter how well you race, you'll be in peril of losing at the finish line each and every time you match up with computer opponents. Countless races ended with me winning or losing by a matter of milliseconds.
Worse, there's no getting away from your computer-controlled foes. In an apparent rush to bring the game to market, online multiplayer was completely omitted from the game, with only a rumor of an eventual patch that might bring the mode in the future. Instead, you'll only find yourself racing around the tracks found in the Career Mode or in a Quick Race. Outside of the creation modes, the Road Trip package is surprisingly thin.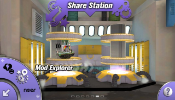 Amidst your fight for the top position in each race, it's likely you'll run into one of the game's other "features" – slowdown. Whenever a number of racers are present on the screen at one time or lots of effects are being displayed at once, heavy slowdown is inevitable. Many times it comes right as enemy projectiles pummel you, which almost always guarantees that you'll need to restart the race.
Loading times are the last major offender. While they don't necessarily impact the racing experience, they certainly deter you from quickly jumping into a new race if you're short on time. Menus in the car and character creation modes are also harmed by these egregious loading times, as they are nearly unresponsive. Just paging from one menu to the next takes a few seconds, making it seem like the game didn't interpret your touch input successfully.
ModNation Racers: Road Trip should've been a must-have launch title for the PlayStation Vita, but given its numerous issues, it's not even one that can be recommended for purchase in the future. It's truly a shame that the amazing track creation tools are wasted on this poorly implemented and rushed racer.