Lumines: Electronic Symphony Review
RECOMMENDATION:

For fans of the series looking for more.

Given the overwhelming success of Lumines on the PSP, as well as all of its subsequent releases on other platforms, it's not particularly surprising to see a new edition of the title on the PlayStation Vita at launch. Little has changed since the first rendition of the game, but Lumines: Electronic Symphony still packs quite a punch thanks to the sharp visual fidelity of the Vita and the well-tailored soundtrack.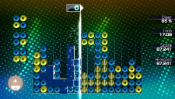 Like all of Q Entertainment's work, Lumines: Electronic Symphony is all about the fusion of form and function. At its core, Lumines is a solid block-dropping puzzle game. Four block squares comprised of two distinct colors drop at a regular pace, forcing players to spin and move the formation to align like colors into square and rectangle formations, with a "timeline" that scrolls from left to right to clear out any completed arrangements. What makes the game truly appealing is how it melds these mechanics with both engaging visuals, music, and sounds.
It's easy to miss the subtle gameplay quirks as you dive into the experience for the first time. The timeline, which clears the block formations, isn't moving at a consistent pace, nor are the blocks, which drop at variable rates depending on the exact song driving the gameplay. The electronica soundtrack is more than just nice background music, it provides the beat that the gameplay moves to. Visually, the game is driven by the soundtrack as well - the background animations are unique to the song that's playing, as is the "skin" and color of the blocks.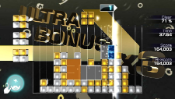 The main mode, Voyage, lives up to its name. Rather than tossing a bunch of tracks together with little regard to their order or continuity, Voyage's soundtrack is expertly crafted to provide both highs and lows. Things start off at a nice clip and continue on to other faster tracks, with an eventual cool down track that gives you the opportunity to both relax and clear accumulated blocks out on the field.
A few different gameplay mechanics also help keep things interesting. Outside of the returning chain block, which clears out other blocks attached to it vertically or horizontally of the same color, a brand new shuffle block has been added. Landing in a stack of blocks, it will do as its name implies - shuffle up all of the colors. In practice, it tends to be more of a "life saver" block as it often comes when you're doing poorly and shuffles the blocks, creating numerous rectangles, freeing up space in the play area after the next pass of the timeline.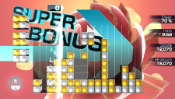 In addition to the new block type, your avatar has been given some meaning. Each avatar you choose offers up a unique bonus. As you play the game, a meter will slowly charge - this can be sped up by tapping the rear touch pad on the Vita - when full, you can activate the avatar's special funtion. In the case of the default avatar, an extra chain block will drop, allowing you to clear out part of the board if properly placed. New avatars can be earned by accumulating XP, which will happen automatically after each play session.
Lumines: Electronic Symphony is an experience that's built to slowly sink its claws into you. As you play more, you'll find yourself getting better and better at recognizing potential patterns and more capable of lining up bigger and better square and rectangle formations. While at its core the game is all about earning points, I found it equally satisfying just trying to stay alive for as long as possible. Each trip through Voyage will easily last over thirty minutes once you get the hang of things and subsequent playthroughs are all about trying to get further and score higher than your last attempt.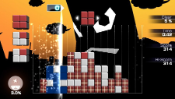 As you might expect, given the game's design, the visual and aural presentation are top notch, playing an important role in making the game as addictive. It's easy to lose yourself in the music and visuals, especially on long sessions in Voyage.
If it weren't enough, other small hooks have been planted into the experience this time around to keep you coming back for me. The World Block is a prime example, as it must be cleared each day. Anyone in the world who plays the game will be able to contribute their cleared blocks to the World Block goal just by playing and because the reward for clearing it is unknown, it acts as an incentive. giving players something to work toward outside of high scores.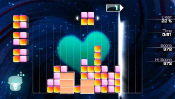 Despite all of its achievements, Lumines: Electronic Symphony might not be a great purchase as it offers very little new from past iterations. Furthermore, its full retail price tag makes it less palatable as it has been released on both XBLA and PSN for a much more reasonable amount. Finally, lengthy trips through the Voyage also limits the title's portability.
If you're into the series already, it's unlikely you're even thinking twice about picking this one up. It's a solid sequel that looks, plays, and sounds fantastic on the PlayStation Vita, but for those who have yet to take the plunge on Lumines, one of the cheaper home console renditions will suffice just as well as the latest full retail offering.