Pro Evolution Soccer 2012 3D Review
RECOMMENDATION:

If you really want to play soccer on the go.

Pro Evolution Soccer debuted on the 3DS last spring as a rushed out launch title lacking game modes and customization options. This year, Konami clearly took the time to make a better game by including a decent variety of tournaments and leagues to partake in.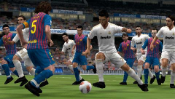 There are a few leagues to play through as your favorite team, including the ever-popular Spanish and English premier leagues. I'm a huge soccer fan, so being able to play through a season with Alexis Sanchez and Lionel Messi on Barcelona is great. Though Konami has managed to license all of the world's big name teams, there are still a lot of missing entries. If you're a fan of MLS you'll be disappointed to know that it didn't make the cut. The lack of teams and leagues is the one area where Pro Evolution still trails behind the FIFA series.
When you get tired of playing through a season you might want to try Become A Legend mode, where you control a single player through his career and decide his destiny and team spot depending on your performance. This is a standard mode in sports games, but it doesn't work too well in soccer titles. You will often face the issue of running around a large field while you aren't near the ball, feeling like you aren't contributing to the team. Pro Evolution, like other soccer titles, still needs to find a solution to make Become A Legend a truly worthwhile mode.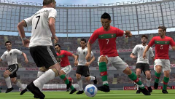 This is also happens to be the first soccer game to bring online play to the 3DS. Matchmaking is quick and easy and little to no lag exists during gameplay – only one match I played had any lag at all. While the online play gets the core elements right, Konami forgot to include any depth to the experience. There are no online leagues or tournaments to participate in, nor is there a way to befriend other players or send them messages. Instead, you can only play a quick match with another player.
The only sort of online stat tracking the game has is a simple win, loss, and tie record. With no way to interact with others online, Pro Evolution 2012 makes for a fun experience that doesn't have a long lasting appeal. A better online interface could have made it truly addicting.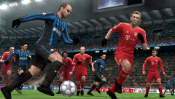 If all this soccer talk is wearing thin, you can try to manage your own team in Master's League mode. This is a math and stats game where you fund and trade players instead of actually playing soccer. Though I'm not familiar with other management style sports games, I can tell you that Pro Evolution's attempt is oh-so-boring. It's really confusing to try to learn what you are supposed to be doing or how to correctly manage your funds. I tried playing this mode for over an hour and got nothing good out of it. Master's League failed to impress me in any way and is easily the worst part of Pro Evolution 2012.
Another underwhelming addition to Pro Evolution 2012 is the character creation tool. While you can tweak all of your character's stats to your will, the physical options are on the minimal side. I love creating myself in other sports games and devote tons of time to making my character look as real as possible. In Pro Evolution I couldn't make my character look even remotely like me. Everyone just looks like a standard template no matter how much tweaking you attempt.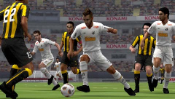 Even the preset players look a little generic. You can easily point out David Villa from Cristiano Ronaldo, but they don't look very realistic. The presentation as a whole feels old, looking similar to a PS2 or Xbox quality game. The crowds are bland and the colors seem a little washed out. The commentators seem a little bored and the crowd sounds are too faint. It's actually not as bad as I might make it sound, but it's a step backwards from the high presentation of the PS3 and Xbox360 versions of Pro Evolution and FIFA.
It's always important to mention 3D when talking about the 3DS and it's a hit and miss aspect of the presentation this time around. When using the standard side-to-side camera, the 3D has next to no effect and adds nothing to the game. There is an optional 3D specific camera that plays from behind your player and tries to move with the game depending on your position in relation to the ball. The 3D in this mode looks phenomenal, giving you a true sense of depth up and down the field. I personally loved the 3D mode, but it could take a lot of adjustment if you're accustomed to the side-to-side camera.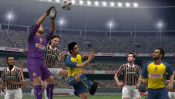 The 3D view is awesome on the offensive because you have a clear view of the position of all of your players up the field, but it's detrimental to defensive play since you can't see behind you where the opposition will be passing. I love the 3D camera despite its defensive setbacks and feel that, even if flawed, it is the one innovation that Pro Evolution on the 3DS has introduced to the soccer genre. Hopefully they continue to tweak the 3D camera for future titles.
As for the gameplay, it doesn't do anything to improve on 2011's release, but it really doesn't have to. The AI works very well in the Pro Evolution series and it's no different here. Opponents are constantly in the right position and you have to find the open hole that your AI teammates create in order to push forward on the pitch. Keepers have a good sense of when to charge the ball and where to be positioned. A solid defense will be a task to overcome while weaker defenses leave more offensive opportunities. Overall it's a realistic and rewarding experience – getting goals relies on well placed passes and well timed shots while good positioning and careful slides are key to preventing goals.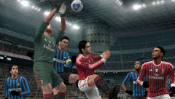 The controls work well and the quality is easily comparable to any recent Pro Evolution or FIFA release. Both series take pride on their quick moving player controls and loose ball physics. Your ball control depends on how fast you run, pass power changes based on how long you hold the pass button, and less movement during a shot equals a more accurate kick. All of these well fleshed out fundamentals exist fully in Pro Evolution 2012.
While the core controls are the same in Pro Evolution and FIFA, the small details make the games feel unique. It's the subtleties in the way controls work, like how long you can sprint, what angle to slide tackle from, or how fast you can pull off footwork and maneuver around the pitch. I personally favor FIFA, but Pro Evolution's controls and gameplay grow on me with every entry. It's best to play both series and decide which you prefer because both work just as well as each other – they just feel a tad different.
Pro Evolution Soccer 2012 does an amazing job in offering console-quality gameplay, but its sub-par presentation, lack of teams and leagues, and minimal online interface stop it from being a great game. It's the best soccer game on the 3DS, but its competition is pretty weak. Pro Evolution is definitely a good game and any footy fan that loves to play on the go should consider getting it. With that said, it fails to innovate or push the series forward – it just meets the status quo.
---