Rayman 3: Hoodlum Havoc HD Review
RECOMMENDATION:

Those who can't look past the old game mechanics will find this game too frustrating to play. However, fans of late 90s platformers should pick this up for a shallow but amusing experience.

Hot off the heels of Rayman Origins' (critical) success comes this re-release of 2003's Rayman 3: Hoodlum Havoc, now in glorious high definition. With Rayman 3's charming character, varied gameplay, and enjoyable mechanics, it manages to be a fun game in spite of its dated level design, bad camera, and problematic targeting system.
It's clear from the moment you load up Rayman 3 HD that little was done to dress up the game for its HD re-release. This isn't a remake along the lines of Super Street Fighter II Turbo HD Remix or Teenage Mutant Ninja Turtles: Turtles in Time Re-Shelled, but rather the same game with a higher resolution, as well as achievements and leaderboards. Given the lack of change, whatever you thought of Rayman 3 back in 2003, you'll still likely think the same now.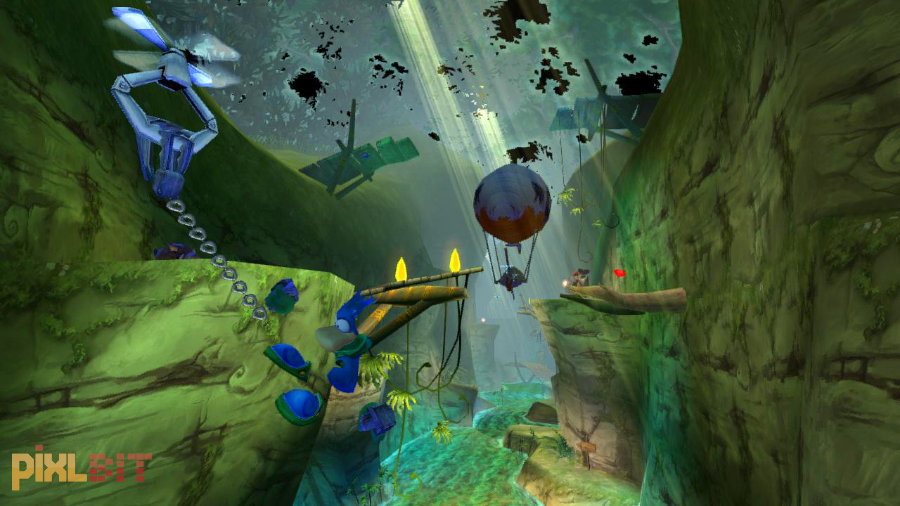 If you haven't played the game prior to this release (like me), you're not going to be welcomed to the experience with any amount of extravagance. The menu screen is absolutely barebones, devoid of graphical flourishes and music. However, once you get into the game you'll be treated to a beautiful introduction that sets up the story. André, an evil black lum, is turning red lums into black lums so he can take over Rayman's home. While on the chase, Globox somehow swallows Andre, leaving Rayman to the task of extracting the black lum and stopping his plans.
As usual, Rayman accomplishes his tasks by running, jumping and floating through the various levels and worlds in the game. Responsive controls and the limited-use power-ups cans create an enjoyable and satisfying platforming experience. A change from past titles, these power-up cans allow Rayman to perform all manner of tasks, from flying to grabbing hooks. Obstacles and enemies can be overcome with these simple power-ups and in many ways they help set the pace of the adventure.
Like other Rayman games, the titular hero attacks by throwing his fists. Thanks to the targeting system, disposing of enemies is never as easy as it should be. By clicking a button you can target an enemy directly in front of you; however, if you haven't quite centered on an enemy, the camera will snap focus to an unexpected location, resulting in frequent disorientation. Combine this with the already problematic camera that's frequently impeded by walls and Rayman 3 can be downright frustrating at times.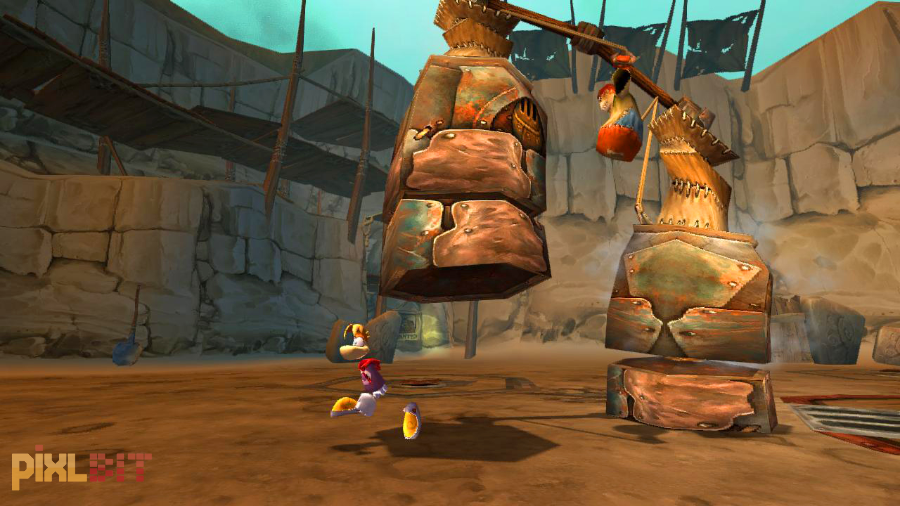 Though Rayman 3 is mostly a standard action-platformer, it offers many deviations, diversifying the experience. At times you'll be gunning down enemies from behind a rocket, while other times you'll be grinding a rail down a tunnel jumping from track to track while the world around you morphs and transforms like a music visualizer set to Disco.
Furthermore, Rayman 3 offers a touch of the bizarre. One particularly memorable sequence dropped Rayman down into one of his shoes, allowing him to drive it like a bumper car. The unbelievable sequences don't quite mesh together into a perfectly cohesive experience, but they're both fun and charming.
To that point, Rayman 3's undeniable humor and charm will make it endearing for all gamers. The frequent bickering between Globox and André is consistently entertaining and when combined with the various extraordinary events, it makes the game absolutely memorable. This is due in part to the extremely well done voice acting and script – they're both genuinely funny and well-delivered. Unfortunately, the voice clips are poorly integrated as characters occasionally talk over each other and the volume tends to fluctuate between highs and lows.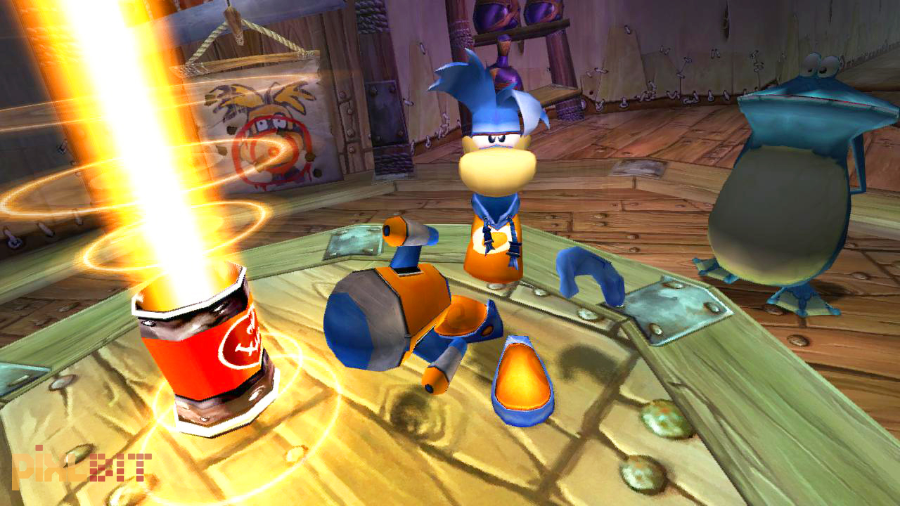 Despite the beautiful and rich worlds, the general level layouts are uninteresting. Although they're colorful and varied, featuring many diverse areas like swamps, caves, and temples, they are all architecturally similar. The platforming sections are the one exception to the rule, but they're separated by mindless areas that require little effort. In these segments you'll defeat all of the enemies in the area and find a power-up that will allow you to move forward. Needless to say, these time wasters slow down the experience.
What's more concerning are the game's misleading solutions. The rules don't seem to remain consistent throughout, so instances where you're certain you know how to progress, you're stymied by an unforeseen rule change. In these instances, you'll find yourself jumping through a number of hoops just to move forward.
Though many levels are plagued by uneven pacing, the overall pacing suffers as well. The middle of the game is a definite lull, offering a collection of three levels that pose new challenge and hold little intrigue.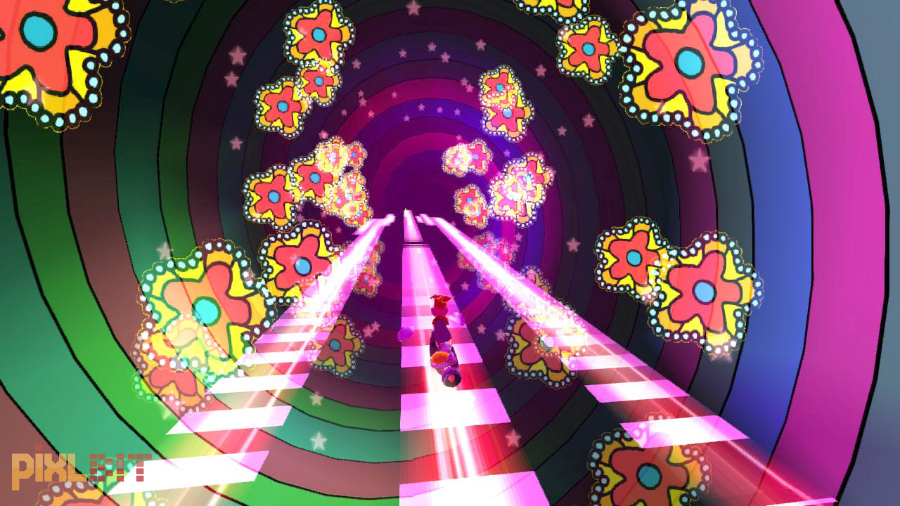 Rayman 3 isn't a particularly challenging game, specifically when compared to other titles in the genre. Most players will blow through the 9 worlds in around 10-12 hours, but reaching 100% completion is a much tougher task. Unlocking the (boring) arcade mini-games and earning most of the achievements seems to be next to impossible.
Issues aside, I couldn't deny the fact that I found myself continuing to have fun with Rayman 3, playing longer than I intended to. Rayman 3 HD fondly captures a time when mascots were the main driving force behind platformers and who you were playing as was just as important as how they played. It's refreshing to play such a game once again and despite its mechanical problems and occasionally repetitive level design, this charming and fun platformer is worth your time and money.
---