Order Up!! Review
RECOMMENDATION:

For cooking simulation fans.

It's easy to write off Order Up as nothing more than the latest piece of shovelware or shallow entertainment experience for the casuals. The truth is, Order Up has a lot more depth than one might think. It provides a quality, yet simple play experience that is an enjoyable and relaxing escape between more thought intensive titles. In the world of Cooking Mamas and other point-and-click cooking adventures, Order Up gives fans of these games a fast-paced, tactile experience that is deep enough to prevent monotony, yet simple enough to be accessible to everyone.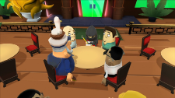 My first encounter with the title was back in 2008 when it originally released for the Wii, and I was thrilled to have a game in the cooking genre that had some substance. The characters were silly, the world was bright and colorful, it controlled great, and most importantly, it was uncomplicated fun. With just a few exceptions, most of which are positive, this latest version is nearly identical to its predecessor; offering players a new restaurant, HD visual upgrades, and a multiplayer option.
The general premise for Order Up is pretty basic: become a famous chef by winning a prestigious cooking competition. In order to do so, players will have to successfully acquire a five star rating on each of the six restaurants present in the game, which include a fast food joint, Italian Restaurant, and – the newest addition – a Japanese steakhouse.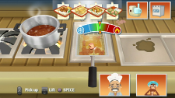 The conditions for earning a five star rating are the same across each restaurant, and include cleaning it up, purchasing special menu items, and impressing the food critic. Once players have accomplished all of their goals, they may purchase the next themed restaurant and continue onward.
The stark contrast between all the cuisine types is what really makes this game shine, as each restaurant plays out much differently from the others. The food for each type of ethnic cuisine is varied and requires players to manage their customers' requests differently for every restaurant. Having this assortment of different foods to cook is the essential element that prevents monotony.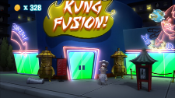 Additionally, there are two other interesting elements to Order Up that help avoid the boredom pitfall: spices and customers. Spices are an integral part of any players cooking arsenal, and when used properly can greatly increase a player's monetary gain for any given restaurant work day. For the majority of restaurants in Order Up, once players have purchased one or more "special dishes" from the food market, they unlock the ability to purchase spices that coordinate with the restaurant's specific type of cuisine. At first, special dishes will only require one component of any dish to be seasoned, but as time goes on multiple parts must be seasoned with a particular blend of spices. This is just one of the many ways Order Up tries to keep the game enjoyable and new by continuously adding more steps for players to complete.
While spices are occasionally used to prepare special dishes at a customer's request, the "main" customer that enters a restaurant will have their own preference to how they would like their meal seasoned or prepared. For example, one character may want his meat burnt beyond recognition, whereas another may prefer their dish to be salty. By catering to their personal taste, the character will reward players with a spice bonus, which is an easy way to bring in more money.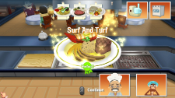 As players progress at any restaurant by earning money and stars along with acquiring special dishes, they'll notice their customer count increasing at a modest pace. Once large parties are more common, it becomes somewhat challenging and much more enjoyable to frantically, yet accurately, rush to put together everyone's dishes properly. Unfortunately, more experienced gamers may find that the pace doesn't ramp up quickly enough, making it a bit slow and boring at first.
Every dish has its own set of steps, which are detailed on order tickets placed in front of your chef. There are no silly mini-games in Order Up; every food prep stage is designed to mimic the real world process. Slicing will require players to motion down with the PlayStation Move, grating will have them shaking the controller up and down vigorously, while grilling items will require players to make flipping motions, as they would with a spatula. In addition to chopping and flipping, players will fold wontons, dredge meat, fry, boil, steam, etc, all with logical motion controls that feel quite natural.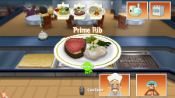 While the PlayStation Move provides a great alternative to the Wii Remote, it's not as reliable. When I originally played Order Up, I never encountered any mechanical issues (other than ringing the bell to signify the order was completed, which never seemed to work). Now, the bell is thankfully fixed, but the Move is prone to occasional detection loss, which can be frustrating. Although the game pauses itself so steaks aren't burnt and pasta doesn't boil over, having to frequently recalibrate the controlling is annoying.
In order to make things a bit easier, or complicated depending on who you're playing with, the PlayStation 3 version includes split-screen co-op. Both players will share the responsibilities of completing all the dishes in the same kitchen, so efficient partnership can not only result in faster preparation, but a whole new opportunity for enjoyment. Cooperative play was a great addition for such an accessible title, just keep in mind that it's easy to step on one another's toes and make mistakes.
For any gamer looking for a more authentic cooking and restaurant simulator, Order Up is a no brainer. While losing Move detection can be an occassional annoyance, it doesn't occur often enought to severly impact enjoyment. It may not be the most challenging game, but it has enough charm and variety to keep most players entertained even after they have become the ultimate chef.