Power A Air Flo Controller Review
RECOMMENDATION:

For those suffering with sweaty palms or desperately craving an improved D-pad on their 360 Controller.

Confession time: My hands sweat. They sweat a lot. You may not think it matters, but it can lead to some awkward situations when passing around a controller in a fighting game tournament with friends. Naturally, when I found the original Nyko Air Flo controller for the original Xbox, my friends and I breathed a collective sigh of relief.
These days, I'm seldom passing a controller around my living room, but my hands still sweat, and it can be uncomfortable. Thankfully, Power A now makes an Air Flo controller for current gen consoles as well, and it does what it sets out to do well - namely force air over the player's hands to keep them dry, albeit with some caveats.
The unit works by using what looks to be a common cooling fan used to cool PC components to force air through the chassis of the controller through holes in the handgrips. This works so long as you don't close off those holes with an iron grip. It's also not exactly silent. Since the fan has two speeds, you have some control over the volume of noise generated by the fan, but there is a bit of noise even on the lower setting. I never found it to be overly distracting, but I suppose some players may take issue with it.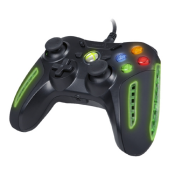 Another issue to be found is that the controller is only available in a wired model. From what I understand, this is due to a decision made by Microsoft which only allows third parties to manufacture wired controllers for their system for whatever reason. The cable is ten feet in length, which should be plenty of distance for most users. Additionally, the designers added a breakaway segment on the cable to keep any forceful pulling from yanking your console off your shelf.
I suppose some might find the controller to be visually appealing, but I personally feel that the design favors function over form. It looks and feels rather cheap and fragile. In an effort to liven up the look, Power A added an LED to make the controller glow, which can be toggled on and off. Again, looks are a personal thing, but I thought it just made it worse. While each button is individually backlit, there are several LED's inside the handles of the controller making it look like someone shoved a string of Christmas lights inside it. My 10 year old, however, thought it was very cool.
One thing that has greatly benefited from the designer's touch is the D-pad. Long the bane of Xbox 360 users, it would seem that someone noticed the superiority of Nintendo's D-pad design and decided implement it in this controller, and I am eternally grateful. Considering how difficult it is to find even third party controllers with a decent directional pad, I think even gamers who don't suffer from sweaty hands might consider picking this up for the improved D-pad alone. Hats off to whoever at Power A made this decision.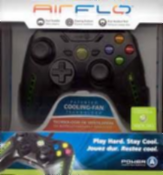 I mentioned earlier that the controller feels cheap and fragile. I haven't been able to make a solid determination of the device's durability, but it has, so far, stood up to two solid weeks of play. I've noticed no significant decrease in performance, increase in noise, or damage due to normal use. While two weeks isn't exactly a benchmark of any kind, I can't exactly hold off on the review for two years to see if the controller holds up. Also, while other reviews are scarce, I haven't seen anything to alert me to any potential durability problems. If anything horrible happens, I'll be sure to update my review. In the meantime, I remain cautiously optimistic.
In the end, the AirFlo accomplishes its goal of reducing issues caused by sweaty palms, and even makes some improvements to the traditional Xbox 360 controller design, even if it doesn't look good while doing it. If you suffer the same issues I do, or are desperately looking for a 360 controller with an improved D-pad, this is right up your alley.