Spirit Camera: The Cursed Memoir Review
RECOMMENDATION:

Not recommended.

Two hours. That's how long it took me to finish Spirit Camera: The Lost Memoir. But to be fair, at least thirty of those minutes were spent trying to get the AR working properly, so I'll amend my original statement. Ninety minutes is the actual time it took me to complete Spirit Camera, and I'd really like each one of them back.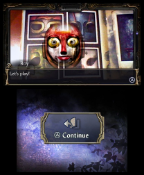 A spin-off of the Fatal Frame series, Spirit Camera borrows nothing admirable from the popular horror series except the iconic weapon, the Camera Obscura. The plot is based upon a cursed diary, The Diary of Faces, which is capable of entrapping those who encounter it. These victims are pulled inside and transported to a dark mansion where they eventually meet the gruesome fate of having their faces ripped off.
Your character is an unnamed protagonist who starts the game trapped within the walls of the deadly mansion. Armed with the Camera Obscura, he escapes the dreadful place after bumping into another trapped individual. On the outside world, the protagonist and his new friend, Maya, attempt to unravel the secrets of the The Diary of Faces and discover how to escape its curse.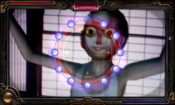 In order to investigate the secrets that The Diary of Faces holds, you'll utilize the AR capabilities of the 3DS in conjunction with a copy of the diary packed into the retail copy of the game. Rather than being able to discover anything on your own through exploration, puzzle solving, or any other interesting gameplay element, you'll simply be guided through the short experience by multiple lengthy conversations with Maya. You'll talk, ask her questions, talk some more, and eventually she'll provide you with a hint corresponding to the exact diary page the 3DS should be held over.
Assuming you created an environment with perfect lighting, and you didn't have to battle with your 3DS to get AR working properly (I'll get to this later), you'll probably encounter one of two things: a ghost fight or a puzzle. There are only a handful of puzzles featured in Spirit Camera, and with the exception of the little boy who wants to play hide-and-seek in the diary pages, they all take about ten seconds to figure out and execute.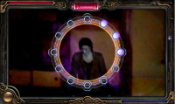 When you do get the opportunity to fight a ghost, it's unbelievably underwhelming. Once again, assuming the AR functions properly, a ghost will either appear standing in the room or as though they are popping out from the diary. Either way, your only task will be to point the camera, wait for the shutter chance (when the aiming circle turns red) and then shoot. Repeat this process two or three times and the measly fight is over just as quickly as it started.
The battles should have been the most intriguing part of the game, but they are mindless and boring. After the first two fights you'll yawn your way through the last remaining handful of battles looking forward to conversing with a floating ghost rather than partaking in another laughably easy encounter.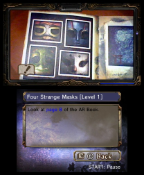 The way you fight off ghosts is really what makes the experience so bland. Because the camera doesn't recognize depth, you can't walk closer to or further away from an enemy. As such, when a ghost actually does decide to leave your field of view, you just have to spin in a circle until you find them. Had you actually been able to fight these enemies in full 3D space, dodging them and running toward and away from them, the fights could have actually been Spirit Camera's saving grace.
Before you can actually battle any ghosts though, you'll have to get your AR working properly; a miserable experience right from the get-go. Unless you're planning on playing this game in direct sunlight, have fun running around your house turning on every light switch in an attempt to provide adequate lighting. Even with every light turned on in my house, I was only able to create the necessary illumination by placing a low wattage lamp on top of my shiny dining room table.
The light problems weren't the end of it though – recognition caused its own set of issues. Upon pointing the 3DS directly at the proper page from any angle, it wasn't uncommon for the 3DS to fail at detecting the diary image. Occasionally you'll have to wait for it to just stop failing before it suddenly works for no apparent reason. Getting the 3DS to detect a page so you can progress is aggravating all on its own, but it's even worse when detection is lost during a boss battle.
The meager amount of substance Spirit Camera has to offer only continues to bring down an already severely subpar experience. The two additional sections featured (Haunted Visions and Cursed Pages) are both incredibly shallow and do nothing to alleviate Spirit Camera's lack of substantial content. Haunted Visions contains three subsections, each of which is no more than a toy where players take pictures of people or surroundings and ghosts appear in the images. Cursed Pages is just as shallow, featuring four mini-games that include the hide-and-seek challenge featured in Story Mode.
I find it truly excruciating to even call Spirit Camera a real game. In fact, it feels more like a failed experiment that should have either been drastically changed or scrapped entirely. Had it not been strangled by the limitations of AR, Spirit Camera: The Lost Memoir could have actually been something quite amazing. Unfortunately it's nothing more than a half-broken and terribly boring excuse for a "game" that nearly everyone, even the most dedicated Fatal Frame fan, should avoid.