Quantum Conundrum Review
RECOMMENDATION:

For everyone; however, Portal fans in particular need to grab this as soon as possible.

When Portal hit the market, it took gamers by storm. Never before had the world experienced such a game – the unique portal mechanic was tied to a first person perspective, complex puzzles, and a compelling story and antagonist. Quantum Conundrum, the latest work of Valve alum, Kim Swift, captures at least part of Portal's essence, but comes up short in the character and story department. First person puzzle solving takes the center stage and the Inter-dimensional Shift Device (IDS) proves to be an interesting tool/concept to drive the complex dimension-shifting puzzles; however, the lack of an overarching concept and vision disallows Quantum Conundrum from reaching the cult stature of its influencing material. Despite this, the interesting mechanics and the well constructed "test chambers" make for a fantastic game that shouldn't be missed.
Upon beginning Quantum Conundrum, you'll find yourself in the shoes of the young nephew of Dr. Qwadrangle, the kooky and at times, incorrigible scientist behind the sprawling and automated mansion you're now occupying. The doc, voiced by John de Lancie (Q from Star Trek), has managed to trap himself in a pocket dimension, but has no recollection of how or why he got there. With access to only certain segments of the mansion at a time, you'll have to slowly work your way through in order to gain access to all wings, slowly unraveling the circumstances that caused your uncle to be relocated to his new dimension.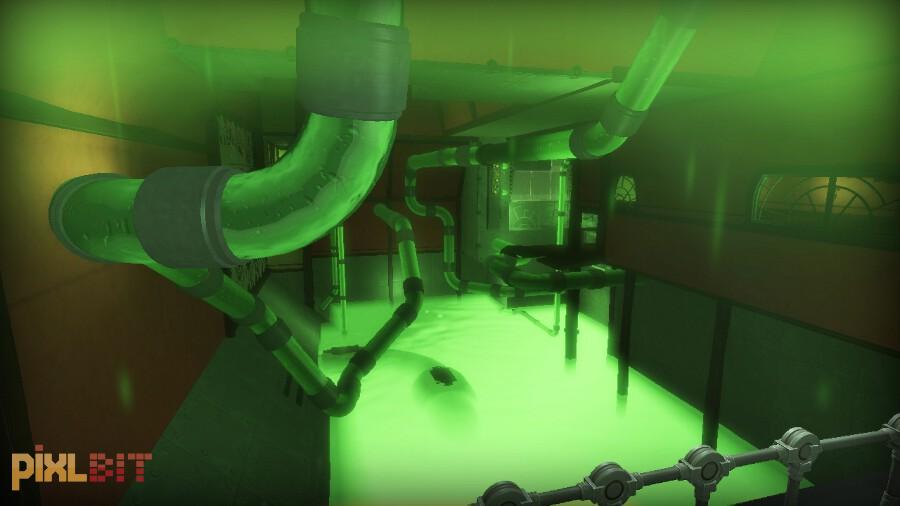 At the start of the game, the story seems as if it's going to play a significant role in the experience. There's a degree of mysteriousness, which is only enforced by Ike, Qwadrangle's interdimensional cat, and a sprawling mansion in need of exploring; however, very little comes of the set-up. Upon reaching the conclusion of the quest, things end quite abruptly and are wrapped up in a neat little package with a short cinematic. It's one of those unfortunate endings that tend to taint an otherwise spectacular game.
What helps set Quantum Conundrum apart is the IDS device that's introduced early in the game. Despite Qwadrangle's many inventions, none quite match up to his latest. With the device, you can quickly and easily switch between your own dimension and four others that each have their own unique physical properties. Fluffy and heavy are the two simplest dimensions - one making things extremely light and the other making them heavy and indestructible.
By shifting to these dimensions on cue, the environment can be modified to accomplish a variety of goals. Some of the easiest involve lifting safes in the fluffy dimension and dropping them on weighted switches before switching back to the default dimension. In other instances, you'll engage a fan that can create wind that will carry a safe and subsequently pin it to a wall. Utilizing this function, you can create a set of pseudo-stairs to climb to new heights. Other times you'll toss an item, engage the slow motion dimension, and hop on it for a ride across a chasm.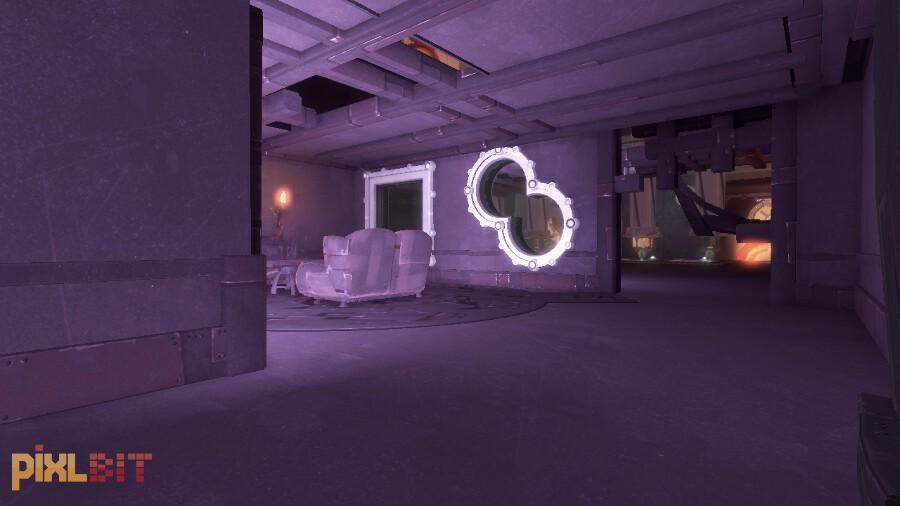 Many puzzles won't start you with access to all of the necessary dimensions offered by the IDS. You'll first have to acquire batteries and bring them back to a specific device that will power a given dimension of the IDS. This creates a number of puzzles that must be solved in a given sequence to achieve the desired results. Along the way, players will have to figure out that sequence and work within their changing constraints to accomplish the goals of the level.
However, the entire experience is not purely puzzle-based - many of the challenge rooms incorporate a degree of physical dexterity that requires jumping at the right time or the right distance. With this more versatile approach, the challenge rooms don't feel exactly like something out of Portal, which really helps Quantum Conundrum establish its own identity.
Don't take this to mean that the puzzles that are there are a complete breeze. There are a few head-scratchers that will have you guessing. What's clear though is that the same level of care was put into the design of each challenge room that's typically associated with the Portal series. The focus testing efforts are apparent and the resultant product is an extremely tightly designed and enjoyable experience.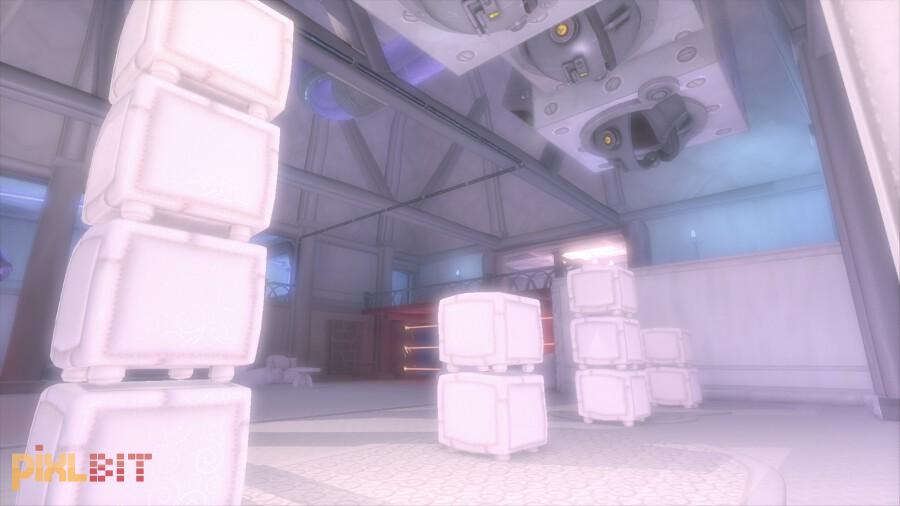 What's unfortunate about Quantum Conundrum are the few and far between challenge rooms that incorporate all four dimensions of the IDS. It's not until the very end of the game that these puzzles present themselves and they come and go quite quickly. There are countless permutations that could've been explored at a much earlier point. As it stands, the game is over just as it starts to become extremely interesting.
Despite this shortcoming, challenges present themselves in a unique way in the post-game content. Similar to Portal 2, each level in the game has a couple goals that players can achieve: a dimension shifting goal and a time-based goal. There's no real reward tied to accomplishing these feats outside of the obligatory achievement, but accomplishing either is difficult starting with the very first set of rooms in the mansion. The manner in which you shave off dimension shifts and seconds can be extremely abstract, requiring some creative solutions.
This dovetails nicely with the in-game leaderboards. Spanning both the level set and the overall game, enthusiasts can spend an inordinate amount of time one-upping players around the world.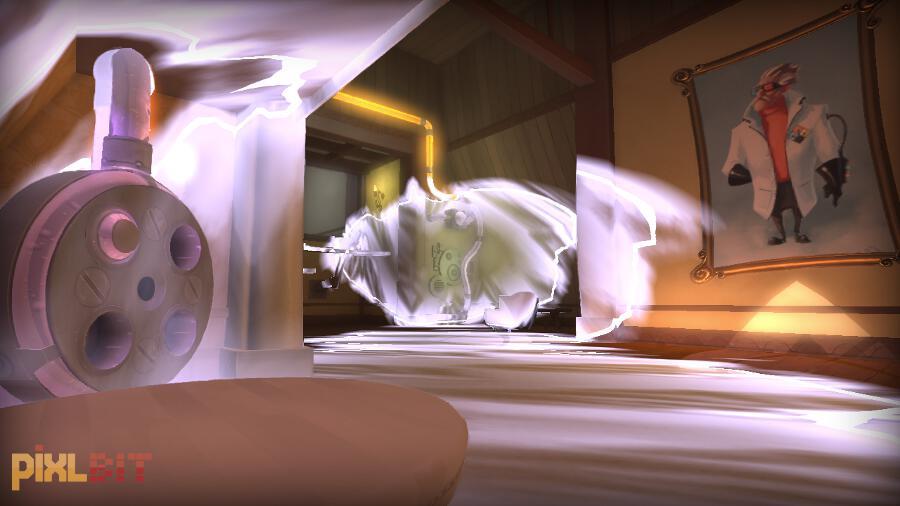 While I was disappointed by the story's progression and the absence of extremely complicated challenge rooms involving all four dimensions, I still found myself absolutely hooked on Quantum Conundrum. Great puzzle designs, fun characters, and an impressive amount of content make this a must-have title for all fans of puzzle games.