Commando: Steel Disaster Review
RECOMMENDATION:

Metal Slug and Contra fans can stave off their hunger pangs with this high-quality counterfeit.

Can you remember being at the arcade and spying a strange Franken-cabinet offering a game you'd never seen before? Perhaps a black spray-painted Pac-Man with a generic marquee above the screen with a name you'd never heard of and would never remember. You peered into the screen despite the bland trappings and ended up spending a wonderful afternoon trying to conquer a B-tier action game you would quickly forget. This is certainly not an experience Cinemax was trying to recreate with Commando: Steel Disaster, but it's what they've done and I love them for it.
To be clear, there is nothing original, groundbreaking, or amazing about Commando: Steel Disaster outside of being given one of the most forgettable titles ever conceived. It's a Metal Slug knock-off, and it does a pretty good job of capturing that series' aura and mechanics. Although it's nothing revolutionary, it's pretty comforting to have an enjoyable and dependable portable action game stashed on your DSi.
There are five levels to charge through - shooting countless enemies that fire very slow glowing bullets. You'll uncover power-ups for your standard weapon (of which two can be equipped at a time) by blowing up crates and barrels. These different weapons unlock different strategies of fighting back the hordes. None of the weapons are wholly original, but all have their special uses and are fun to switch between. Getting a machine gun equipped is pretty handy, but you'll blow through the limited ammo quickly if you're not careful. Other weapons have their own special-case uses, such as "cocktail" that emits a huge fireball that can clear a lineup of oncoming enemies in one blow and is great for turning the tide. Every weapon works well when wiping out the generic mooks, but when the enemies become more skilled, it's best to ration out your special ammunition and be more tactical.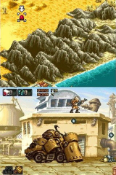 Each level introduces new variations on enemies making enough changes between them to keep you learning new techniques. This seemed to hit a peak in the final level where sword slashing enemies are able to deflect bullets at any speed – even from the machine gun. This often requires a close-up melee attack if you've used all of your special weapon's ammo already, making dodging and quick reflexes critical. In addition to the flood of low-level enemies that get smarter through the levels, there are always mini-bosses to contend with too.
Most levels have several choke points where the scrolling will stop and confront you with a series of stronger assailants before you can move on. Stubby tanks roll in or giant hulking men with ski-masks and flame throwers stomp through that require real deftness to defeat. These interstitial moments made the fact that there are only five levels in the game more palatable – making each seem like a small set of two or three mini-levels. Each level did feature a screen-filling boss, which were all pretty tough to get through except, strangely, the final boss. Maybe I got lucky, but the final battle seemed weirdly easy when earlier levels took me several sessions to determine the best tactics to use and then do without error to be successful.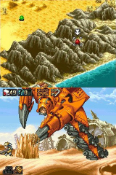 Despite that one odd off-balance moment, I thought the game had a good steady increase in difficulty, while being a consistent – yet possible – challenge throughout. Largely, though, any difficulties I had seemed to be due to my own lack of skills. The few mechanical issues in the game never resulted in unfair deaths, but just left me a little annoyed. For instance, climbing down a staircase was pretty tough to pull off -- requiring you to squat and scooch forward until your descent had started and you could run down the rest of the way. This weird problem was probably due to the lack of eight-way directional control. There is no shooting diagonally in Commando: Steel Disaster, which was pretty disappointing at first but perfectly fine once I got used to the limitation.
Like I said earlier, the game does a pretty good job of capturing that Metal Slug vibe, and it pretty much rips off its graphical style with only slight deviations. The sound and music on the other hand is on the irritating side. The music is almost unnoticeable until weird trills of notes poke through that sound like warning sounds or something, but is really part of the soundtrack. Worse than the middling music, though, is the choice to use the Wilhelm scream for the death of every enemy. That's right: every single enemy. You will hear that scream a lot, so I recommend zeroing out the volume slider and enjoying everything else in the game, including the strangely translated dialogue*.
Whether you ever had the pleasure of finding a hidden romp of a game in the back of an arcade or not, Commando: Steel Disaster is a safe bet for anyone who likes a good side-scrolling action game. A satisfying, unoriginal, well-made game can be the perfect sort of comfort food if it hits your belly at the right time. For eight bucks, this is a better bet for getting that contented feeling than a lunch special at the Cracker Barrel off the interstate.
*Example dialogue with authentic punctuation and spacing:
Jessica: "Storm!Good news."
Storm: "My application to increase my salary the year before last has finally been approved?"
Jessica: "Huh?No,we've got the location of Rattlesnake's Base!"