FIFA Soccer 13 Review
RECOMMENDATION:

For those with absolutely no access to FIFA 13 on another platform, or those who have never played a soccer game before.

FIFA 13 for the Wii U isn't really FIFA 13. Sure, there's a big "13" emblazoned right there on the box, and the rosters are all updated from last year, but those changes don't really make it a new game. The FIFA 13 that gamers have been enjoying on PlayStation 3 and Xbox 360 is decidedly different from the game that has shown up on the Wii U; a game that is seemingly behind the times. At its very core, this is FIFA 12 – a good game to be sure - but a step behind the other versions that have been out for months.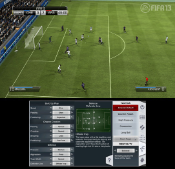 It's understandable that a smaller than normal development cycle – a necessary evil to produce a title in time for a system's launch; even a port – would result in a game of lesser quality than one produced under more ideal circumstances. The most immediately noticeable feature excluded from this port is "Ultimate Team", an online mode that marries fantasy sports with the franchise. Its omission is excusable as it doesn't affect the core mechanics of the game and most aren't buying the game for this feature; it's a "nice to have" item next to the "need to have" advancements in dribbling, passing and tackling mechanics that make up a large chunk of the core gameplay.
So what happens when you realize the game hasn't changed since last year?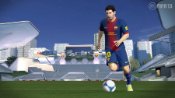 That's right, in addition to the omission of "Ultimate Team" the First Touch system and the enhancements made to the Player Impact Engine, Precision Dribbling and Tactical Defending – features that were introduced in the aforementioned 2012 edition – are not present on the Wii U. So, while the Wii U version of the game is no worse for this than FIFA 12, it sorely lacks when put side-by-side against the more robust version already available on other platforms.
Any hardcore fans of the series looking to play the very best version may as well stop reading now. The bottom line is, if you have access to another version of the game you should pick that up instead of this one. You'll be missing out on significant improvements over last year's model and won't have access to the more robust online communities hosted on other platforms.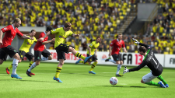 But for those who are new to the series, skipped last year's entry or have only ever played FIFA on a Nintendo platform will find the game quite palatable – especially since FIFA has wholly owned the soccer simulation crown for quite some time. And to this end there are several features that are unique to the Wii U version – the Wii U-ification of the game as it were – that ultimately make the game more accessible to newcomers.
First it should be noted that the entire game can be played using only the GamePad. This may be a difference maker for those that want to play FIFA in bed, or find themselves fighting for TV time with other family members. Boasting an intuitive touch menu system, the GamePad may very well be one of the better controllers for this type of the game. Each menu item is accessible at any time during a match, allowing you to make substitutions, check player stats and perform other manager like duties on the fly.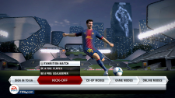 The GamePad's touch screen can also be used as a control mechanism – enabling the player to place "precision" passes and shots. At first, using the pad in this fashion is awkward – years of conditioning to use buttons will do that to you – but it doesn't take all that long to get used to. I found that a hybrid style of play best suited my needs. I would use the touch pad for some of my trickier lob passes, while sticking to the traditional button commands for quick passes and shooting. Conceptually, it moves forward Nintendo's philosophy that games should be more inclusive; offering a plethora of control options is just one way of moving towards that goal that FIFA 13 advances this philosophy admirably.
Co-op has also seen some enhancement via the GamePad. If one of the players wished to take on a more passive role, they could use the GamePad to keep tabs on the game and perform all the managerial tasks while 1-4 of his buddies slogged it out on the pitch. It's a novel idea that I suppose will help to include players who dream of one day managing their own club, but it doesn't offer enough options to be a real game changer.
FIFA 13 on the Wii U doesn't re-invent the wheel from last year's installment, in fact it's patently better from a mechanical standpoint on other systems, but it does lay the groundwork on how next year's edition could be vastly improved and perhaps be the platform of choice in the future. Here in the present though, you're better off getting your soccer fix elsewhere.