Street Fighter X Mega Man Review
RECOMMENDATION:

Mega Man fans should give it a shot. It's a fun diversion, but no replacement for the real thing.

I love Mega Man, and have ever since I played Mega Man 2 at a friend's house in elementary school. Even now I've been known to pop the Xbox version of the Mega Man Anniversary Collection into my 360 from time to time to replay some of the better games in his 8-bit career. Needless to say, when I heard Capcom had picked up Street Fighter x Mega Man—a reportedly well-made and interesting fan project— to release to their fans for free, I was understandably excited.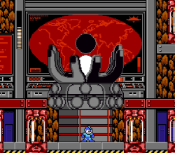 SFXMM has an 8-bit aesthetic, meaning it sounds and looks like one of the little blue bot's quality outings on the Nintendo Entertainment System. This time, instead of the typical robot masters Mega Man is taking on select characters from Capcom's Street Fighter franchise, which has been getting far more attention as of late. The bosses all come with their own set of moves, skills, and of course special weapons for you to take and use against their comrades. They even have a second "super" style meter that fills up when they receive damage, which allows them to unleash devastating special moves as if they were in a fighting game.

All this had me primed to enjoy an amazing new Mega Man game. What I found was a good experience that left me feeling curious. I couldn't initially figure out why, but it felt somehow vacant, making it a strangely fitting tribute to Capcom's once proud mascot. I had to rack my brains for a while to come up with what it was that kept me from really loving this game. Then something occurred to me. I ran to my video game collection and dug up the instruction manual for Mega Man: Dr. Wiley's Revenge for the Game Boy. There it was, just as I remembered it, the missing ingredient printed in black and white on the first page of the manual. Here's what it says:
Thank you for selecting Mega Man in Dr. Wily's Revenge for your Game Boy system. We are proud to offer you this action-packed adventure, Capcom's latest contribution to the Game Boy!

Mega Man in Dr. Wily's Revenge offers the finest graphics and stereo sound available for the Game Boy. We hope you enjoy the excitement and challenges that await you in this latest Mega Man adventure.
Very truly yours,

Joseph Morici
Senior Vice President
Capcom, U.S.A.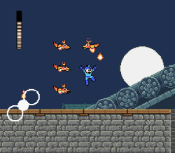 That's it. That's what was missing. If an instruction book were printed for this game with a quote that says this game offers the finest of anything, it would be a bald-faced lie. Where is the pride that made this franchise what it was? Where is the confidence and dedication that gave the president of Capcom USA the gall to print in a manual that they had pushed Nintendo's own hardware as far as they currently could, essentially stating they were at the very least on par with Nintendo themselves and know they were right to do so?
The trail of evidence begins with level design. While it's true the levels are completely new and unique, they have varying levels of quality. I can't level a shred of complaint against C Viper's level, as each screen was one exciting discovery after another, but I can't say the same for poor Chun Li. Her level is an irritatingly uninspired game of pick-the-right-path which, while oozing with cuteness, wasn't very fun at all to actually play.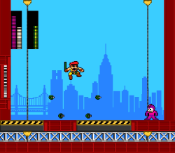 The music is likewise uneven. The designer cleverly mixed some classic Mega Man tunes with 8-bit renditions of the theme belonging to whichever Street Fighter character you've selected. This works out better for some than others. Urien's music sounds fantastic in an NES style, and has that kick to it that reminds you that Mega Man's original name was Rockman. Dhalsim, on the other hand, wasn't so lucky. Plus, since it's essentially a remix of stuff we've already heard, there's never that excitement that comes from hearing something new.
Then there's the lack of polish. For example, the buttons aren't properly mapped out of the gate, the jump and shoot buttons are reversed from what they were on the NES. In order to change them, you have to start the game and go to the inventory. Once there, the game flashes additional options on the bottom of the screen that respond to the keyboards function keys. These are presented by in the most basic, generic font and really disrupt the immersion by reminding you that you're playing an executable on a PC.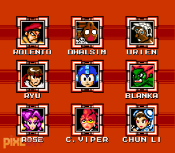 Additionally, there's no saving or password system and no other special weapons like the devices from Mega Man 2 or Rush from Mega Man 3 (although Mega Man's pup does make a cameo in one of the levels.) The game is very short, clocking in easily under an hour, and it seemed pretty easy. I was able to beat half of the eight Street Fighters using my default weapon, which kills the fun of figuring out their weaknesses.
Don't get me wrong, there's plenty of fun to be had in SFXMM. There's some clever extras thrown in that make it clear that this is a labor of love that's worth your time. Don't like a particular piece of music? Well, the designers threw in an Easter egg that lets you test the "Guile's theme goes with everything" theory. Beat a street fighter with full health, and a PERFECT message flashes across the screen. Likewise if they take you out without taking a hit themselves. There's even a secret extra boss you can face off against if you know how to do it, and have the skill to pull off what's required.
Street Fighter X Mega Man is absolutely worth checking out, but the player must be aware of what it is: a fan project Capcom is hosting on their website for free. At least half of the game is clever enough to make it worth the time it would take to enjoy the title, and there are a lot of unique levels to play. The 8-bit interpretations of Street Fighter characters complete with garbled voice samples are super adorable. Just don't go into it expecting a polished, classic Capcom experience, because all they really did was give it their stamp of approval. It's fun, but it's simply not up to par with the legacy of one of the greatest characters ever to grace our TVs in the decade of the NES.