The Walking Dead: The Game - Episode 5: No Time Left Review
RECOMMENDATION:

To anyone who enjoys zombies, great characters and a great story. Also, to those who have patience for game bugs.

With four episodes under Telltale's belt, episode five was meant to cap off the season in an appropriate and satisfying fashion. Episode four left off with a huge cliffhanger that set a grim tone for this last episode. If anything, I was worried that the episode might not deliver. Endings are always a touchy subject (am I right, Mass Effect fans?). However, I was glad because Episode Five – No Time Left hit all of the marks that it was supposed to, and then some.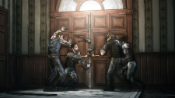 Gameplay remains the same as previous chapters, but the story is what truly matters. As the final chapter of the season, No Time Left chooses to keep the core cast at the forefront. Aside from one antagonistic character, the time is mostly spent with characters that you have already spent time getting to know. This is appropriate however, since the stakes are high and Lee's time is limited. The writing cements itself as some of gaming's best with beautifully written moments and outstanding character development. Some of the moments are arguably some of the most emotional you will find, and might even cause you to tear up. Character deaths are handled extremely well, and cause you to feel, maybe even more than you thought you would have.
One of the other core themes of No Time Left is the relationship between Lee and Clementine. Within the final moments of the episode, you gain a real sense of the journey they have been on, and get a few hints regarding the future of the series. Their final moments together are heartfelt and powerful. I don't want to dive too far into spoilers, but the final moments between Lee and Clem almost brought me to tears. It speaks volumes knowing that others actually did cry during that scene, and even through other powerful scenes in the episode. Other characters like Kenny, and even Ben (in my, unpopular, opinion) have great moments that make you like them even more. Overall though, it's the stars, Lee and Clementine that have easily become some of the best characters introduced into gaming last year and it is because of those heartfelt moments.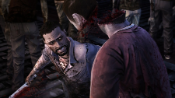 While the finale was fitting, and the ending makes me really want to see what direction they will go with season 2, there are still some lasting issues with the series as a whole. While I enjoyed the plot, one particular encounter with an antoginstic character at the end comes off a bit odd. The character is mad at you for a specific choice that you may have made in a previous episode, and even players who chose against it still face the wrath of his judgement. Story wise, it stands up, but in my opinion wasn't as good as the series highlight, Episode 3: Long Road Ahead. Don't get me wrong though, the final moments more than make up for the plots few shortcomings.
Also, bugs and glitches are ever present in the 360 version. Some of these are minor hiccups, but others cost me achievements, and others locked up the system. While the game did not lock up on me during episode five, friends of mine who played though the episode complained of crashes that hindered their experience. Since these issues have been scattered through previous chapters, you'd think they would have fixed them by now.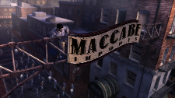 Another small issue is that there is a lesser emphasis on gameplay in this last chapter. While it is fitting for the story and tone, the lack of puzzles and overall control may bother those looking for a more technically engaging experience. That said, the story will likely be more than enough engagement for most players.
Those who may have been on the fence about the series need to know one thing: The Walking Dead is the real deal. Its story and cast make it one of my favorite games of 2012, right up there with titans like Mass Effect 3 and Borderlands 2. It's a game that I couldn't wait to play, and one that I beg my friends to try. All in all, if you enjoy a great story and characters, look no further. The Walking Dead is sure to quench that thirst.