Aliens: Colonial Marines Review
RECOMMENDATION:

Not recommended, unless you NEED everything that is Aliens.

Unlike most reviewers, I feel like I had a unique perspective going into Gearbox's Aliens: Colonial Marines. My fandom of the series only reaches back a few months, when friends recommended that I check out Alien and Aliens. While both movies were great, I didn't really have the grasp on the series like most that grew up with the franchise. Also unlike most that went into this game, I didn't have the chance to play it until after the backlash. Reports of the game being horrendous can be found everywhere, and while I agree to an extent, I feel that the majority of this game's lackluster reception is due to the lofty expectations of diehard Aliens fans. However, nothing can stop Alien's Colonial Marines from being a generic shooting experience that fell way below the standards of a great game.
In one of the most startling things I've ever seen in a licensed property, Colonial Marines takes advantage of the established cannon for the Aliens franchise and does whatever it wants with it, regardless of how much it doesn't make sense. In the beginning, you are established as a soldier known as Winter who joins his fellow marines once they find that the USS Sulaco (the ship many Aliens fans are familiar with) is in Orbit over the planet LV-426, rather than planet Fury-161 like it should be. The thing that bothered me the most about this plot point is that it is never clearly described why this is happening, and they literally in game give you the "I don't know why, but it doesn't matter" treatment. Even as someone who isn't fully invested in the Aliens lore, it's frustrating to see such little thought poured into details that matter.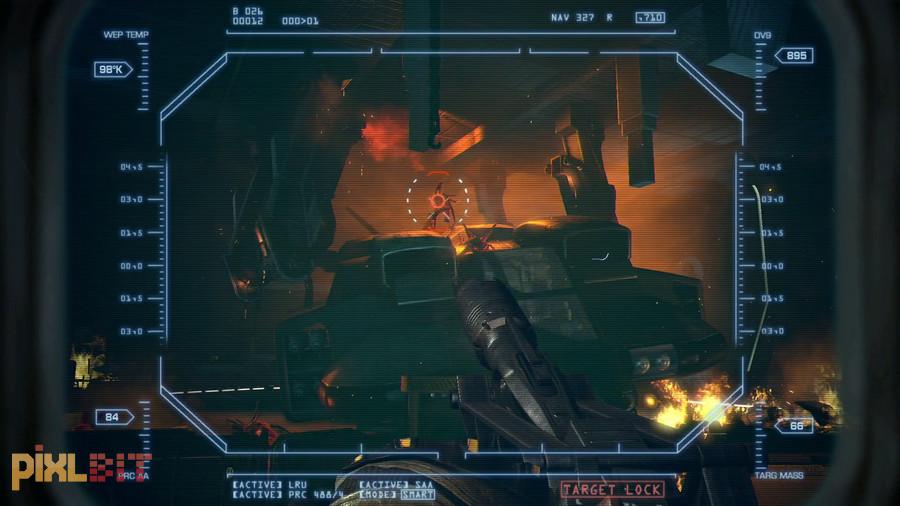 The rest of the game has players pairing up with other marines in order to figure out the mysteries around this ship and Corporal Hicks's distress signal. The game attempts to create engaging characters that are likable, but rather than growing attached, I began to grow annoyed with them. If anything, they were written well in the context of an Aliens movie, but in a game the same quirks just didn't work. These characters came off as whiny, unlikable, and overall dull. Characters like O'Neal became memorable, but for the completely wrong reasons (bad dialogue and terrible AI).
The plot became even more disappointing to me when you consider the promises laid out by Gearbox's staff. They claimed to provide an original cast of engaging characters, and they promised not to rely on already established characters from the movies. This is just completely false, as the game relies heavily on established characters, even bringing some back from the dead just to fulfill their plot points.
The plot and characters are indeed ridiculous, but the gameplay I must say isn't as terrible as people said. If anything, it's extremely generic. Levels often consist of mowing down enemies with the marines' almost broken arsenal of weapons. Aliens mindlessly rush you with no real strategy or logic to their actions. The game's other nemeses, which consist of rouge marines, mostly shoot at you, hoping to take you down because of their numbers. I say mostly, because often you will see marines just standing there waiting to get shot down. It's really bad, but it was good for a laugh. I had quite a few over the course of my 5 hour play through. In short, the AI is quite awful.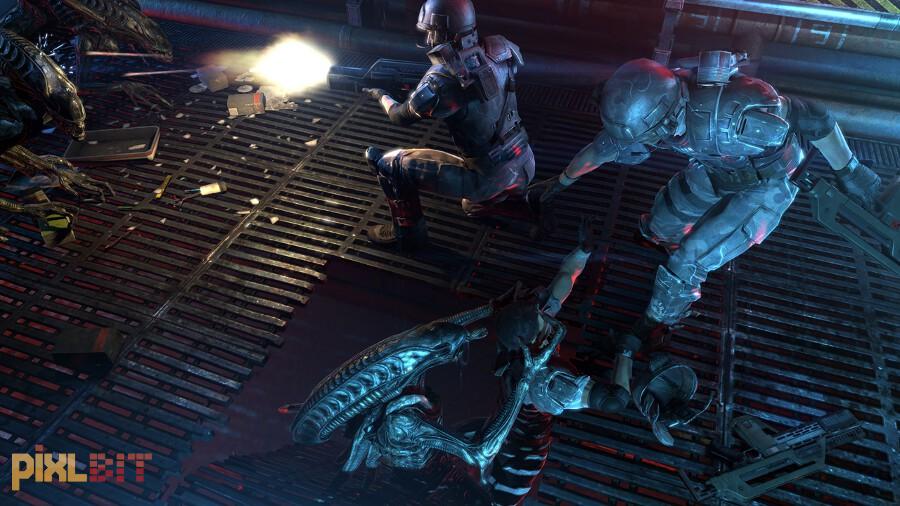 One redeeming factor came in one of the earlier levels. This level strips you of your weapons and has you trying to dodge and run away from blind and raging Aliens. This section was surprisingly tense and even scary at parts. I easily enjoyed this section more than any other part of the game solely because it did something different and interesting with the mechanics.
One that was disappointingly underused was the motion tracker. While its major purpose is to locate Aliens, you cannot use that and your gun at the same time, so using it isn't as effective as it should be. I used it to find objectives most of the time, rather than enemies.
There's also multiplayer, which has a decent wealth of game types. Normally, each mode puts one team in the shoes of marines, while the other team plays as the Aliens as they face off in game types like Team Death Match, and a new mode called Escape, where the marines try to reach an evac point while the Aliens hunt them down. This had potential to be fun, but I got just as bored with that experience. Aliens are flat out un-fun to play as, and are considerably weaker than humans (with a few exceptions), while the marines use the same by the numbers gameplay from campaign. There are glimmers of opportunity in the multiplayer, but overall I feel like they were missed.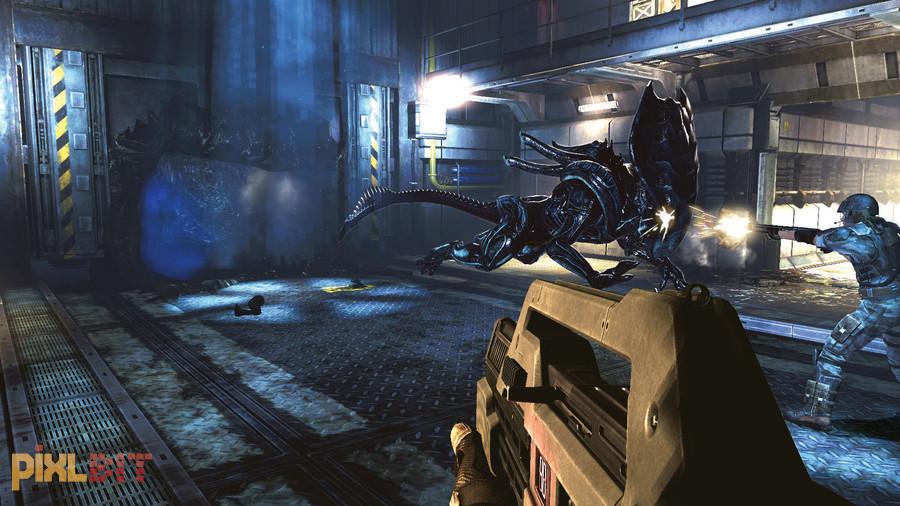 Aliens: Colonial Marines was a huge disappointment. It was nothing like I expected, and did nothing to make me appreciate the franchise any more. If anything, it caused me to not care. The gameplay, while not broken, will likely not steal any fans from more polished shooting experiences like Halo and Call of Duty, and its campaign will likely not draw many fans in. I have a hard time recommending this one at all, so unless you literally HAVE to consume anything that is Aliens, this one is best passed on.