Amnesia: A Machine For Pigs Review
RECOMMENDATION:

A great thrill for those looking to be scared and willing to overlook the fact this isn't a AAA game.

Frightening games require a key ingredient that is not initially present in their makeup: a willingness, on the player's behalf, to be scared. Without this, horror games are seldom terrifying, and more often than not are only campy experiences as silly and ineffective as the latest Jason & Chucky crossover flick. I went into Amnesia: Machine for Pigs wanting to be thrilled; and I made sure to play it at night, with headphones on, while everyone else in the world slept – to achieve this goal. This certainly isn't a Resident Evil experience, where you'll be blowing away fiends with your acid rounds – but something different, more along the lines of some other modern horror games where you are essentially powerless against the forces of evil, rather than being a semi-immortal avenger.
Machine for Pigs doesn't immediately provide the most original setting. You'll find yourself awaking in a strange, obviously creepy British mansion filled with horrifying sounds and ghastly children teasing you to play with them. But the developer of the game, The Chinese Room, takes this staple to the next level, with some adequately disturbing imagery and moments built on a foundation of thick lore.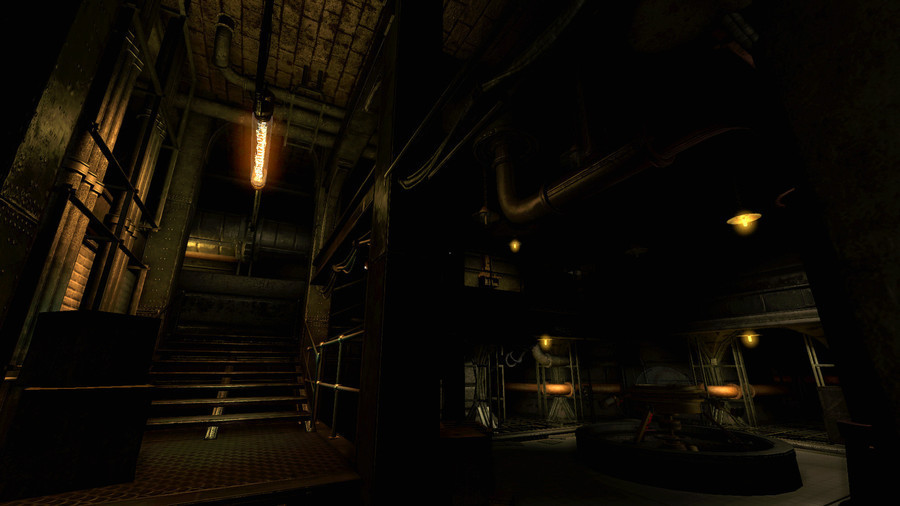 Some doors in the mansion will be open, and some will be locked. Some you'll want to go into, and some you won't. You'll tiptoe down stairs, scream through corridors, and escape through windows and secret passageways. There are puzzles: puzzles that must be completed before howling sounds come any closer. There are also shadows that look like monsters, until you finally meet the monsters themselves.
What you won't be doing is sending the undead back to their graves, or ever, ever, breathing a sigh of relief. There is no safety here, only the mystery of what happened, and the omnipresent danger of things unseen but not unheard.
That itself is one of the keys to the experience: the audio design, without which the game would be an empty experience not worth appreciating. I don't think I've ever played a game that matches the scary panoply of sounds that lurched and groaned through my headphones while I played Machine for Pigs. Listening to it through PC laptop speakers with the sound turned down would have been a pathetic, utterly wasted experience. In fact, one of my favorite moments was when I came across a gramophone playing warped, chilling music that I couldn't wait to get away from. As I moved away from this device, it slowly quieted and deadened, and I was glad to hear just monstrous gasps and ill wind again.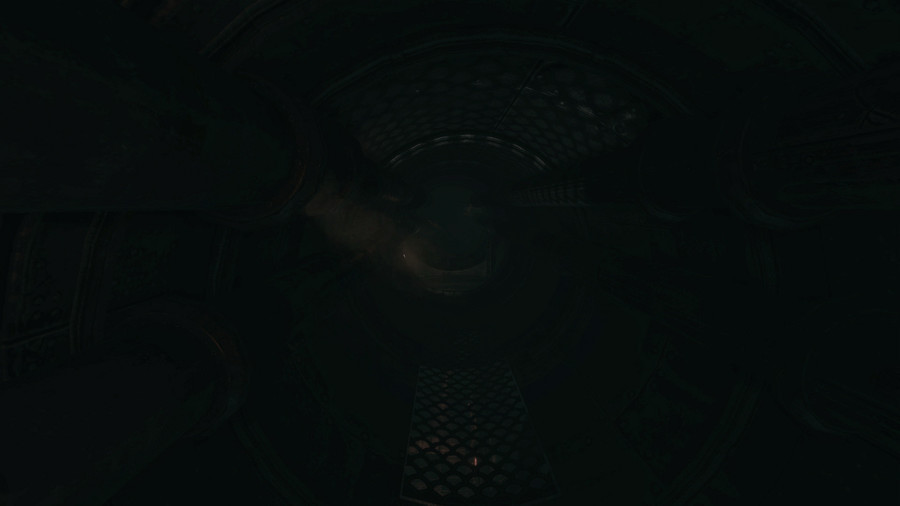 The graphics however are a mixed bag. This is obviously an indie game, and like most indie games, it reminds one of an era long since past. This game is reminiscent of a pre-Source engine creation, with bad textures, simple lighting, and downright ugly graphics. Leaving aside the fact that the game sometimes looks like a PSONE FPS, there is something more going on here. The low fidelity of the graphics, coupled with the relentless darkness and motion blurring, starts playing tricks with your eyes and you'll start seeing shapes in the shadows that may or may not be there. One time I thought I saw a figure sitting dejected in a corner of one of the rooms: it was only my imagination, and a stack of boxes. I hallucinated I saw monsters, men, and other terrifying shapes that only the human mind can conjure.
The developer was obviously aware of this, and enhanced this effect with real moments of blurry monsters blinking at the end of a corridor or through a window. And while you chase the two child ghosts while they lure you into God knows what, you will only see them for the briefest moments as translucent wisps.
There's no boss battles here, no life meter, no experience points. There are, however, somewhat predictable, yet varyingly difficult puzzles. Some will leave you scratching your head for a bit as you search the dark corridors for this or that. Others are remarkably clever. The simple key of course is to move the mouse icon over everything you see to find what can be interacted with and what cannot.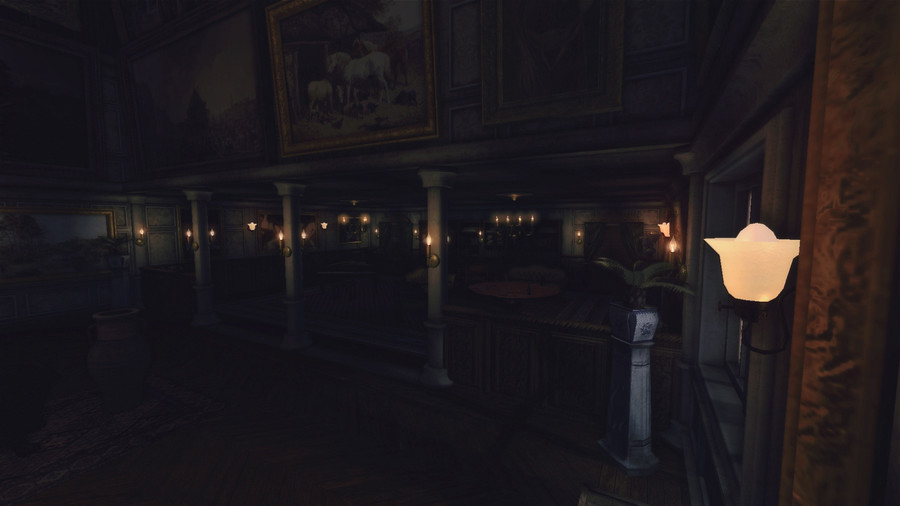 I came into Amnesia: Machine for Pigs without many expectations and little knowledge of what it was. I had never played the first game, and I didn't know much about the developer either. All I knew was that it was an indie game and it was supposed to be scary, and scared I was. What impressed, though, were the intellectual underpinnings of the horror, and the moral and historical conundrums presented by the story, especially if you participate in the (exceptionally well-written) lore. There is a dark poetry here, and like the rest of the darkness in the game there is a light at the end of the tunnel – a recurring motif amongst the corridors and trembling, terrible machinery.
I want to reiterate here how amazing the sound design is, from the music, to the voice-acting, to the ambient noise. This indie game's audio was finely crafted, and I think the designers really appreciated how important audio is to create an immersive experience, especially for a horror game.
A lot of care went into this game, and it's easy to overlook it at first. In an age when mainstream games recycle content without hesitation from sequel to sequel, from maps to cut scenes, it's nice to experience something that was handcrafted from scratch into a fleshed out idea. Simply, it's a great game. As I noted in the beginning of this review, you must possess a willingness to be involved, to be frightened, and to feel for the characters in this story. With that small effort, you're in for a real treat.