Chuck's Challenge 3D Review
RECOMMENDATION:

For those 10 and under, unless you're nostalgic for Chip's Challenge or really like level creators.

If you were given 13 grand, would you use it to make a sequel to an Atari Lynx puzzle game? I can't say that would be my first choice, and I bet it wouldn't be yours either, but could nearly 400 Kickstarter backers go wrong? (I can see Takedown: Red Sabre players are reaching for pitchforks; easy, folks, this is nothing like that. Stand down.) Another adventure in crowdfunding has resurrected one man's decades-long dream, and after playing the final product via Desura, I consider my brain partially teased, moderately amused.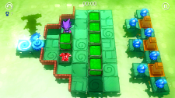 If you've played the original Chip's Challenge, you'll feel right at home, but anyone can easily jump in. This is a modernized version of what a sequel to that game would've been like, with some additional features like an unlimited undo button and colorful environments that can be zoomed in and out and rotated for different perspectives. It's easy: just get to the exit portal.
There are a respectable 125 brain teasers (25 easy, 75 medium, and 25 hard) that are all laid out on square grid floors. In the vast majority of them your little purple character moves boxes onto a switch to open up a gate that might, say, give you a key to open up the next part of the level where more boxes need to be pushed or switches stepped on, or a set number of thingies needs to be collected, and so on.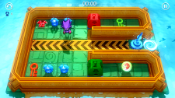 There are levels with switch-controlled robot drones, zip lines, slippery ice, water hazards, one-step-only platforms, enemies that wander around in patterns or mirror your movements, bombs that have to be avoided, and all sorts of permutations of all or some of them, but most of this game is not hard or even very challenging, even with an undo button. When it is hard, it's usually because the small, enclosed spaces only give one pathway to victory, only one correct way to push a series of boxes to completion or escaping through a swarm of one-hit-death enemies, and in these cases luck and trial and error will frequently trump the usefulness of the undo button.
If I haven't mentioned this yet, this game has lots and lots of box-pushing puzzles with so very many different combinations and variations that it can become tedious, so I wouldn't recommend it to those over 10. It just whips away at the same ideas like an ant smacking its antennae against the backs of a flock of aphids just for a drop of honeydew. In my book, there's not enough honeydew to bump its score above average. There's a level creator and upload feature and plenty of high score potential with the leaderboard, and enough hard levels to keep even adults occupied for a little while, so the effort is at least respectable. One can hope this indie developer can Kickstart some of these challenges into a bigger and better thing in the future.