3D Shinobi III: Return of the Ninja Master Review
RECOMMENDATION:

For all fans of old school action-platformers.

As an SNES kid, there's a sizable selection of Genesis classics that I've never had the opportunity to play. With the exception of the first game, the Shinobi series unfortunately falls into that category. However, thanks to Sega's recent efforts to 3D-ify some of their classic Genesis titles, I've finally been able to give Shinobi III: Return of the Ninja Master a shot. I'm happy to report that not only is this title still fantastic today, but that M2 has done a phenomenal job in bringing this game to the 3DS.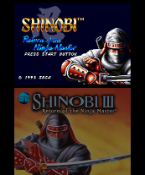 At first glance, Shinobi III is your traditional tough-as-nails action-platformer from yesteryear, but it only takes a few minutes to realize it's so much more. First and foremost, the game is only lightly grounded in reality. You'll battle the likes of genetic experiments, giant sludge monsters, and even Mecha-Godzilla. The environments and levels are equally diverse, with each requiring its own tactics for success.
Things start off simply, requiring you to only toss shurikens to dispense of foes. However, before long you'll be wall-jumping to new heights, grabbing hold of horizontal beams, wires, and pipes to gain altitude, making well-timed attacks to defend yourself, and perfectly nailing double jumps to avoid impediments or cross gaps.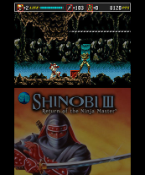 Despite Joe Musashi's leisurely progression pace, Shinobi III never feels stiff. As a matter of fact, one of the many small improvements made to the game is the "Expert Ninja Mode," which provides a more fitting control scheme that splits all of Joe's moves across the buttons on the 3DS. This is a clear improvement from the original controls and guarantees that you execute the intended move on command.
Some other small improvements include the ability to save anywhere, two modes of 3D (fall-in and pop-out), a level select mode, and even emulation options of either the Genesis or the Genesis 2. No matter which 3D display mode you choose, Shinobi III is a damn fine looking game that greatly benefits from the 3D display. With lots of parallax scrolling and some faux-3D images in the background, the entire game quite literally pops. The boss sprites in particular are extremely memorable and highly detailed, which speaks volumes of the art design.
Outside of the brutal difficulty in the last level, it's hard to find any fault in 3D Shinobi III: Return of the Ninja Master. It's one of the best action-platfomers of its time and this loving 3D upgrade has just about anything you could ask for. If the rest of the 3D upgrades Sega has released match the quality of this one, fans of old school games are in for a real treat.