The Firemen 2: Pete and Danny Review
RECOMMENDATION:

For anyone who doesn't mind the mundane gameplay mechanics.

The only thing worse than knowing about an import game you'll never get to play is receiving the inferior sequel that you do get to play. Such is the case with The Firemen 2: Pete & Danny. Originally released in Japan in 1995 on the PlayStation, the game was recently re-released as an import download on PSN, courtesy of MonkeyPaw Games. In a nutshell, the game is more or less an overhead shoot 'em up that focuses on fighting fires instead blowing up aliens. It's a novel idea to be sure, but one that wasn't executed nearly as well as it was in the previous game on the Super Famicom (aka: Super Nintendo).
As the name would suggest, the game focuses on the heroics of firefighters Pete Gray and Danny Mclean. The story takes place in New York City on Christmas Eve. Fires are breaking out all over the city, and it's up to Pete and Danny to put out the flames while getting survivors to safety. Putting out fires requires you to either aim high at tall flames, or aim low to extinguish smaller embers. Pete is equipped with a hose and unlimited water and Danny is equipped with a short-range axe that shoots "waves" at the flames. Both can also use a water bomb to extinguish a wide area of fire if they become overwhelmed.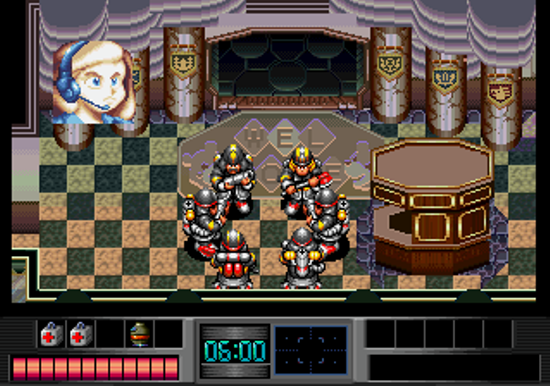 There is a fair share of location variety throughout the game, beginning their missions in an amusement park and eventually battling fires in an aquarium, a casino, a dining hall, and a museum full of animatronic dinosaurs gone haywire. There are several humorous details to be noticed as well. For instance, in the amusement park level, there's a couple blissfully riding the spinning tea cups, seemingly oblivious to the raging fire. Later, just after you extinguish a huge fire at a wedding dinner, the groom lights a cigarette, causing an explosion in the very area you just secured. You can't help but to laugh.
As interesting as these locations are, I found the core gameplay itself to be somewhat uninspired. All you really do is move from scene to scene, putting out the same flames and rescuing the occasional stranded person. After about fifteen minutes into the game, I realized that the novelty of the firefighting theme in a shoot 'em up wasn't quite as exciting as I thought it would be. And if you're playing the single player campaign, the hit-or-miss A.I. from your buddy Danny doesn't help much either.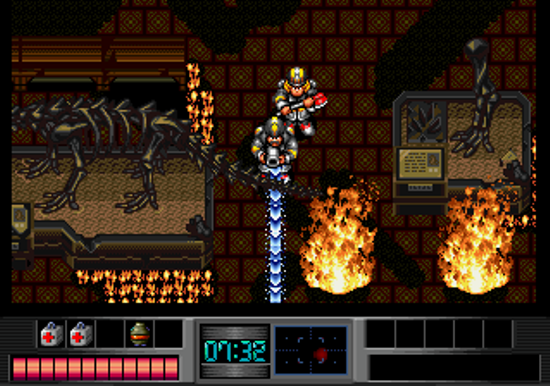 In theory, Danny's supposed to assist you in putting out the fires. Instead, far too often, he gets stuck behind objects that could be easily avoided. This often leaves you to fight your battles solo with only the occasional assistance from your right hand man. This is one of those games where you'll definitely want to play with a buddy (or wife in my case) to get the full use out having a second character to back you up.
With the exception of a few words on the main menu, the entire game is in Japanese, which makes it somewhat difficult to feel vested in the situation at hand. It's downright off-putting in one particular section where completing the level requires you to break a water tank in an otherwise empty room. And the tank isn't explicitly marked, so unless you understand Japanese, you won't know that the last conversation you heard was telling you to break the water tank. I had to visit the website of MonkeyPaw Games to figure out what I was supposed to do. Granted, you can only expect so much from direct imports like this one, but the lack of any localization adds extra frustration to an already mediocre experience.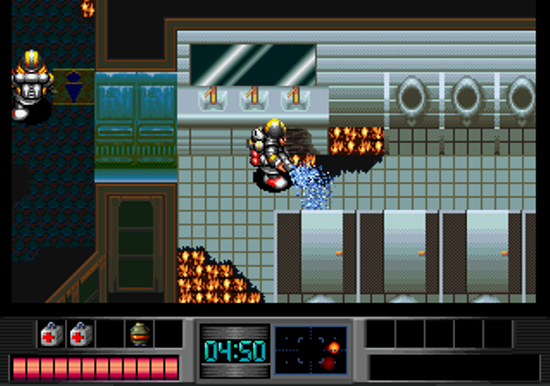 If you can get past these deficiencies, then The Firemen 2 is an enjoyable romp into the world of quirky retro imports, but for anyone expecting to be wowed by anything beyond the firefighter theme for a shoot 'em up will be in for some serious disappointment. If you're looking for a better fire-fighting fix, check out The Ignition Factor on the Super NES. It'll leave you feeling more like a hero and less like a caricature of one.