Bayonetta Review Rewind
RECOMMENDATION:

For fans of Hideki Kamiya's previous works. While semi-functional, the PS3 version has some horrid problems that tarnish the experience. Stick with the 360 version.

Devil May Cry on the PS2 spawned a mini-industry of brawlers that require button mashing and quick time events. Most of them also have main protagonists that are bald with deep scowls and anger management issues. Bayonetta is a one-liner-spouting, angel-killing witch with an outfit made out of her own hair and a dark sense of humor. Out of the countless third person brawlers, Bayonetta is a joy to play… but only the 360 version.
Bayonetta has more gameplay depth and better controls than the Devil May Cry series it is often compared to. Its progression is divided into chapters, with ranked battles called Verses. Like with The Wonderful 101 for Wii U, each Verse is ranked from Stone (worst) to Pure Platinum (best), from your combo score, the amount of time you took, and the damage you received. Then there is also the element of Witch Time, which slows down battles after dodging at the right time, allowing you to pull off combos with a score increase.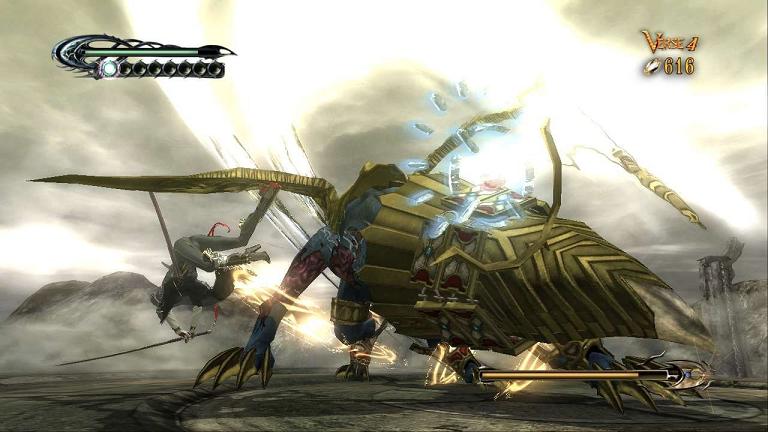 Trying to find the right style in weapon choice and combo usage while avoiding enemy attacks keeps this from being a typical brawler button masher. Different story events will sometimes change the landscape, such as mini-boss battles crashing through structures or a major boss turning a level you previous progressed through into a dangerous hell filled with lava. Going off the beaten path will net you hidden trinkets that extend your health and magic meters, or lead to hidden battles and portals where you contend against enemies under certain requirements. These missions can sometimes drive your patience to insanity, but they are quite clever.
What keeps this game from being button mashing boredom is the amount of weapon combinations; Bayonetta can equip weapons on her hands and heels, and also have two sets you can switch in and out during battle with the press of a button. Dodging, a critical move in Bayonetta, is also performed instantly with a button press. While the specific inputs cannot be changed in the options menu, things like camera control can, which is a blessing because the default camera speed is too slow for comfort.
Bayonetta's strong gameplay keeps it afloat, because even in the 360 version, it has problems. For starters, the storyline that drives the game forward is poorly written aside from some character interactions; not to spoil anything, but one character's back story is completely confusing and doesn't make sense in the slightest. Thankfully you can skip the cutscenes.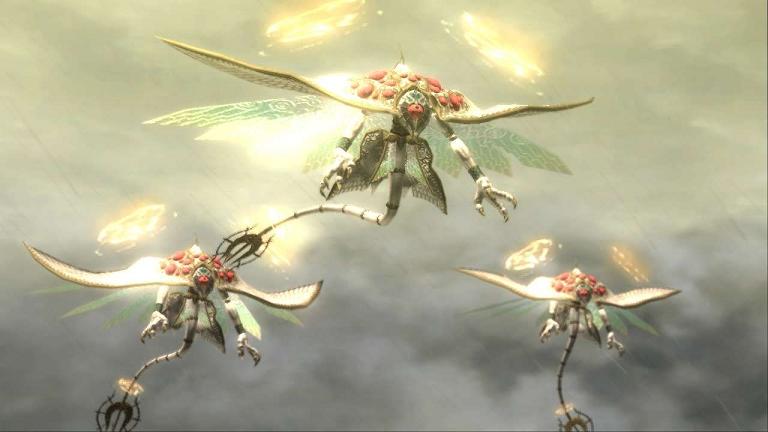 The camera can sometimes work against you as enemies attack from all sides, sometimes without an attack cue you can hear or see. Then there's having to grind a ton of in-game money just to purchase technique and accessories. The biggest issue I had though is the terrible input lag; when one or more of the enemies are enraged (on fire), inputs aren't properly captured and as a result, attacks aren't executed as expected.
Bayonetta is fairly consistent in its quality production values. The visual design is very unique, from Bayonetta herself, to the enemies you encounter, to the cutscenes themselves. Furthermore, the entire game runs smoothly at 60 frames per second (on the 360), but graphical tearing is noticeable when the action is kicked up to eleven. Sound design is excellent minus a couple of stumbles; the music and sound effects are very well done and fit the mood where needed, though Bayonetta's battle theme music and "Fly Me To The Moon" are not ear-wormy in a good way and get tired quite quickly. Voice acting, however, is great, with Grey DeLise as Jeanne being a standout performance. The voice performances for Cereza and Father Balder is another matter, with the former sounding plain terrible and the latter absolutely goofy.
Minus a few technical issues and weak storyline, Bayonetta is a solid experience. These days you can experience Bayonetta's hilarious antics in tackling angels for cheap, if you are interested.