Rollers of the Realm Review
RECOMMENDATION:

Highly recommended for fans of action RPGs, pinball, and especially both.

A plucky thief with a heart of gold arrives outside a small village. Using her companion, a scraggly mutt, she distracts the guards at the gate and sneaks into the nearby sewer entrance. Upon her arrival, she picks a few pockets to gather what she needs, and prepares to leave when a drunken man in plate mail being harassed by the henchmen of the town butcher, a local crime boss of sorts, stumbles onto the scene. A few backstabs later, and our thief now has a new partner, but her canine companion has been kidnapped by the butcher's men, and they're off to liberate him.
All this sounds like a pretty standard setup for a typical RPG, but here's the thing: All of these scenarios took place on a series of pinball tables. Pop bumpers replenish mana. Enemies drop gold. Balls represent characters and will engage in conversations with each other, and the craziest thing about all this is that, somehow, it actually works.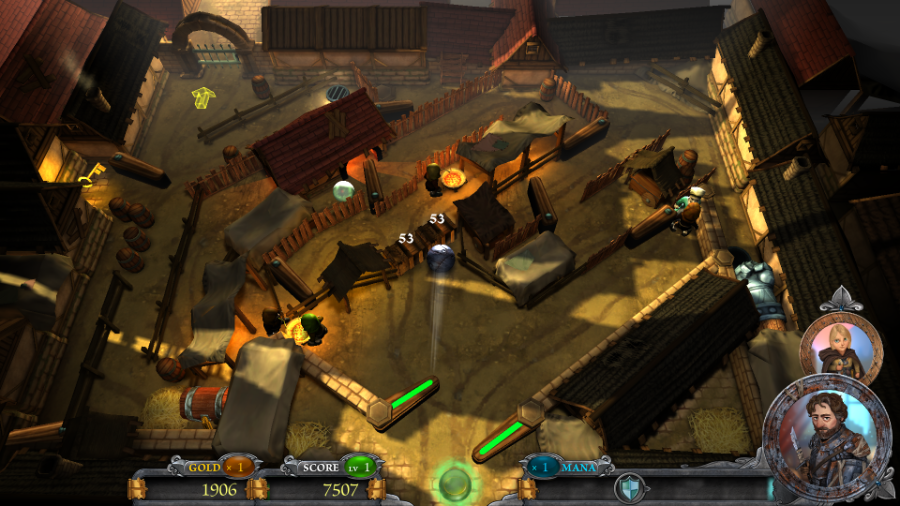 Like any RPG, players are forced to approach situations tactfully. When being attacked by a swarm of enemies, it's a good idea to use the knight ball, or maybe the alchemist (who has AOE attacks) if they're all in a group, but you'll eventually have to restore your flippers by swapping him out for your healer. Running into enemies with shields? Try summoning your rogue and using her increased agility to slip behind them for massive damage. Need to deal with a nasty that has ridiculously high HP? There's a ball that can light enemies on fire and deal damage over time. With enough knowledge and planning, there's always an effective way to deal with every situation.
Stats also play a major role. The rogue, for example, has amazingly high agility, allowing the player to dynamically alter her course around the battlefield. By contrast, the knight has extremely low agility and will hardly budge when the player attempts to steer him, but his large size makes him difficult to drain, and allows him to knock down enemies he runs into. These, and other stats, can be increased by unlocking new items through gaining experience levels, or buying others with gold. Players can also hire other characters permanently, which essentially gives them more replays, but these are very expensive.
Pinball wizards will find a lot to love here. There are some great references for those who know what to look for, such as the Knight's special ability, which seems to reference the pinball table "Big Guns". There are even stages that are reminiscent of pre-mechanical pins (which evolved separately from pinball into modern Pachinko games), like the graveyard.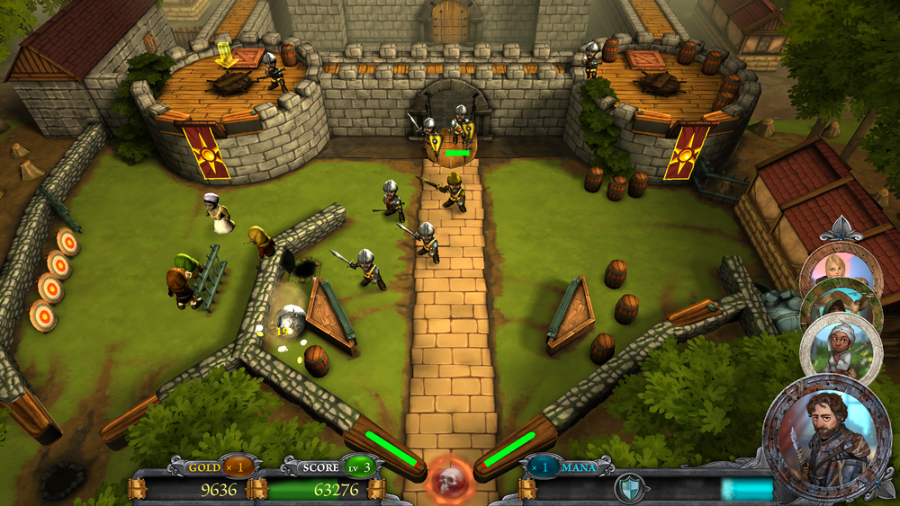 The game isn't without its flaws, however. Both the pinball elements and the RPG elements feel lighter than they should. Leveling up your party doesn't feel like that much of an accomplishment, and the game later encourages grinding, but fails to make the grinding feel impactful or productive. By the time I had finished the game, despite playing every single playfield and finding all their secrets, my party was only level 7, I had only hired two additional characters (the barmaid and the alchemist), and I hadn't unlocked all the equipment for a single one of my characters, much less purchased it.
The tables themselves feel like they were inspired by simpler designs from the '70s and early '80. Don't expect to see a maze of ramps snaking all over the playfield, or any of modern 'mission' style elements. While I personally prefer that exact era of tables, more modern pinheads may find the layouts becoming boring. It doesn't help that the campaign also forces players to replay some tables with a moderate difficulty increase later on.
Rollers of the Realm is an incredibly fun and creative experience, and well worth the asking price. It isn't a terribly long game, especially for players with pinball experience, but that also keeps it from becoming too stale. In the end, I was left wanting more, and that's not always a bad thing.