Duck Hunt Review Rewind
RECOMMENDATION:

A good choice if you don't mind the short-lived gameplay elements.

Duck Hunt is an interesting relic of times past and one that I have conflicting feelings about. While it was my earliest NES memory and no doubt fun from what I can remember, it also hasn't aged quite as well as I would have hoped. But sometimes, that's just how it goes with the games we played as children. I suppose the biggest letdown is realizing that the game simply isn't as stimulating to me as it once was, mostly due to its limited nature. At its core, you're just shooting the same objects round after round until you fail to reach the required quota. Be that as it may, Duck Hunt's importance in Nintendo's history cannot be overlooked.
Duck Hunt features 3 game modes-- Game A (1 Duck), Game B (2 Ducks), and Game C (Clay Shooting). You choose your game mode by pointing the Zapper away from the screen and pulling the trigger. Once you settle on the game you want to play, point the Zapper at the screen, pull the trigger, and you're all set to go. In Games A and B, your trusty dog companion kicks off each round by sniffing out the fowl hidden behind the grass. Once their position is discovered, he leaps into the grass, forcing the winged creatures out of hiding. And that's where your marksman skills come into play. Should you miss your targets, not only will you be the shame of hunters everywhere, but your own dog will laugh at you too. Unfortunately, animal cruelty laws prevent you from neutering the little punk with your Zapper. Sorry, guys. A friend can also join in and use the control pad to move the ducks around to increase the unpredictability of the ducks' movements.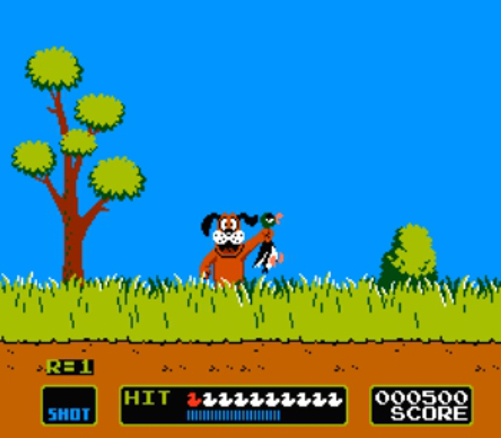 As you progress through each round, the ducks will fly in increasingly difficult patterns, requiring an increasingly steady shot. This was where I really started enjoying the game. In the more difficult rounds, you'll also notice that the ducks can potentially escape or "fly away" much faster than before. So while you need to place a careful shot in order to hit them, you also can't take forever contemplating if you should take the shot or wait a bit. It gives the game nice sense urgency, while leaving your success or failure strictly in your hands.
The Game C portion of Duck Hunt is quite different than the other game modes. This is Clay Shooting (also known as trapshooting), where you shoot clay pigeons instead of ducks. Just like the real sport, you're on a shooting range where two clay discs are launched in the air and you'll need to shoot them before they disappear from your line of sight. I always loved watching them burst into small pieces-- it reminded me of fireworks. Clay Shooting tends to be more challenging than the duck games because your targets are smaller and the clay discs are shot at different intervals and directions. I actually prefer the Clay Shooting game over the other duck game modes. I find it to be more fun and challenging.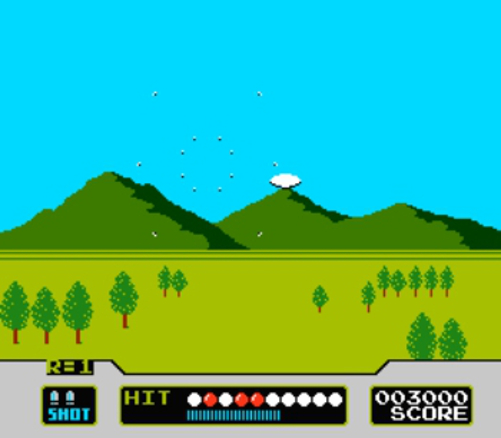 No matter which game mode you choose, each round allows you to try your aim at ten ducks or clay pigeons per round, represented by similar shaped icons on the lower half of the screen. You will also notice a set of small blue bars below the icons that the instruction manual refers to as the "pass line". It indicates how many hits are required in order to pass on to the next round. Every few rounds the quota requirement will go up, demanding that you make fewer misses or else it'll be game over.
The game modes feature bright colors and well drawn scenery. In the duck games you can clearly see that you are hunting in a grassy plain, while the Clay Shooting mode has a nice forest setting with mountains in the background. Unfortunately, the scenery never changes when progressing to different rounds. Other NES Zapper games like Wild Gunman and Hogan's Alley at least featured different backgrounds every few rounds. Since your targets never change in Duck Hunt, it does get a little mundane after seeing at the same one area in each round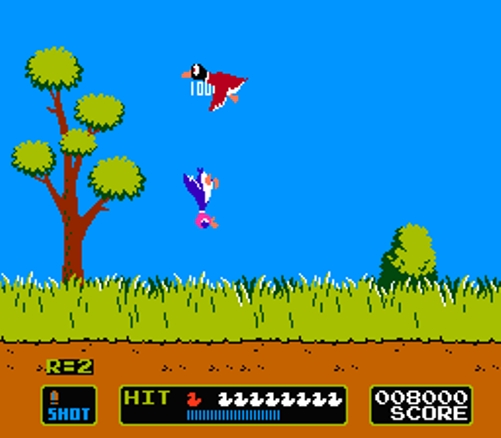 Music takes a back seat as there's not much to be heard outside of the title screen, beginning a game, moving to the next round, and eventually losing the game. It's not a deal-breaker though because in real life, it is good to have silence--especially when trying to do your best at trapshooting. The sound effects aren't all that varied, but they do stand out more than the music since you'll constantly be hearing ducks quack and flap their wings and your gun firing those invisible digital bullets at your prey.
Duck Hunt's elements aren't bad in themselves, but its long term appeal doesn't hold up as strongly as I would have liked. Since there's not really much going on except firing at the same targets in front of a background that never changes, it won't likely hold the average gamer's attention for as long as it used to years ago, but it's still enjoyable in short bursts.