Tony Hawk: Ride Review
RECOMMENDATION:

Not Recommended.

Tony Hawk titles have a special place in my heart. Years ago when the first title was released to the market, it was unbelievably unique; never before had a skateboarding game been released that was so smooth and dynamic. Not to mention the fact that it was released at a point in time where skateboarding was earning some widespread appeal. Being the teenage boy that I was, Tony Hawk inspired myself and other friends to start trying to skateboard in real life. It didn't take long to realize that skateboarding is hard as hell. No matter how much effort we invested, the best we could ever do was ollie - so like any teenage boys who aren't immediately successful, we gave up.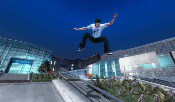 As you might imagine, when Tony Hawk Ride was announced, I was immediately excited as it promised to make the skateboarding video game series more like real life with the help of a special board. Well, the excitement was good while it lasted because Tony Hawk Ride is a poor excuse for a game.
The game's failure is really an amalgamation of things. On one hand the game's peripheral is simply not very responsive and tough to use. During my time with the game, I watched myself, Chessa, and countless friends nearly fall and break their neck trying to do a trick. The problem is simple: the board requires players to awkwardly lean at steep angles with absolutely no forward momentum. This of course is only worse when you attempt to perform tricks. Now rather than just leaning, you must also flick the board back and wave your hands in front of the sensors in order to activate the tricks. Let's just say that every time someone hopped on the board, I feared for my HD TV.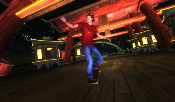 The second issue is the lag between doing the motions with the board, and when they occur on-screen. Every movement, trick, and jump must be planned out at least one second ahead of time, and even that doesn't guarantee that the motions will be translated properly on-screen.
This brings me to my next point: Skateboarding is hard. As we all know, the sport translated well into a game that required not an ounce of physical exertion or coordination. Now that a life-like board is in the mix, people's natural skateboarding inability hinders their performance in the game, as well as their enjoyment of the experience.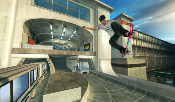 The game makes a valiant attempt to tone down the difficulty, but in the end just waters down the experience. There are three difficulty settings in the game, the first of which takes control of the board's steering and lets players focus on just ollies and tricks. This is moderately fun for the first few minutes, but lacks some serious depth and grows old unbelievably fast. The second difficulty setting transitions board control to the player, but assists with steering when necessary. The final setting is completely free of computer assistance.
I found myself playing the game in the middle tier because it was the most bearable of the three. However, I never found myself doing particularly well. The awkward nature of the board mixed with the general challenge of skateboarding made sure that I wouldn't be horribly successful.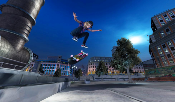 While the board itself is a disappointment, the game is underpar as well. The presentation, instructions, and tutorials are absolutely horrible. At times I was legitimately confused as to how to perform the simplest of tasks. Honestly, between the board issues and the horrible tutorials, the game was so offputting I had no desire to go further with it.
I'll admit that this is somewhat of a nitpick, but the game's rampant advertisement is slightly annoying. I don't mind being advertised to, generally speaking, but in Ride it's just out of control. Activision really should have either toned down the ads, or left them out entirely, especially when players have already invested so much into the title.
It's sad to say, but Tony Hawk Ride is a complete disappointment and a subpar game. I caution all players against ever bothering to even play this game. It's messy, frustrating, hard to control, and could potentially by hazardous to your health (and expensive TV).