Saints Row IV: Re-Elected Review
The Bottom Line: A sandbox title that doesn't take itself too seriously and provides for many hours of pure fun and unbridled exploration and traversal.

It's weird, but Saints Row IV: Re-Elected is the first game in about a year that made me feel like I need to write about games again. I didn't expect it to be quite as good as it was, but after an hour with the game I knew I was in for a treat.
Rather than bore you with the details of the story (which is actually not half bad), let's just say that the Saints have found themselves in a simulation of Steelport fighting against an alien race known as the Zin. Because the game largely takes place within a simulation, you're afforded superhuman capabilities like jumping to the top of buildings from the street or running up walls at super speed.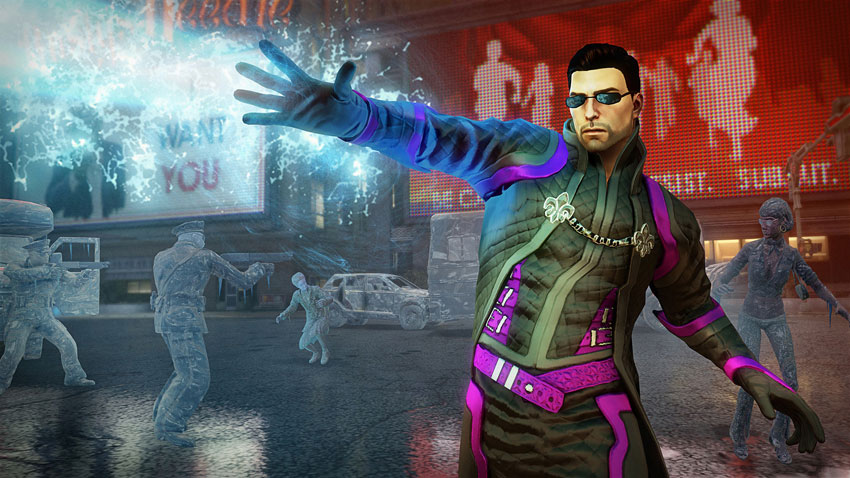 Your range of control is really quite liberating and the simple act of traversal is fundamentally enjoyable. Sure, you can hop in a car and drive around, but in a world like this, that's a mundane way to play. Littering the rooftops are clusters, small blue orbs, that can be collected and spent to improve or increase your super powers. Throughout your travels, you'll run across hundreds of them and the game certainly encourages you to collect them. But someone like me doesn't need the encouragement - I live for collecting widgets in a 3D world, especially when getting around feels this good.
Of course, it's not all about collecting junk. There's hundreds of other tasks to complete in virtual Steelport that are doled out in missions as you rescue your crew from the simulation. The key missions help drive the story along, but the numerous side missions provide an opportunity to know your crew better. As someone who has missed Saints Row 2 and 3, all of these missions really helped fill in a lot of the blanks for me and helped me get to know all these characters.
Running through all the side missions can sometimes become a chore, especially when you're doing things like hacking stores or dealing with fights with waves upon waves of enemies. But being such a mindless game to begin with, it felt like the pay off of collecting lots of money to both buff my character and my weaponry totally made it worthwhile investment.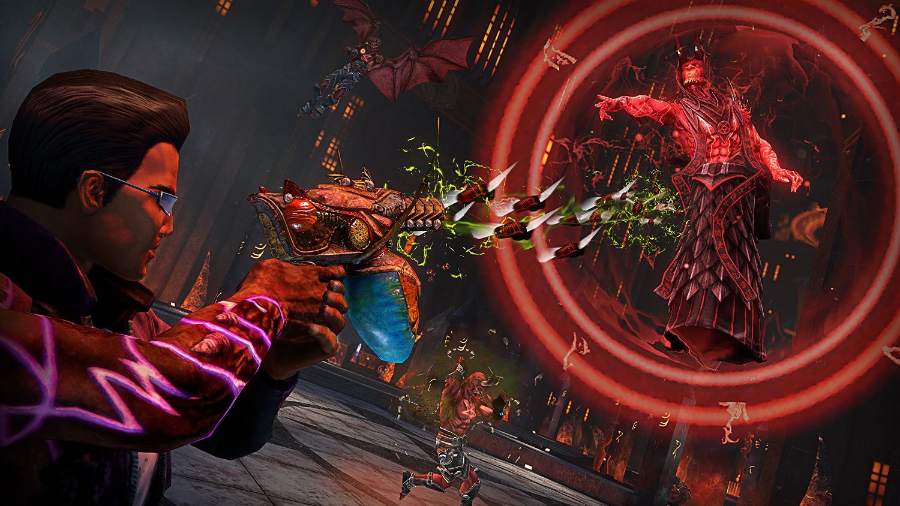 Re-Elected's sense of humor and ability to parody other games was something else I really enjoyed. It doesn't take itself too seriously and can do stuff like have a mission with gimps and dildo thrones, but also produce an excellent and funny Metal Gear Solid homage. To that point, the DLC is also very good and provides a few extra hours of gameplay that are great and really quite funny. And that doesn't even include what is essentially another game, Gat Outta Hell.
Gat Outta Hell sends Johnny Gat and Kinzie on a rescue mission to hell in order to rescue the president. There's a whole bunch of new characters and a couple returning from past games in the series. The sense of humor and great gameplay of the core game also carry forward here. It's perhaps even a bit better thanks to the brand new flying ability, which totally makes the game.
This new ability spawns a bunch of new types of missions and provides for a greater degree of exploration because it lets you find things on the map in remote locations, which is always exhilirating.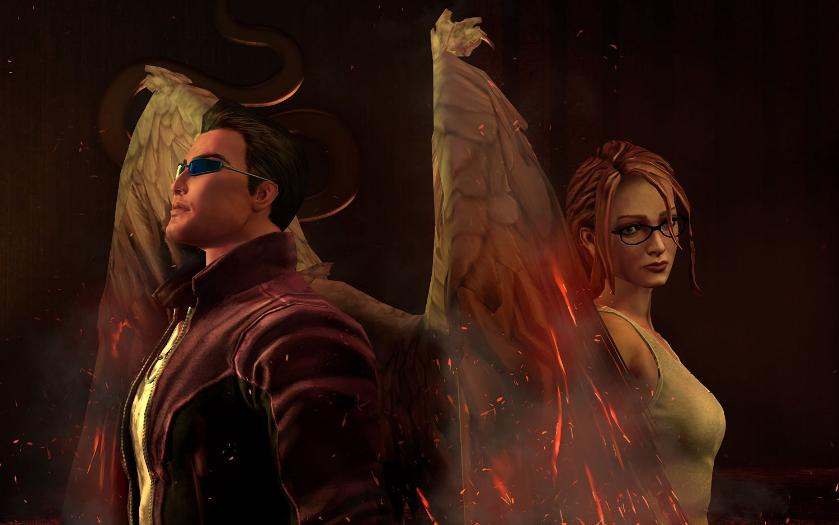 With all of the technical improvements over the last gen version and the diverse array of content for cheap, I can't help but recommend Saints Row IV: Re-Elected wholeheartedly. It's a fun and funny romp through a virtual world within a virtual world.