Ratchet & Clank (PS4) Review
The Bottom Line: I honestly cannot imagine anyone legitimately disliking the title. Ratchet and Clank purists may be disappointed by many of the story changes, but at the end of the day the game is so much fun that I can recommend this to anyone.

I have always had a strong love for the Ratchet and Clank series ever since I first picked up A Crack in Time for my then new PlayStation 3. I fell in love with its creative weapons, excellent sense of humor, and charming world and soon proceeded to blast through the series, replaying most of the titles over and over. When I eventually got around to trying the original game, however, I was quite underwhelmed. It felt like an experiment, a game with a good idea of giving a platforming mascot weapons, yet none of the ideas really came together. The franchise did not really find its footing until the sequel Going Commando with the third title Up Your Arsenal perfecting the foundation and future titles merely adding extra tweaks and polish. So when I heard the first game was getting remade with the modern design choices the sequels provided, I was naturally excited.
The result is a game which both manages to perfect the elements which did not quite work while unfortunately tweaking what many portions which were perfectly fine for the worse. Fortunately, however, none of these downgrades exist in the gameplay department, which is better in every way. The game adds a strafing feature introduced in Going Commando, which makes it far easier to aim and fire your weapons at enemies. This removes the frustration from the original game and lets it shine as one of the finest shooters gaming has to offer.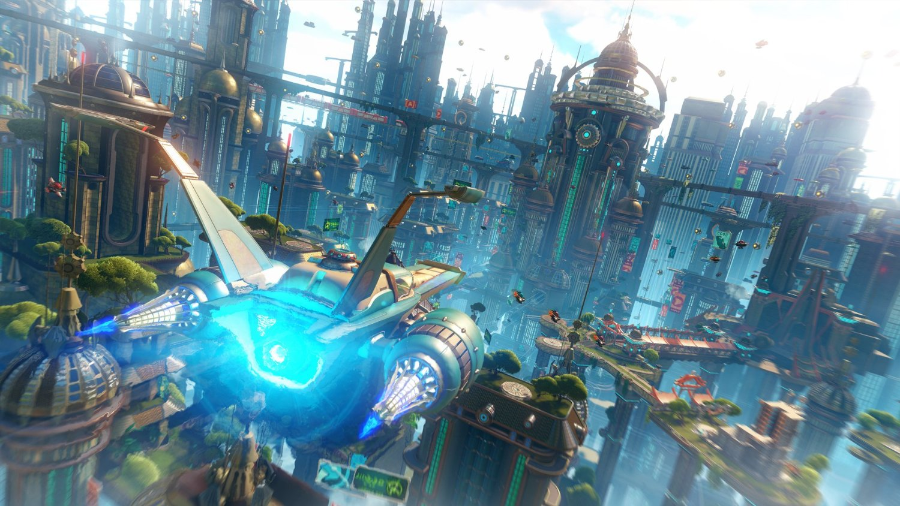 A possibly even more important addition, however, is the weapon upgrade system. The game offers over a dozen weapons, which you can carry all at once. These weapons are gradually offered to the player in shops over time, usually after completing a level. The more each weapon is fired at an enemy, the more experience it gets until it is upgraded to a slightly improved weapon. The fifth version will add a bonus effect, such as the blaster firing off three shots at once. A tenth version is also available after completing the game and replaying in the challenge mode, which offers tougher enemies, but lets you carry over all of your weapons and upgrades you obtained through your first playthrough.
The upgrade system may be the single most addicting mechanic I have ever encountered in a video game. It encourages the player to use every weapon provided, which is further aided by how all the weapons are fun, useful, and wildly creative. From a machine gun shooting buzz saws which swarm like bees to a launcher whose missiles shoot rockets to grenades that turn into disco balls causing every enemy to dance (even the tanks), the weapons shine to make this game ridiculously fun to play. This is compounded by the great synergy between weapons, as some can provide support for your main gun, creating a ludicrously fun, chaotic battlefield.
The action is broken up with various platforming and puzzle segments. While the platforming is a nice distraction, it rarely provides much substance, as it is very simple and easy. This is not a huge issue as the platforming is still serviceable and exists give a break from the action, yet I still wish for more engaging and challenging level design. Puzzles come in all kinds of varieties from minigames to Clank's own special segments, which start off simple enough and gradually get more complex at a superb pace.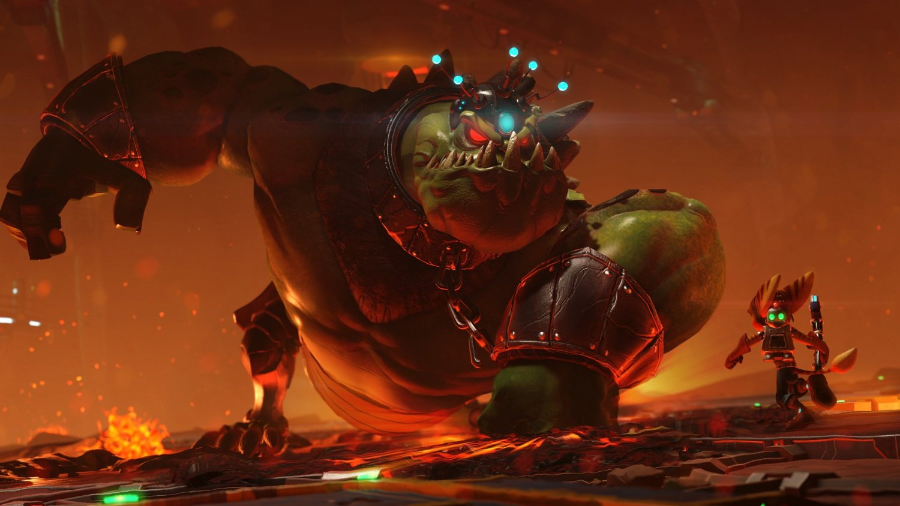 The story has also been severely altered to better match the upcoming movie (as of this article's publication). Unlike the gameplay, however, the results of this are a mixed bag. On one hand, Ratchet has been improved as a character, as he unintentionally came off as a jerk in the original game. Here, he has a more defined arc as a wide-eyed optimist ready to prove himself, which though cliché, is well written. His sidekick Clank remains just as charming as ever, everything about this robot from his dry wit to his signature laugh is so loveable. Fan favorite character Captain Qwark has his role in the story drastically altered to downplay his role as a villain in the story, and while he is funnier than the original thanks to his fantastic naration throughout the game, he still is not quite as hilarious as some of the other titles in the franchise.
The villains, however, received a severe downgrade. Main villain Drek originally had no self-awareness as to how evil his plans were, creating very funny situations where he would apologize over destroying planets as though it were a minor inconvenience to their people. Here, however, he feels more or less like a wackier Lex Luthor rip-off. This, in turn, makes his bizarre plan to steal chunks of planets to make his own super planet less amusing, as it does not mesh as well with his character. It feels too goofy for the character, and when something feels too goofy for a Ratchet and Clank title, there is a problem.
The game also adds Dr. Nefarious into the mix to provide his origin story before his introduction after transforming into a robot in Up Your Arsenal. He now works for Drek which has potential, but his humor feels neutered. Part of this comes from how the setup doesn't allow for some of his best gags (his dry witted robot butler Lawrence, for instance, is nowhere to be found), but it also feels like developer Insomniac didn't really try to squeeze in jokes. There could have been new gags to take advantage of his human form, but instead it feels like nothing more than just bad fanservice. As someone who considers Dr. Nefarious to be gaming's funniest villain, I cannot remember a single time he made me laugh in the remake.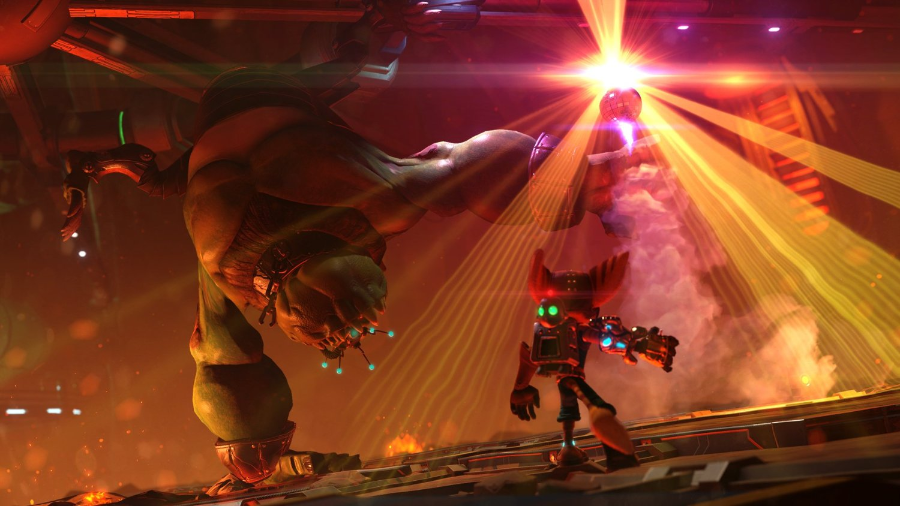 The world also does not feel as fleshed out as the original. Ratchet's world felt like a living breathing world, one which drew many parallels to Futurama in terms of tone and humor. Now everything feels like it was designed for a video game, where everything exists solely to advance the plot. The world still has a wonderful artistic style, yet feels lifeless.
At the end of the day, however, what the PS4's Ratchet and Clank remake improves upon vastly outweighs what has been changed for the worse. The game is ridiculously fun to play, offering a simple appeal with enough depth and content to keep you coming back for more. It is a game I still wanted to play upon finishing because I was having so much fun.