Final Fantasy XV Review
RECOMMENDATION:

A Final Fantasy for fans and first timers, but emphasis on the first timers.

When I was fourteen, we went on a family road trip to Disney World. Looking back at our photographs, you would think that it was a magical vacation filled with laughter and smiles. I remember a much different trip, filled with stress and a terrible tension between my parents. Final Fantasy XV is proving to be a very similar experience for me; I look back at my screenshots of this adventure and they only show the high points of my trip, and don't reveal my frustrations and issues with the game.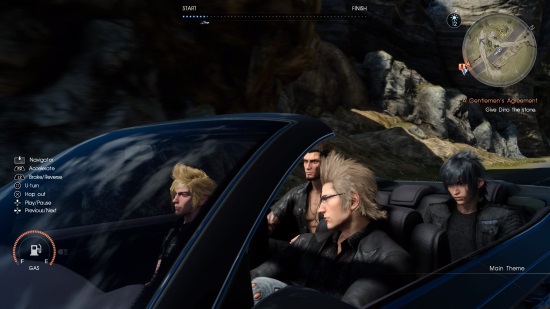 Final Fantasy XV was marketed as a road trip with four protagonists, and in this respect Square Enix has nailed it. Piling into the Regalia, the car of the Lucian royalty, and setting out to reunite Prince Noctis with his bride to be (the Oracle Lunafreya) truly feels like a completely realized journey over the open road. The path is long and winding, road signs warn of chocobo crossings, and both the car and the stomachs of our heroes need to be refilled often. Even though Noctis is a prince, the group is low on funds most of the time, and often opt to camp out under the stars as opposed to staying at the many motels found at rest stops along the way. The need to stop during the night (lest you run afoul of deadly daemons) to rest, eat, and tally up the experience points of the day made my trip through Eos memorable.
There is also this odd but very cool aspect of 1950s Americana as seen through the lens of Japanese artists in 2016 that I found immensely compelling. While your car is sleek and modern and our heroes play a classic Squaresoft game on their smart phones, everything else looks like it comes from 1957. Much of the scenery feels like the legendary Route 66 in America, while the diners, gas stations, and every other vehicle Noctis and his friends encounter seem like something out of time.
The real stars of this game are the characters of Noctis, Gladiolus, Ignis, and Prompto. Awkward names and dreadful character designs aside, I don't think I would have made it through Final Fantasy XV were it not for the strength of their characterizations. Each adds something special and unique to the mix: Ignis is the calm voice of reason (and a bit of a mother hen), while Gladio is the tough older brother who never sugar coats things. Prompto is the comic relief that may rub some people the wrong way, but I found my favorite moments in the game revolved around him. Even Noctis, who attended the "Cloud Strife School for Surly Heroes", grew on me over the nearly 50 hours I spent with FF XV. Their dialogue is some of the best I've seen recently, and certainly sets a new bar for the Final Fantasy franchise. I found myself drawn to incredibly boring side quests over and over simply because I wanted to hear as much of their banter as I could. The quartet comments on everything, and it rarely comes across as stilted or awkward. I would constantly marvel at the way they would comment on the latest big story moment, even a long while after said moment had occurred.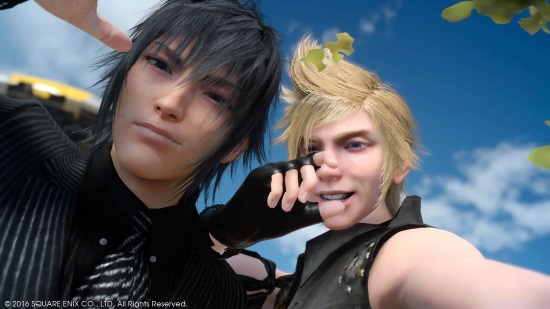 I mentioned boring side quests, and that proved to be a recurring theme for me with Final Fantasy XV: boredom. People complained about Final Fantasy XIII being a series of corridors, and the development team seems to have taken that criticism to heart in the worst possible way. There is little to see or do in this vast, open world, and feels like it was designed by people who have never played anything made by Bethesda or Rockstar to understand how to populate large spaces. Getting anywhere in FF XV feels like a slog, and I was surprised at the lack of creatures present in the overworld. It was common for me to walk for upwards of ten minutes without encountering anything to fight unless I went far out of my way. Similarly, for as realistic as Eos appears at first glance, it is largely devoid of life, and I kept wondering where people live, as most buildings you encounter are abandoned derelicts. Compounding this problem for me is the fact that Noctis moves far too sluggishly for my taste. His walking slows down to a crawl when he enters towns and dungeons, the latter of which become incredibly tedious due to this fact. The Regalia is similarly slow, and as much as I enjoyed listening to the music of better Final Fantasy games as we went from point A to B, I got to a place where I was begging to have a car that could keep up with my Kia Soul on the highway.
While I was constantly bored by the world design of the game, at least I could depend on constantly being blown away by the graphical prowess of Final Fantasy XV. Simply put, this is the most gorgeous video game I have ever seen, and I was thankful that Prompto is an aspiring photographer that enjoys taking snapshots of the stunning vistas, detailed characters, and deadly-looking monsters we encountered on our journey. The lighting accentuates every aspect of the game's impeccable art design, and the sheer scale of some of the bigger monsters is unlike anything I've ever witnessed. It's a shame that the lip syncing is woefully lacking, and the final boss is devoid of that Final Fantasy spectacle I've come to expect from the series, but I would be surprised to see another game reach this level of "gorgeous beauty" for quite some time.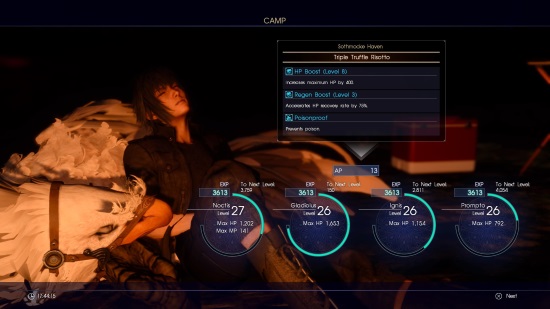 If only the game's battle camera could capture that beauty in a way that made combat more enjoyable. While Final Fantasy XV is the most stunning game I've ever seen, it also boasts possibly the worst camera I've ever experienced. In wide open spaces the camera often gets hung up on the overabundant foliage, obscuring most of my view during the hectic battles. This issue is exacerbated in close quarters, where the camera can't seem to figure out what to show, and never frames the action well. Fighting those aforementioned big monsters becomes more of a chore than a thrill, as the camera just can't follow the action, or zooms in to the point that it looks like Noctis is squaring off against a wall. It added frustration to an already annoying battle system.
Ah, the battle system. Source of most of my issues with Final Fantasy XV. The reason I'll likely never replay it. Without mincing words, this is my least favorite combat system in the mainline series. The player only controls Noctis, and gone are the deep and handy AI program routines for your other characters as seen in FF XII. Your partners kind of do their own thing, and seem to only target the same enemy as you if you're right next to them, but even that isn't assured. Attacking is handled by holding down a button, and evading/defending is done by holding down a different button. This results in fights that look impressive in videos but are lacking in any need for skill or strategy. Square Enix tried to add some depth by putting a lot of stock into enemies having weapon and elemental weakness and resistance, and doing certain attacks near your bros initiates a "link strike", but I found these moves to rarely trigger with any reliability.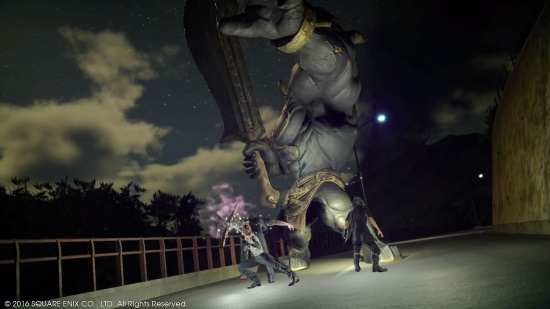 Indeed, I found the bulk of the combat to be unreliable. Noctis can throw his blade towards an enemy he's locked on to and warp to them, performing a "warp strike". Sadly, the lock on would frequently drop, and that perfect attack I had lined up would be wasted as he would teleport in a different direction. Magic spells, which operate like grenades now, would be highly inconsistent in terms of area of effect and damage, and I became less and less likely to employ them. The special limit techniques that your crew learn throughout the game also vary wildly in execution; sometimes they hit in a big way, and other times they completely whiff, and there was never any rhyme or reason as to why one or the other would occur. Compounding on my frustrations is that dreadful battle camera, which would often lead to enemies attacking me from off screen, which is a cardinal sin in any action game. Of course, Final Fantasy XV can't quite decide what kind of game it is. It has the veneer of an action/role playing game, but still has a couple toes in the traditional RPG pool, and that doesn't do it any favors as it stands.
I enjoyed Final Fantasy XV, even though the game fought me every step of the way. While the combat and open world were largely unsatisfying for me (and occupy the bulk of the adventure), I was taken away by the charm of the four protagonists and the sheer majesty of the graphics. This review is peppered with the snapshots of my actual adventure, and as I look at them, I smile at the memory of certain events and moments. If you look at these photos you will probably think I had a perfect and wonderful time in Eos, but just like any photo, the story behind the picture is far more complicated.