Virginia Review
RECOMMENDATION:

If you're an artistic star child that loves playing with the idea of what video games are, this is for you. If you, like me, prefer games to have an element of actual game to them, give this one a miss.

Have you ever finished a book or a movie and been left trying to puzzle out the meaning of what you just experienced? Likely it was a frustrating feeling, as if you were on the cusp of understanding what the creator of the work was trying to tell you, but you were unable to make the connection in your head. Such was my experience with a little game called Virginia, which left me feeling mentally lacking at the best of times, and needlessly aggravated at the worst of times.
There is a new genre description that has popped up in video games in recent years, known as "walking simulators". This is a largely derisive term that is used as a blanket catch all for smaller interactive experiences that are high in story and low in game mechanics, and often undermines what makes a game in this style special. I can't say that for Virginia, and I would absolutely classify it as a walking simulator with the full amount of negativity attached to it as I can. In this game, you simply walk. Oh, sometimes there are things to collect or objects to interact with, but by and large there is very little immersion here.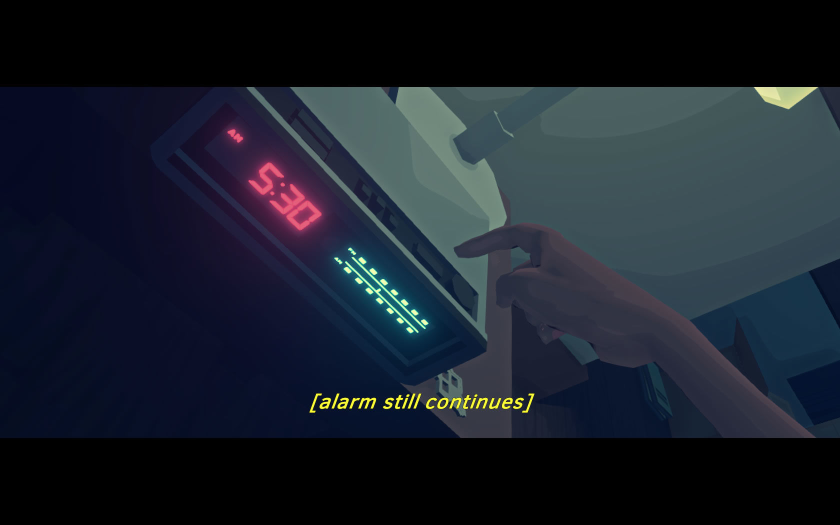 I'd normally be fine with that. I don't think that "walking simulators" are inherently unsatisfying; in fact, I'd like to coin the term "day in the life games" to describe these types of interactive narrative, since they usually attempt to put the player in the shoes of a person's life. However, the way that Virginia chooses to put you into the shoes of a new recruit of the FBI is disjointed, confusing, and for my part, completely lacking in even the basic criteria by which I would consider this to be a video game.
The biggest culprit here is how time is handled in Virginia. Simply put, it's a garbled mess. You start by receiving your FBI badge at graduation, and then you're on to a case. Is it your first case? Your last? I wish I could tell you. I wish I could tell you what this game is about, but I feel like the storytellers did everything in their power to keep this information from me. Sometimes your character has grey hair. Other times she's in charge of the whole division. Her dad is dead. No, wait, he's alive. No, wait, she's a different person now. Oh, I'm sorry that was a dream. I think. The fact that scenes and times can change from step to step only add to the confusion, and remove any sense of flow or progression.
I'm not against using our perception of linear time to mess with our preconceived notions of how stories play out. After all, it's used to great effect in movies like Memento, or television shows like Westworld and Lost. One of the biggest culprits here is the fact that there is not one line of spoken dialogue. Actually, there's not one line of written dialogue that I can remember, unless you count snippets of case files you can briefly attempt to read. I think the idea with Virginia was that the characters would provide the needed emotion in their facial expressions and actions. Unfortunately, that isn't the case.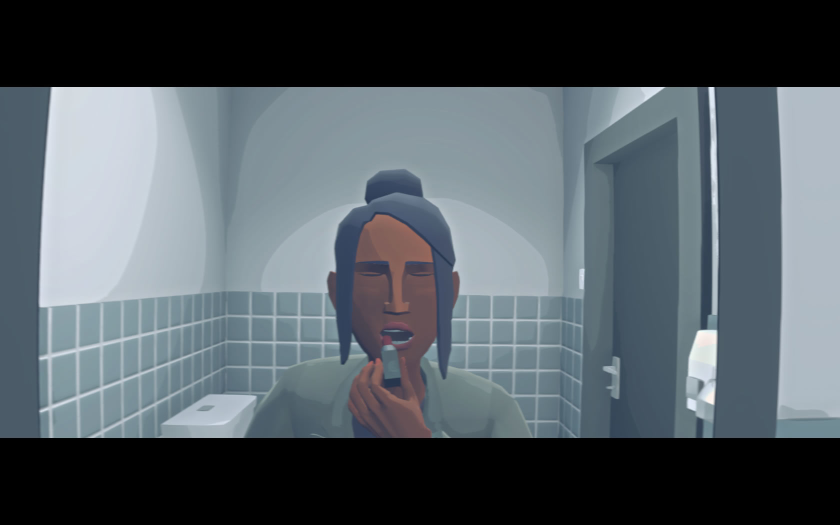 I'd love to be able to give you some sort of positive here, but as I think about my experience with Virginia I'm hard pressed to provide anything truly memorable or ground breaking. The minimalist art style didn't do the game any favors in my opinion, and indeed added to my confusion. Any of that emotion I was supposed to perceive was lost on me, thanks to largely lifeless eyes and a limited range of movement in the facial animations.
No, I didn't enjoy this game at all, and I was thankful for two things when it was over. The first was that I got it on sale for around five bucks, and the second is that it was over in about three hours or so. Here's the thing, though: I can understand why someone else would play this game and find it to be a revelation. I actually took to the internet when I was done, to try and sift through theories as to what this damn game was supposed to be about, and came away more confused. A lot of people say it has to do with race, but I didn't get that impression at all. In truth, the only thing I came away with from Virginia is that my public-school education isn't up to snuff, and I wasn't highbrow enough to appreciate what this game is supposed to be. That, or the creators of this game are so pretentious as to make the creator of Braid seem humble and down to Earth by comparison.
Sometimes, things simply don't click with people. That can be a fault in the product itself, or in the person who is the audience. In the case of Virginia, I'd say it's about a fifty fifty split. While I will freely admit that I may be lacking in the cognition needed to fully grok the narrative of Virginia, at the end of the day I also don't believe that it is a quality video game in my definition of the term. If the development team is so keen on creating an artistic, non-interactive story, perhaps they should consider creating short films in the future.