The Legend of Zelda: Breath of the Wild Review
RECOMMENDATION:

The Legend of Zelda: Breath of the Wild is a must play, even to those who do not typically enjoy the series or open world games.

I remember the first time I played Super Mario 64 and was amazed at seeing Mario move in 3D. I remember thinking how vast and expansive the fields of Hyrule looked in The Legend of Zelda: Ocarina of Time. And I remember carjacking a truck, driving as fast as I could until flying off a cliff in Grand Theft Auto III. At the time, these games all had an unrivaled sense of freedom. They formulated a magical feeling, as new doors seemed to open and an experience I could only imagine was now real. The Legend of Zelda: Breath of the Wild now joins these titles in creating the same sense of wonder.
It feels ironic that an open world game can feel so fresh given the genre has so far dominated on the Playstation 4 and Xbox One. Breath even borrows heavily from Skyrim and Assassin's Creed, the two titles which every other open world game seems to be copying. Breath also abandons past Zelda traditions such as finding items in dungeons in the process of taking ideas from these titles. On paper this game should be a disaster. This should be a game abandoning its roots. But it's not. Instead it still keeps that Zelda magic while embarrassing the current kings of sandbox games, showing how they have so much more potential than they're tapping into.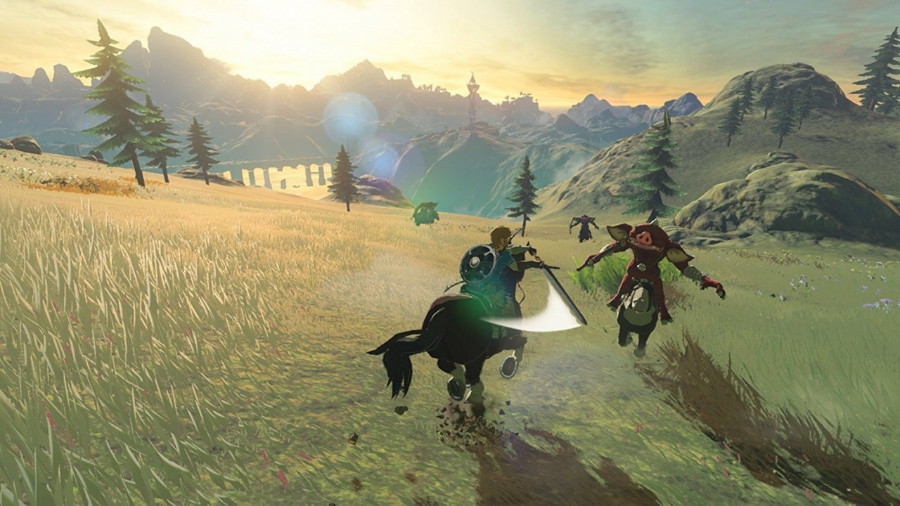 The world reminds me a lot of Skyrim's, it's enormous with varied landscapes and is chock-full of secrets to uncover. Yet unlike Skyrim's somewhat clunky controls, Breath has by far the most fluid controls and mechanics in a game of its size. Link can climb any mountain, cliff, building, and wall. He is limited by an upgradable stamina meter, yet what other games consider roadblocks, Breath sees as opportunities. There's no searching for a trail or walking to another objective, Breath's exploration is much more fluid as Link can just climb up and discover what lies at the top of the mountain.
Breath's fluidity encourages adventuring on many levels. Shrines (small dungeons containing a few puzzles or a mini boss fight) make up the bulk of secrets to uncover and completing four shrines unlocks a health or stamina upgrading. Upgrading stamina allows access to new areas, which in turn means more upgrades, triggering a very compelling cycle. While most games try to get by just on offering fun moment to moment gameplay or a captivating reward, Breath excels in both.
Breath is so confident in how captivating everything is that game makes the vast majority of its content optional. It is possible to fight the final boss Calamity Ganon immediately after the introduction. Fighting his minions, let alone Ganon himself, will be nearly impossible, but the option is there. Everything is literally just preparation for the fight ending when the player decides Link is strong enough. All other Zelda staples, from heart pieces to dungeons to even the Master Sword, is completely optional. Rather than dictate its pace to the player, Breath of the Wild convinces the player to want to do everything.
Breath does not even inform of any points of interest on its map until they are discovered, so there is always a wonderful anticipation of what is to come. By simply not knowing where to go or what to find, every discovery felt special and every second of the journey there was enjoyable. I cannot stress the importance of gliding in making adventuring so entertaining. Upon hitting the highest vantage point to scout out any points of interest, there is not a need to slow any momentum climbing down. It's simply a matter of pulling out the glider until Link hits the ground. The glider lets Breath stay fluid and makes voyaging more enjoyable than any other open world game. Breath knows this too, as it does not give the glider until completing the tutorial when the player is accustomed to the climbing mechanics. Then the player can experience just how seamless exploration can really be.
The introduction is long (it took me roughly two hours), it never felt restricting like past 3D Zelda titles. Within a minute, I had a fairly large area to roam around in. I was told to climb up a tower and look for four shrines (smaller dungeons consisting of one to three puzzles or a mini boss), but I also could tackle them at my own leisure. I had freedom. Freedom which was only multiplied once the rest of the world was available.
Do not expect wandering Hyrule to be a walk in the park, however, as Breath is a brutal game. Next to Adventure of Link, this was the hardest Zelda I have played, even tougher than the original game. Getting hit by an attack commonly take out half to almost all of Link's health, and this was still going on even with twenty hearts. And this isn't by a boss or even mini boss. Regular, run of the mill enemies are consistently this powerful. The game has an excellent sense of progression through its difficulty, but still never gets easy. Breath does not let the player feel like a hero until the player survives long enough to earn it. The challenge never felt unfair and was always manageable as long as was well prepared, which is why it works. Breath simply demands the player to take its combat seriously in order to succeed.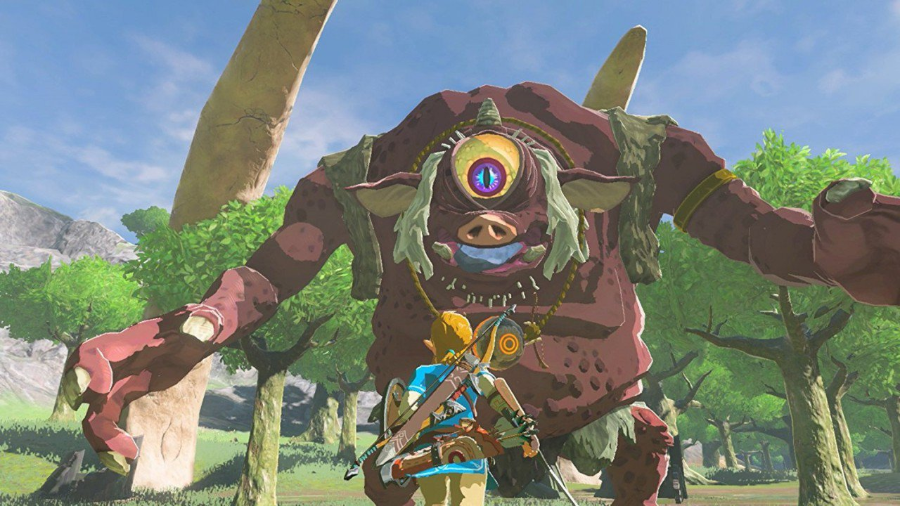 Breath is so exploration focused that even its combat is based around encouraging making new discoveries. Hyrule now offers a large variety of swords, hammers, axes, spears, boomerangs, and clubs for Link to wield rather than just a simple sword. But getting attached to one is a mistake: all of them have an absolutely horrible build quality. They will break within around 25-35 hits against an enemy, a mechanic which normally drives me crazy yet strangely works in Breath. Any weapon an enemy wields can be obtained, weapons are lying all over the field, and treasure chests with a weapon inside are everywhere. Finding something to fight with is never an issue. Yet the special, powerful weapons are just uncommon enough to generate an excitement finding them.
Weapons end up being some of the lesser rewards, however, compared to shrines. Shrines overall are a welcome new addition to the series. While I prefer the complexity of a real dungeon, the puzzles and combat scenarios inside of a shrine were almost always a fun time. Sometimes just getting into the shrine was the puzzle or challenge, as many are hidden or guarded by a boss. Several shrines even have more work put into finding a way inside than other Zelda games had in finding a dungeon.
Speaking of dungeons, they definitely took a hit in length and to a lesser extent complexity because of these shrines. They're still fun and full of tricky puzzles, but past Zelda titles set the bar so high that they fall a bit short by series standards. However, there is still plenty to enjoy. Rather than just being a random area in the game, dungeons are now deeply tied into the backstory, world and characters so deeply completing them affects how the final boss fight plays out. In addition, each dungeon opens with a unique set piece where Link has to fight his way in, resulting in just gaining entry into one feeling like an accomplishment rather than another part of the game. Bosses also break away from the standard Zelda boss formula, feeling like an actual fight rather than exploiting a weak point three times. These only fall short compared to the best dungeons Zelda has offered, Breath's dungeons are still an absolute joy.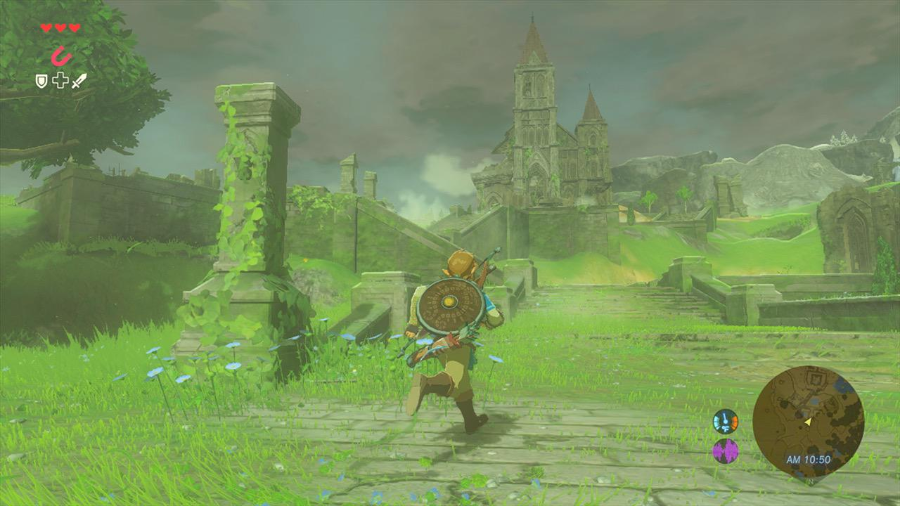 Really, any issues I have with Breath feel insignificant compared to what it does well. Do I wish inventory management was more streamlined? Yes. Do I wonder why there are motion controlled puzzles? Absolutely. In addition, a side objective could occasionally be a bit too vague and shrines have zero visual variety. Yet these problems were never serious enough to even annoy me. What the game does well, it does so well with such minor issues that I enjoyed every single second of my time with it.
Nintendo has a history of launching each console with a game to show off its capabilities. Super Mario 64 showed how an analog stick would work for 3D movement while Wii Sports used motion controls to make video games accessible to non-gamers. The Legend of Zelda: Breath of the Wild, despite originally being a Wii U title, shows why having a console and handheld in one device is a good thing for the Nintendo Switch. Because this is a game so good I had to keep playing if I left the TV.