Super Mario Odyssey Review
The Bottom Line: Own a Switch? Buy this game! Don't own a Switch? Can't say you should buy it for this game, but if you get one anyways, definitely buy this game!

I used to love playing baseball when I was a kid. But the one part I hated about Little League was the participation trophies at the end of the year. I was on some really bad teams and really good teams and on both we got more or less the same reward. Even as a kid I could tell that trophy was meaningless despite the fun I had playing during the season. Like Little League Baseball, Super Mario Odyssey provided me with a ride that is an absolute blast along the way, yet failed to provide a rewarding experience.
Most games have the goal of making controlling a character feel functional. Yet Super Mario Odyssey goes that extra step, where moving around as Mario not only feels as natural as walking, but is fun in and of itself. The weight and momentum behind controlling Mario feels so perfectly calibrated. These actions are simple to perform as well, yet there are many secret maneuvers such as the backflip or hat spin which take a little more mastery to use well, yet keep Mario's abilities interesting.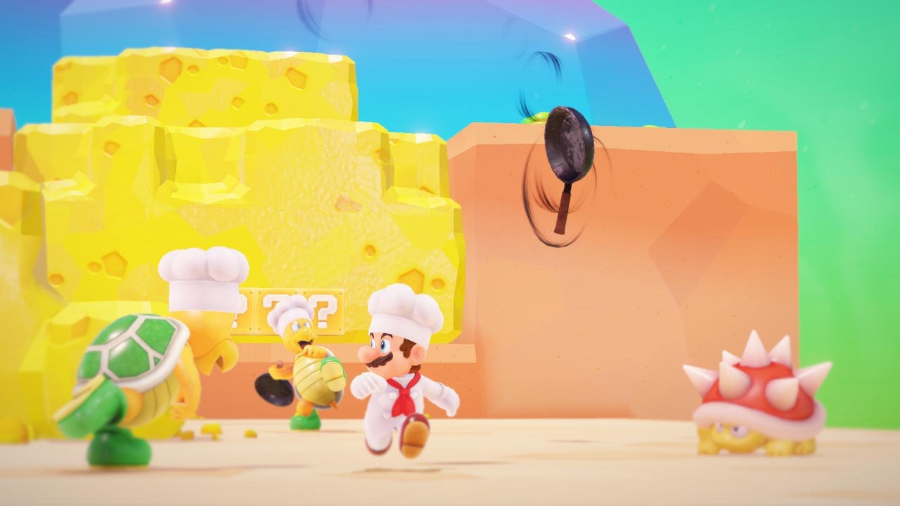 Speaking of hats, Mario has a new one this time named Cappy. Cappy is sentient and adds a new move where Mario can throw him at enemies, allowing Mario to capture them where he takes control. The game feels built around the capture mechanic, and is a near perfect success. I'm still shocked just how simple and fluid this mechanic feels. The second Cappy landed on any of the twenty plus unique captures, it was an instant transition with new controls and moves I seamlessly understood.
Equally as important is the wealth of possibilities this adds to the game. Flying across large gaps as a Bullet Bill, swimming through a pool of lava as a fireball, and jumping super high as a frog are only scratching the surface. It finds a solution to give Mario endless possibilities while setting limits to the madness. In fact, I feel this should be as much of a staple to Mario games as mushrooms and fireballs. My mind is exploding with the possibilities of seeing this mechanic in future Mario platformers, Smash Bros, Mario RPGs, and crossovers with screaming rabbits.
However, this being a Nintendo game, captures do come with pointless tacked on motion controls. While the motion controls are completely optional, they provided more efficient maneuvers in possessions than button presses, mostly boiling down to Mario performing the same move faster. However, this is a bizarre move considering a large portion of people will be playing this game on handheld mode, where the motion controls will really get in the way.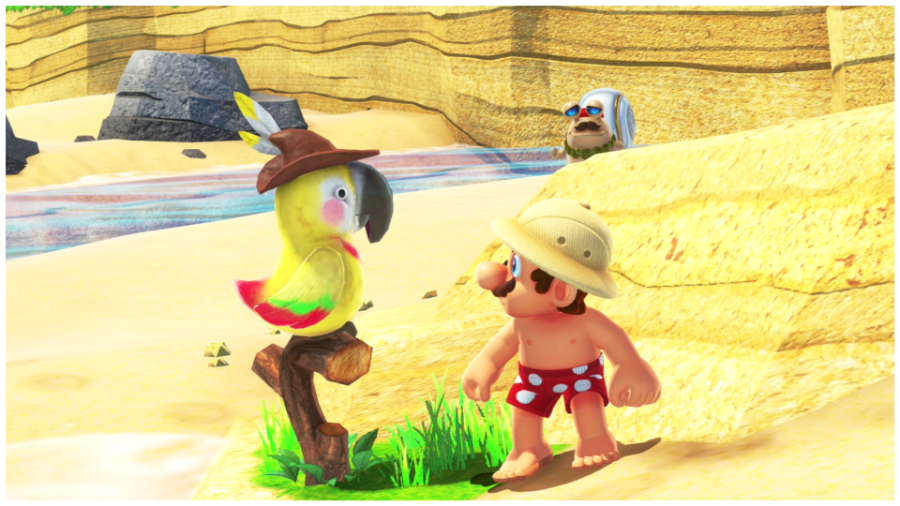 Odyssey's worlds (dubbed Kingdoms) lend themselves well to capturing enemies, as each Kingdom contains its own special enemies to capture and discover secrets in a unique way. While many worlds feel standard, such as the water and ice kingdoms, many other worlds get much more creative. Instead of a lava area, for instance, Mario visits the Luncheon Kingdom, full of inhabitants resembling forks, knives and spoons and a pink soup which burns Mario if he falls in. The variety lends itself well as the game highly encourages exploration with its plethora of moons.
These moons end up being a mixed bag. Each world has another collectable varying with its theme, but is always purple and only used for buying costumes and accessories for Mario's ship. So moons end up being the only thing needed to progress, a system which streamlines collecting yet has a few drawbacks. Because moons are the only reward, it took away much of the mystery in exploring these worlds as the prize was always a moon. This was especially apparent in the post game content (which is substantial enough to be a fundamental part of the experience) as there were no bosses or strange objectives to offer surprises once Bowser is defeated. This could have been mitigated had the challenge rooms remained hidden, but each was clearly marked on the map. It's quite ironic a game named Odyssey had little sense of discovery for over half my experience with it.
My other beef with moons lies in just how many there are. 880 to be exact, across 16 different Kingdoms. Some of these can only have about 20, which is a reasonable number, yet others have over 80 or even 100. And at a certain point it feels like the game is just throwing as many at you as possible. The game would throw moons for actions as simple as breaking open a crate. While this does work well for playing the game on-the-go, finding moons quickly stopped feeling rewarding. Those tricky ones to find or accomplish meant nothing because Toadette gave me twenty in a row for completing tasks I wasn't trying to do. They felt more like collecting coins in Mario 64 rather than stars. Since these are the big collectable which are meant to feel satisfying, that is an issue.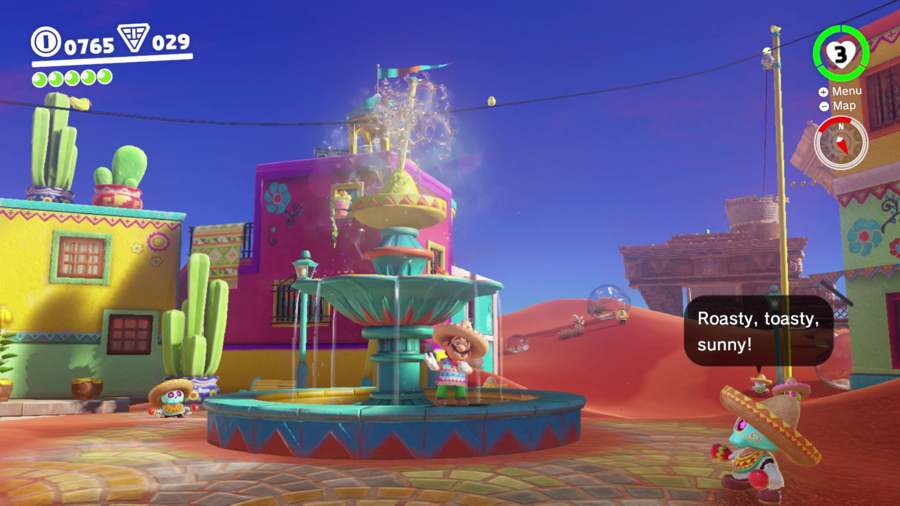 Yet even with Odyssey's problems, nothing could take away from how much fun this game is to play. I can't quite say that I would recommend buying a Switch to play Mario Odyssey, but I do think it is a must buy for any Switch owners. Mario Odyssey may not be perfect, but it probably has the broadest appeal of any game released this year.