Kinect's Midnight Launch
After Dark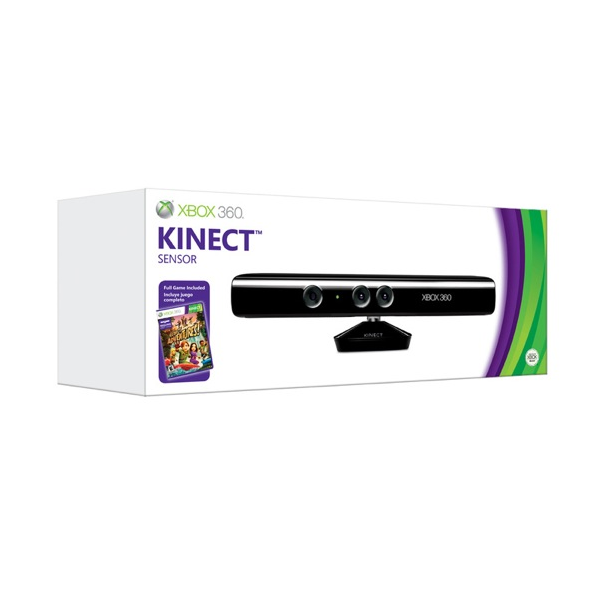 I decided I'd finally attend one of those various midnight openings to see how well received Kinect was at various retailers opening to sell the device at Midnight. Since the device is a bit different than what's out there for video games, I figured it would be interesting to get a good view of the crowds and to see if anything special was going down for the launch.
The first stop? Best Buy. Why? Best Buy is the only location here in town that I'd seen any sort of promotion for a midnight Kinect launch.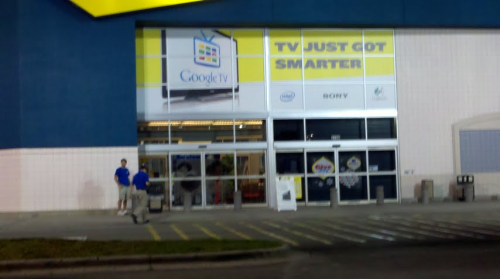 When I arrived, the scene looked about like the picture above. Taken at 11:20, this shot shows the guy who showed up after I did, as well as a store employee. In the end, two "buyers" got there before midnight, though, including myself, two other people were there, the last being a friend of someone buying the console. Unfortunately, the Best Buy employees said they weren't allowed to even set up a Kinect demo station until midnight, and they saw no reason to do such a thing with so few customers. No body-on Kinect experiences available here! An employee said if they were allowed to have it on, the store would've been open in the hour or so leading up to midnight, perhaps to help warm-up sales.
At midnight, they opened the store, we walked inside, and heard a round of applause by... honestly? Bored Best Buy employees looking for fun. In fact, the number of Best Buy employees off the clock that showed up for something to do far out-numbered the customers! By the time we made it in the store, another two people, a mother and daughter duo walked in, and shortly after, one more person came in the store. There weren't really any promotions going on, and as you can see, there weren't even signs promoting the midnight launch outside! I had to go up to the door to check that it was still happening when I first arrived. Honestly, from my opinion, the launch was a bit of a bust, though I did get a copy of Toy Story 3 for my sister's birthday while I was there.
Next up? GameStop. Gamestop had a line of people still waiting to buy the accessory, even after I had already gone through Best Buy's launch "experience." I didn't have any idea GameStop was even opening for a midnight launch. At least, I didn't receive a press-release from them about it, like we did with a few of their other midnight game launches. At this point in time, I didn't see too many promotional materials, but there was no lack of employees around to answer whatever questions customers would have had, at least. Also, a side-note: No, GameStop is not currently taking 3DS pre-orders. At any rate, GameStop seemed to have had a great turn-out. The end result? It seems they sold out of all available Kinect systems that weren't pre-ordered. I'd call that a pretty successful launch, personally.
Lastly, I went to Wal-Mart, one that's in the same plaza as the GameStop. I walked to the electronics department, expecting to see some sign of Kinect buyers walking out. At this point, it was about 12:15, so I imagined that the initial buyers would be leaving Wal-Mart, and the display would just about be going up. I was shocked as I wondered around: No sign of Kinect, at all! There were a few people around the electronics department cash register, all waiting for a clerk to return from the stock room with individual Kinect units. As it turns out, all the employees could find were the Kinect/360 bundles! That means this Wal-Mart, for whatever reason, had no Kinects available for launch. When I asked the employee, she said something like "I don't know, I wasn't here, they sold out earlier, I suppose." Checking the time, now 12:18, I was a slight jerk, and asked "You weren't here eighteen minutes ago?" The manager came out and told the one remaining customer that they were checking their stock, and thanked them for waiting. Unfortunately for Wal-Mart, he promptly left to check other stores. Eerily enough, the Wal-Mart Kinect stand-in, pictured below, read straight zero's.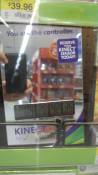 Kinect isn't really the regular, ordinary console accessory. With embargoes on practically every game to be released, as well as Dashboard functions, early chatter on the accessory's hype, functions, and utility have been stifled a bit, despite a half a billion dollars put towards marketing. Would I call this local launch a success for the hardware? Believe it or not, absolutely. People I spoke with were buying the device for the long haul, and an unpromoted GameStop midnight launch selling out means quite a bit, I'd imagine. While it didn't have the numbers an individual title like a Halo game or a Call of Duty update might, it does show that there's some cross-market support, particularly with the GameStop sellout. How did it do nation-wide? I suppose we'll just have to wait and see for that.

#Kinect