Pixel Art Mosaics Invade North Texas
Video games IRL.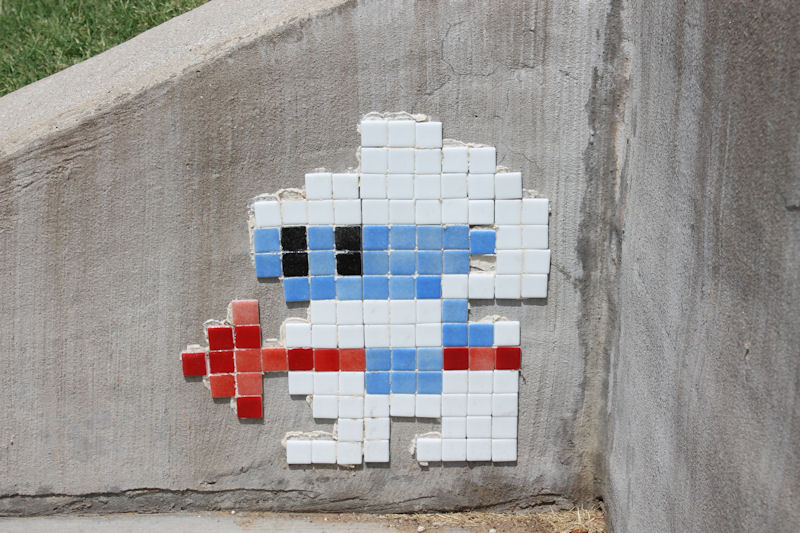 I spend a lot of time playing video games, but when I started seeing images from the games I love around my part of town, I was a little freaked out. First, I saw a Creeper from Minecraft staring back at me on my drive to work, and then later happened upon a Pooka from Dig Dug. With a bit more poking around, I was able to find five little mosaics in Keller and Fort Worth that someone has installed in public areas – presumably without any sort of city funding or consent.
These little tableaus are unlikely to be publicly funded since the five I've found are located in two different cities. There's enough trouble getting things done in government without two cities collaborating on a cute little artistic project like this. I can't seem to find any information about this project online or find anyone who knows anything about it. So, without knowing the why, how, or who, I figured I'd at least get the where and what out there for others to see and enjoy, especially for those who don't live close enough to see them on their own.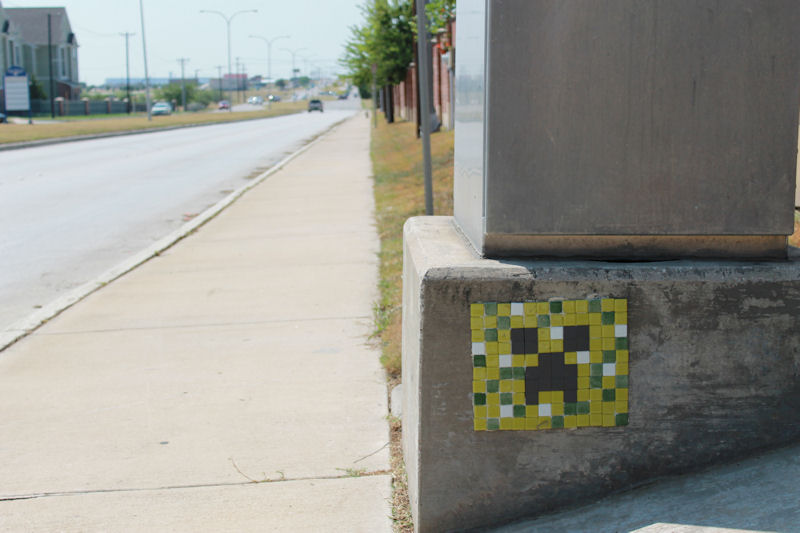 The Creeper I first saw is on the heavily trafficked Basswood Boulevard that stretches through suburbs influenced by the machinations of Ross Perot Jr. The Creeper calls the intersection of Basswood and North Riverside home, where he can calmly watch commuters head off to work every day in the blazing sun.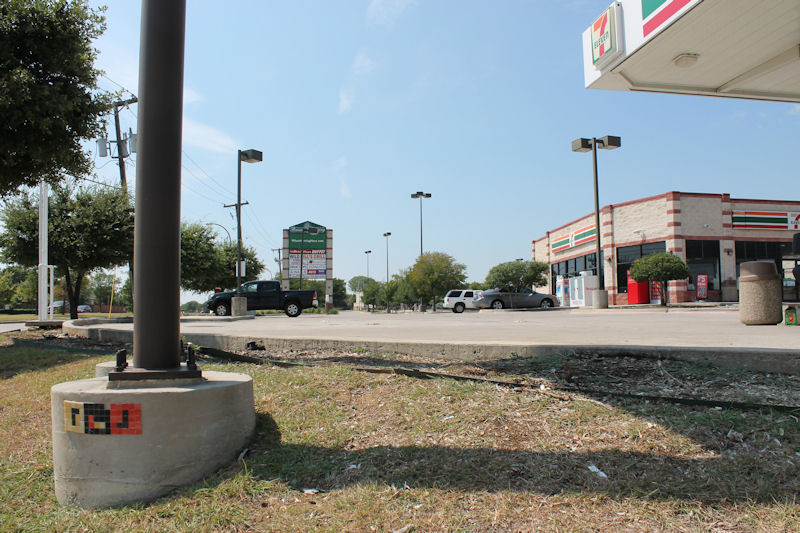 Another location on Basswood features three Tetrominoes side by side, situated just beneath a 7-11. This is one of the few locations near a fairly well traveled sidewalk, but even so, it remains in good condition.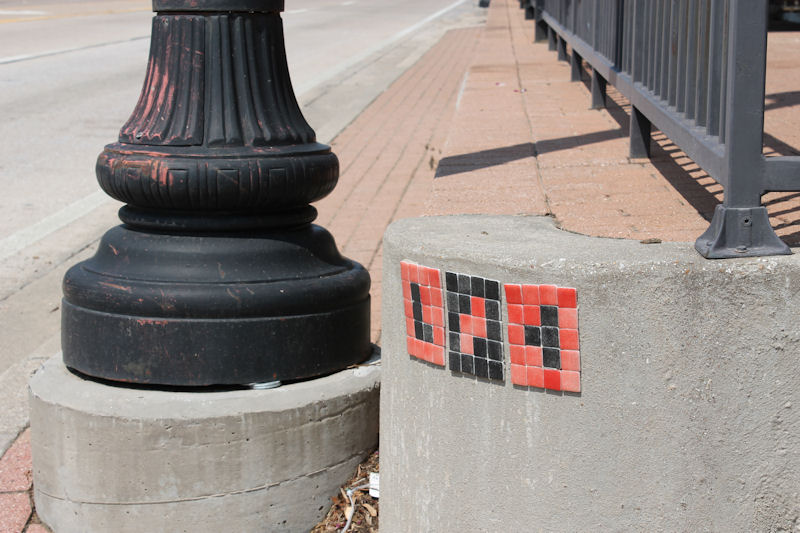 There is another set of similar Tetrominoes on the other thoroughfare I've found populated with mosaics, Denton Highway. This other set is located beneath the repetitively titled El Wine Chateau Wine Shop & Wine Bar. (They sell wine there.) Note how it appears the color choice on this set was made to blend in with the neighboring lamp post in downtown Keller.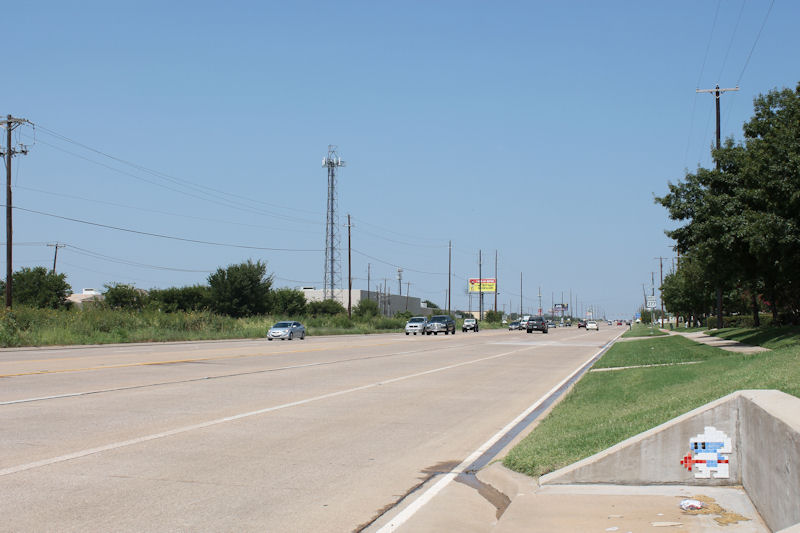 The other two installments are also on Denton Highway in Keller, and each features a Dig Dug character. Just outside of a Discount Tire is the game's titular hero, standing guard over grass, trash, and a storm sewer.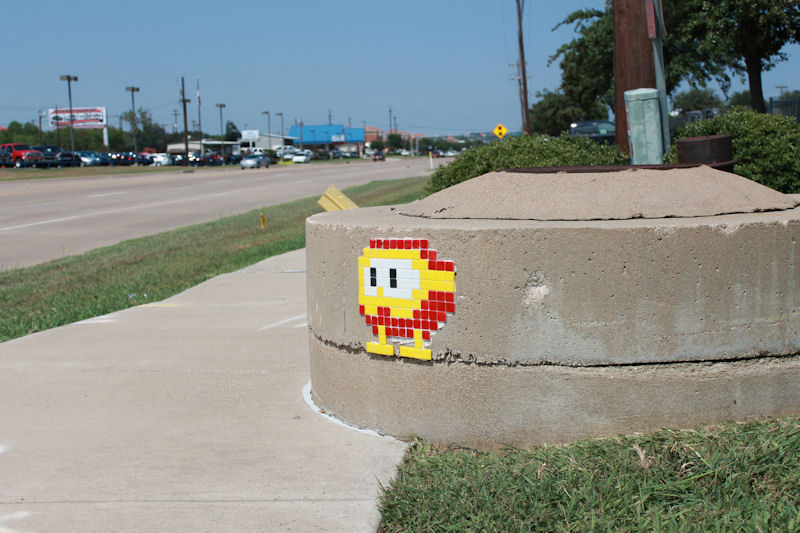 Farther north, is one of Dig Dug's enemies, Pooka. His goggled eyes are staring out beneath Oasis Dental – a strange location for a mouthless villain.
There doesn't appear to be a pattern to the location of the pixel art. I'm sure there are some that I'm missing on different stretches of road, but I've looked around a decent amount and haven't spotted any yet. The good news is that mapping out the locations doesn't form some sort of pentagram with my house at the center.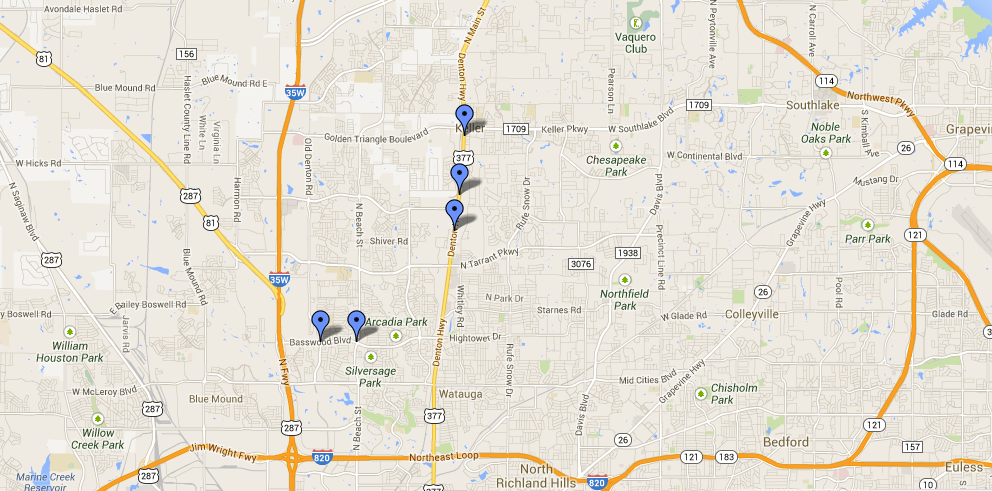 If you live in the area and have any information about these little guys or see any yourself, please let me know. I'd love to get in touch with the artist and find all of the installations. I'll post updates if I ever find out more.