PixlBit Talks Orchestral Composition and the Spate Soundtrack with Composer Mike Raznick
Classical music meets crowd-funded art.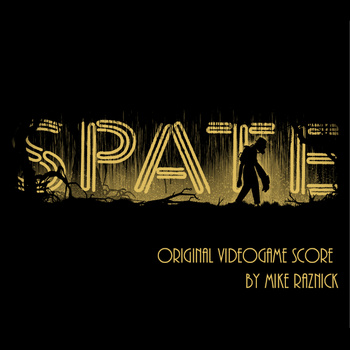 It's been quite a journey for the game Spate, from initial conception, to successful Kickstarter campaign, to final release on Steam. Dragged into reality by Eric Provan of Ayyo Games, the game is a dreamy, artistic experience. Ayyo Games might have struggled to make this game, but they didn't do it alone: they were accompanied by classical composer and game scorer Mike Raznick, who approached them during the Kickstarter campaign. The result is a stark audio experience unlike most games. Enamored with both the game and the soundtrack, we caught up with Mike Raznick to talk about how he created the score, his influences, and what he thinks of video game music.

Hello, and thank you for agreeing to this interview! First of all, I was wondering what brought you and Eric Provan (Ayyo Games) together)?
Thanks so much for the opportunity and glad to be here. I met Eric during his Kickstarter campaign for Spate. I felt a strong connection to what he was doing with the game and sent him a number of lengthy emails detailing how passionate I was about his project as well as my thoughts on how the music should function within the game. I knew there was a chance that Eric would think I was being overly pushy since I was literally bombarding him with emails before he ever got back to me, but he fortunately saw my level of excitement and passion and brought me onboard to work with him. Additionally, I had previously composed the music score to the XBLA version of the Adventures of Fancypants a few years prior and Eric really loved that game, so he was already familiar with some of my work.
How did you get into composing, and what do you think are your influences? What inspires you, musically?

Music has been an integral part of my life since I can remember. I've always played various musical instruments, starting with the piano when I was six years old. Both my parents are musically inclined and they kept me engaged in music-related activities throughout my childhood. By the age of twelve, I had years of training in music theory and sight-reading as well as performance experience with the San Francisco Children's Opera, Opera Company and the San Francisco Boys Chorus. However, it was not until I heard the Beatles that I began to identify my own musical interests. For about three years, I listened exclusively to the Beatles. My brother and I collected all their records, often arguing weekly about our favorite songs.
During my junior year in high school I picked up the guitar and quickly realized that I wanted to be deeply involved in music for the rest of my life. Over the next several years I played in bands and studied classical, African, folk, jazz, reggae, funk, rock and flamenco styles of music. Some of my early heroes were Ali Farka Toure, John Coletrane, Charlie Parker, Kenny Burrell, Jerry Garcia, Grant Green, Miles Davis, and Bill Evans, to name a few. I immersed myself pretty heavily for a few years in jazz, but my interests were too varied to stay committed toward one style of music for too long. By the time I started composing, my initial inclination was to create a musical style based on guitar improvisations, electronic instrumental textures with a bit of jazz, funk and ethnic influenced-rhythms thrown in.
Later, while studying music technology at CalArts, I enrolled in a film composition course and everything shifted for me. I fell in love with the idea of writing music to heighten the emotional impact of visual media. I've always been interested in the way that music can affect people's energy and emotions and I saw composing for soundtracks as a perfect medium to experiment with this powerful and psychological aspect of music. Additionally, I found that music for film, games and television offers opportunities to fuse just about any imaginable style of music with another so I realized there would be lots of opportunities to explore and move between genres of music, and even create new ones. Around this time, I also became fascinated with writing for the orchestral while combining choral and electronic-hybrid music styles. I started to spend significant amounts of time studying classical orchestral scores by some of my favorite composers (Stravinsky, Debussy, Vaughn Williams, etc.).
How did you go about creating the soundtrack, and what were you trying to convey?
I knew from the outset that Eric was leaning toward an ambience-heavy soundtrack with little or no music. I think he even stated early on that he was considering using rain as a musical backdrop for his game. The trick for me was to see how musical I could push for the score to be, while staying true to his artistic vision, while ensuring that the music didn't get in the way of the experience we were trying to create. Our goal was to immerse the player in the world of Spate so I wanted the music to draw the player in, rather than present the soundtrack in an obtrusive way. One way that we accomplished this was to have the music outline the dramatic arc of the story by making the score predominantly textural, with minimal melodic content and then becoming increasingly detailed, musical and impactful as the game and level of drama progressed, similar to what might be experienced in a feature length motion picture.
I also wanted Spate's music to allow the player to experience what Inspector Bluth is going through as a struggling alcoholic, travelling through mysterious islands as he attempts to solve the mystery of thousands of missing people, including his daughter.
Some of the bigger AAA releases use orchestral scores, but using smaller ensembles is generally unheard of. I think Spate's soundtrack was a great success. Do you think the cheaper cost of hiring an ensemble and its unique sound will invite more developers to make a soundtrack like yours?
We did have a limited music budget and my goal with Spate's score was to record the majority of the music with live instruments. I wanted the score to be as emotionally impactful as possible and I knew this could only be done by working with some of the best musicians I could find. What is amazing to me is that one great cello player or violin player can produce a seemingly infinite set of complex feelings based on the way that they interpret a piece of music. I had the opportunity to work with some wonderful and renowned soloists including cellist Martin Tillman, violinist Lisa Liu and vocalist Holly Sedillos. Before recording their parts, I always discussed with them that the music should convey feelings of loneliness, loss, darkness, and insanity.
The idea to score the game using a small string ensemble came out of our conversations based on listening to a playlist of temp scores that I assembled and sent over to Eric for review before we started work on the music. We considered music from various classical music recordings, movies and games: Shutter Island, Braid, Limbo, some pieces by Ralph Vaughn Williams, Bartok, Debussy, etc., which had varying degrees of ambience, melodic-driven themes and musical intensity. I received a great deal of feedback from Eric before settling on a specific direction for the score. Additionally, we also had quite a few conversations about the story and our struggling-protagonist, Inspector Bluth, and the dark, steampunk world of the X-Zone.
Do you pay attention or take part in the "New Music" / modern classical scene? Do you think in time more classical composers will be drawn to create video game music?

I would love to take some time in the future and apply myself creatively toward writing and performing concert music. I'm not sure I would gravitate heavily toward modern classical music but I certainly love borrowing elements from new music. I find myself connecting much more towards the late romantic and early impressionist classical works. I also love working with guitars and electronic textures so I'm sure I'd look for ways to continue to fuse my musical interests.
To answer the second part of your question, I do think more classical composers will be drawn to creating video game music and am already seeing some of this, especially in the younger generation of composers coming up today. The gaming industry is still very young and there is a lot of opportunity to experiment and try new ideas out, especially as more games are being funded through crowd-sourcing.
Finally, what did you take away from this experience? Do you think you'll be doing more video game music?

This was a dream project for me. After some initial conversations at the outset of production, I was given full creative freedom on this score and I had the opportunity to work with some wonderfully gifted musicians who helped bring an elevated level of emotion to the music and game overall. It was a wonderful experience working with a string quintet as well as a full string orchestra, which we managed to do for a few of the songs. I'm very much looking forward to the next opportunity where I can do this all over again.
You can check out Spate on Steam, and you can download the Spate soundtrack on Bandcamp.