Nerds Without Pants Episode 202: Chicken Diarrhea
Or: The Three Amicos.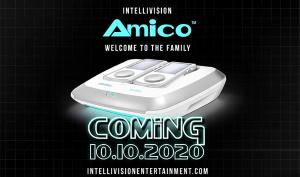 After over a month of not recording, the Nerds Without Pants are back with a new episode! Unfortunately, this episode was cursed, and there are a lot of technical issues that we tried our best to fix in post. Also, this one goes off the rails and stays that way the entire time thanks to Friend Of The Show and Podcast Saboteur Mike Fallek. Strap in, because...dang.
There's a lot of stuff in here, and at this point it's all a blur. We kick things off talking about This is Video Games. Once we've scared off 80% of the audience with hardcore porn talk we get into E3 discussion, the longest talk of the Intellivision Amico that has ever been done, and also some games. How does that fill over four hours? Even I don't know. It's a secret to everybody.
No one is going to listen to all of this.
Our theme song "Relax" and interstitial tracks "To the Maxx" and "Moody Grooves" are written and performed by Megan McDuffee.