With Great Difficulty
What happened to "Nintendo Hard?"
With all the game saves, passcodes, cheat codes, difficulty settings, tutorials, and plentiful online guides at our fingertips, it's pretty clear that Nintendo Hard will never be the standard for video games ever again. As the old adage goes, nothing lasts forever. However, there are games out there that deserve the moniker and wear it like a badge of honor.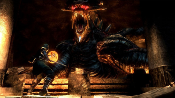 Demon's Souls is quite often cited as being Nintendo Hard and it has been indicated that the upcoming Dark Souls will be even more unforgiving. We may have to come up with a new description for this type of difficulty.
The Ninja Gaiden games have recaptured much of the original series' difficulty level and while it is rumored that the next one will be more approachable (read: easier), I'm sure there will be a Nintendo Hard difficulty setting for us old geezers to be able to crank the game to eleven.
And if that's not enough, there's nothing keeping you from downloading Earthworm Jim on the PSN or XBL and Nintendo's Virtual Console on the Wii is chock full of titles like Ghosts 'N Goblins that helped define Nintendo Hard for an entire generation.
What games gave you fits back in the day? Any titles that deserve the badge of honor that is Nintendo Hard? We'd love to hear from you, so add to the discussion by sounding off in the comments section below!