Capcom Announces Dead Rising 2: Off the Record and Dragon's Dogma
Another full release of Dead Rising 2 will retell the same story with players embodying Frank West rather than Chuck Greene.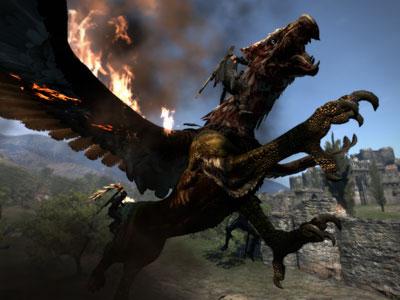 Aside from the recent Super Street Fighter IV Arcade Edition news revealed at this year's Captivate, Capcom's yearly media event, the company also revealed two new titles: Dead Rising 2: Off the Record and Dragon's Dogma. Dead Rising 2: Off the Record is slated for a fall release, while Dragon's Dogma won't see release until 2012.
Dead Rising 2: Off the Record is the fourth Dead Rising 2 title, but clearly the oddest of the bunch. The game seeks to retell the story of the Fortune City outbreak through the eyes of Dead Rising protagonist, Frank West. The alternate storyline will feature new missions, enemies, and combo-weapons, as well as a new section of the city.
The game is said to feature unspecified upgrades to the save system and the co-op experience, but Capcom is not specific about what those are. PlayStation 3, Xbox 360, and PC owners will be able to grab the game this fall.
Dragon's Dogma is an all new series for both the PlayStation 3 and Xbox 360. Built on the MT Framework engine used for Resident Evil 5 and Lost Planet 3, Dragon's Dogma is said to deliver a vast and detailed world in which players will both combat enemies and explore. With a party of three, players will set out to defeat a mysterious dragon. Along the way, players will have to execute tactical teamwork to succeed.
The Captivate event also featured playable versions of Resident Evil: Operation Raccoon City, Street Fighter X Tekken, Asura's Wrath, and Resident Evil: The Mercenaries 3D's co-op mode.