Mario and Link Shatter Records on Black Friday
Apparently Mario and Zelda games sell really, really well.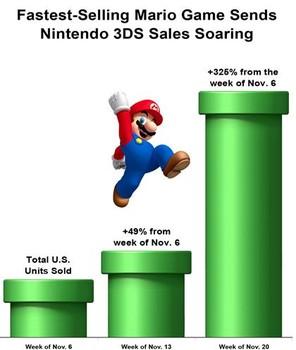 Nintendo hasn't been doing so well in the sales department lately. Wii sales are stagnant, the 3DS got off to a rough start and new titles have been few and far between for both systems. But even with all that considered, when things look bleak for Nintendo they can always count on Link and Mario to do some heavy lifting and they did just that this past "Black Friday" setting records along the way.
According to Nintendo both Super Mario 3D Land and Legend of Zelda: Skyward Sword set company records over the holiday weekend. Mario's first outing on the 3DS has proved to be a strong one with more than 500,000 units sold since launch, making it the fastest selling portable Mario game of all time. Not to be outdone by the portly plumber, Link's first Wii-centric title has sold approximately 535,000 copies since its U.S. launch, which makes it the fastest selling Zelda title. Ever.
A general rule in the video game industry is that when software sells well, so does hardware. This was proved true with Wii and 3DS sales up considerably over the weekend. The Wii had its best Black Friday sales ever with 500,000 units sold on that day alone and the 3DS saw a 325% increase in sales since November 6th.
While the Wii may be making its last hurrah with no more major releases scheduled for the foreseeable future, the future is starting to look brighter for the 3DS which still has the December 4th release of Mario Kart 7 to look forward to – and a possible further driving of sales.
"We know that Black Friday and that entire week is a key selling week," said Reggie Fils-Aime, President of Nintendo of America. "And it is important for products like ours to have a jump in momentum, and we're fortunate to see that. For us, it really was driven by unique and powerful software and what gives us confidence is that we still have more software to launch in the balance of this holiday period."