Kinect Rush Dated for March 20, 2012
The Pixar game for the Kinect can be had this spring.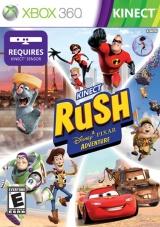 Disney-Pixar today set a release date for Kinect Rush: A Disney-Pixar Adventure. The game will be available on March 20, 2012 and will retail for $50. The new title for the Xbox 360's Kinect add-on will feature characters from Pixar's animated films such as Ratatouille, Cars and Toy Story.
Kinect Rush will team up players with these popular Pixar characters in order to solve challenges. This title will follow up other family-friendly games for the Kinect, such as Disneyland Adventures, and Sesame Street: Once Upon a Monster.