Resident Evil 6 to Feature 6 Player Co-op?
Possible expanded co-op and multiplayer options on the horizon.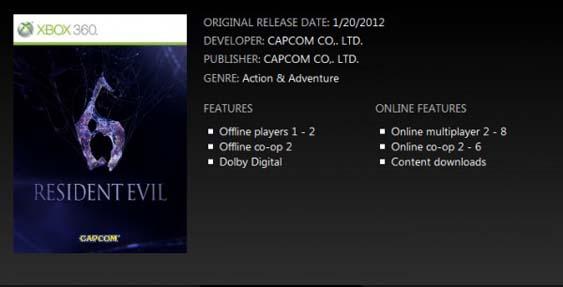 An image surfaced on Xbox.com over the weekend that exposed a few interesting details about Resident Evil 6, including a six player co-op option as well as eight player multiplayer.
Originally spotted over on Kotaku, apparently the game hosts two player local co-op, along with the new 6 player online co-op option. The cooperative experience in Resident Evil 5 was one of the game's strong points, so an addition like this isn't too far-fetched.
Unfortunately, this image has been removed from Xbox.com and their game information on Resident Evil 6 no longer shares multiplayer information. This adds to the speculation about its multiplayer features.
If anything, we will likely hear more about the multiplayer component of Resident Evil 6 in the coming months leading up to its November 20th release.