Obsidian Entertainment Employees Laid Off Due to Metacritic Score
South Park RPG and unnamed next gen title affected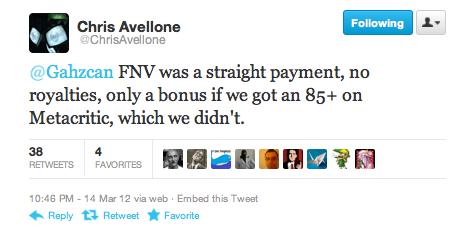 Joystiq has reported that Obsidian Entertainment was struck by layoffs this week, affecting staff across the board. As a result, staff currently developing the South Park RPG were let go, and an unnamed next gen project was canceled.
While it's never good to hear about layoffs affecting developers, the reason for these layoffs may cause concern for some.
According to a tweeted response from Chris Avellone, a developer for Obsidian, and an article on Nowgamer, Obsidian lost out on a bonus from Bethesda because they failed to hit a Metracritic score of 85. Metracritic ratings for the Xbox 360 version and the PC version both scored an 84 on the reviews website, landing just under the required score, causing the lack of funds leading to the layoffs. This comes in spite of the game selling almost 6 million copies according to VGChartz, as Nowgamer also pointed out. No other bonus was available to the development team, and no royalties were paid.
Bethesda has not yet responded to these observations.