Gearbox Unveils Borderlands 2 Special Editions, Gameplay Tweaks
More info on the highly anticipated sequel.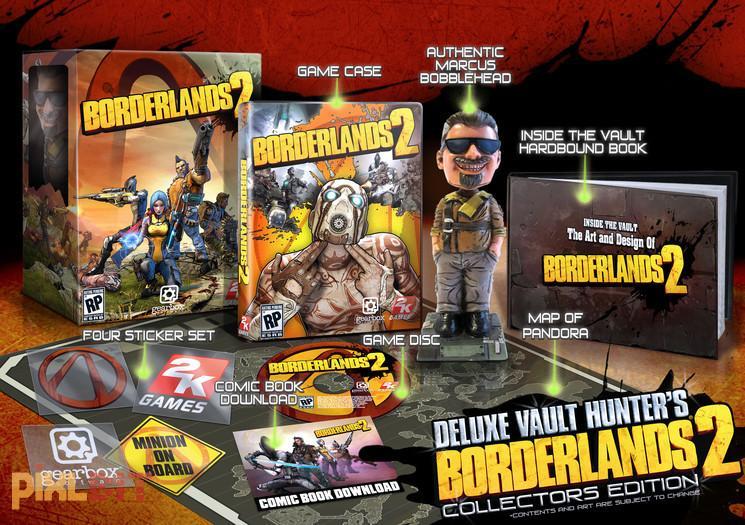 Gearbox seems really excited about Borderlands 2 and wants you to be as well. In a recent post on the PlayStation Blog, producer Matt Charles showed off the special editions of Borderlands 2 and answered fan questions, revealing some of the features, changes, and improvements the new game will have.
There will be two special editions of Borderlands 2: the Deluxe Vault Hunter's Collector's Edition and the Ultimate Loot Chest Limited Edition. The Collector's Edition will retail for $100 and will include a copy of the game, a Marcus Kincaid bobblehead, an art book titled "Inside the Vault: The Art & Design of Borderlands 2," a sticker set, a map of Pandora, a code to download a digital comic book, and bonus DLC.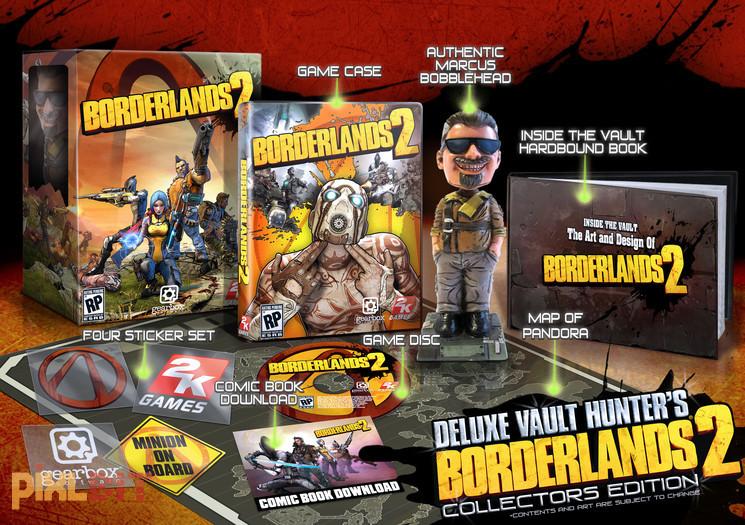 The Limited Edition, priced at $150, will include all of the above items plus a steel book case, Creatures of Pandora wide-format ID chart, lithograph postcard set, field notes from Sir Hammerlock, cloth map of Pandora, a collectible scaled replica of the red loot chests in the game and a numbered certificate of authenticity. Both special editions will be available for the PlayStation 3, Xbox 360 and PC.
Those who pre-order the game will become members of the Borderlands 2 Premiere Club, which includes a collection of weapons called the Gearbox Gun Pack, a Golden Key used to unlock a rare item, the Vault Hunter's Relic which increases gear found, and a new character class, the Mechromancer, which will be available for free to Premiere Club members once development on the class is complete.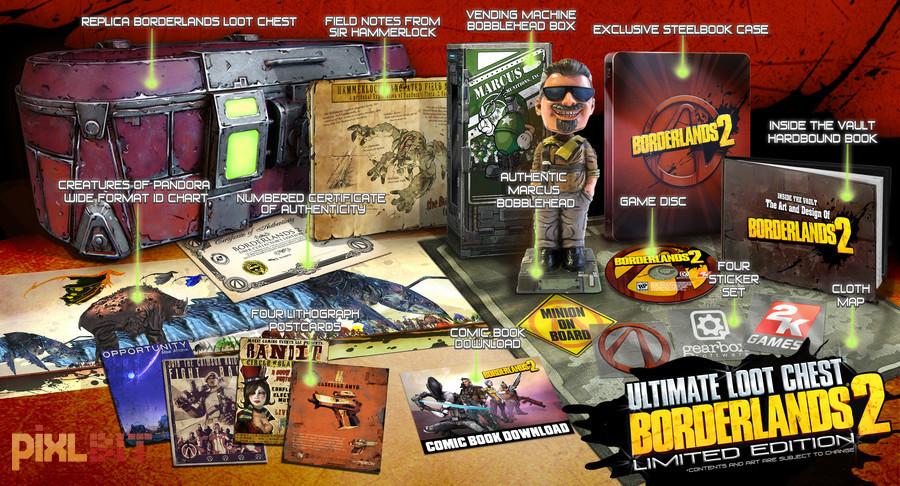 Charles revealed in the Q&A some notable changes in the gameplay. Carryable med packs have been replaced with relics and shields and med packs will now drop in the middle of battle to help. A new vehicle, the Techincal, will be introduced and can hold four players. It'll have several weapon configurations to choose from, with some suiting certain situations better than others.
A new inventory system will be introduced and all of the interfaces have been upgraded. Weapons will have more descriptive information and more data will be shown when comparing. Character customization has also been improved with hundreds of decals, colors, headgear and hairstyles to choose from. The skills tree is also said to be more expansive.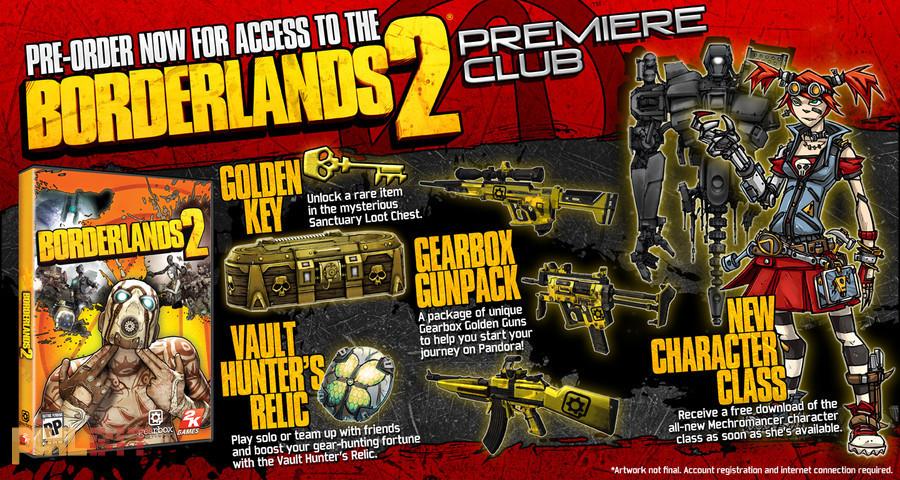 New enemy families will be introduced and with new enviroments like grasslands, tundras and tech environments, the combat is expected to be more varied. Money and loot will automatically be picked up if dropped by enemies now. The level cap is set to level 50. Also, if you have a save file of the first game on your console, you'll unlock a "a unique swappable head and skin for every class"
The story in Borderlands 2 will be a mix of cutscenes and in-game moments as well as audio logs like in the first game. You'll also have the option of running off as NPCs talk to you and have it said to you as an ECHO transmission instead. Frame rate and voice chat are expected to be improved from the original.
Borderlands 2 looks on track to be released on September 18, 2012 for the PlayStation 3, Xbox 360 and PC and it promises to improve on the original in every way.