Ron Gilbert's Mystery Title is The Cave
A talking cave? Really? That's awesome!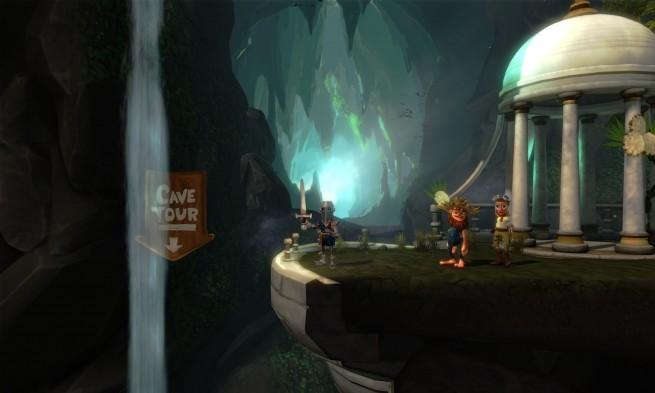 With the release of a "mystery" screenshot the other day, Sega essentially let the cat out of the bag and practically told the world that they would be publishing Ron Gilbert's pet project being developed at Double Fine. Today Sega and Double Fine came straight out and confirmed that Ron Gilbert's secret project, titled The Cave, will be published by Sega in early 2013.
The Cave is set to be side-scrolling adventure game, in which the player controls some combination of the characters that Gilbert had been releasing artwork of on his personal blog. These adventurous and cartoony characters include a scientist, a monk, a knight, a time traveler, a hillbilly and a set of creepy twins that look like they'd be right at home in a Tim Burton feature. None of these eclectic characters have a voice, but that's not to say you won't hear anyone chattering in the game as the cave itself is said to be quite loquacious.
The player will have to choose three characters to play the game with. Each character posses unique abilities that can be used to overcome a variety of puzzles and obstacles. Your team selection is made even more interesting when you add in that certain rooms and areas are only accessible if certain characters are available in your party – a ploy that is sure to ratchet up the replayability of this title. For example, the knight is necessary in order to enter the cave's subterranean, medieval castle.
More details are expected to come soon, but we can confirm that The Cave will be available on the Xbox Live Arcade, PlayStation Network and PC platforms in early 2013.