Pokemon X and Y Officially Landing Worldwide this October
It's okay to smile. We won't judge you here.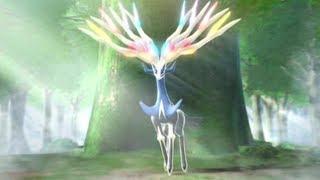 Nintendo made many an inner child quite happy this morning by announcing that the main series' first official foray into 3D will arrive this October in the form of Pokemon X and Pokemon Y.
The announcement was made early this morning via a special edition of the company's Nintendo Direct series called Pokemon Direct. In addition to announcing the title, it was revealed that the October 2013 release date represents a worldwide release, possibly spelling the end of historically long localization periods that have plagued the series since its inception.
New starter Pokemon have also been shown as part of the first official trailer. These include a squirrelish looking grass-type called Chespin, a fox inspired fire-type called Fennekin, and bearded frog water-type called Froakie. Two legendary Pokemon were also shown at the end of the trailer; one being a red bird and the other being a blue stag looking creature. It's not known which of these will be associated with each game, but we do know that Pokemon X is blue while Pokemon Y is red.
So how excited are you for this news? Let us know what you think in the comments section below, and stay tuned to PixlBit for more Pokemon news in the future.