Okabu Preview
Sony continues its month long celebration of exclusives with this fanciful puzzle-adventure game.
HandCircus, best known for their puzzle-adventure video game Rolando on iOS, is soon set to release a brand new IP exclusively for the PSN in the form of Okabu.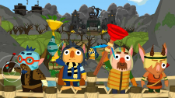 Like its cousin Rolando, Okabu is a puzzle-adventure game that takes place in a fanciful toy-box styled environment. The player will be charged with guiding Captain Monkfish, Picolo, Roki and Kat and Toto as they surf upon the backs of cloud-whale brothers Kumulo and Nimbe on an epic journey to save the planet from rampant pollution caused by the Doza clan.
Each of the characters in the game has a set of unique characteristics and abilities that will help them to solve the many puzzles and deal with the many dangers they will face in this whimsical world.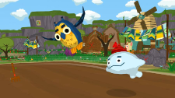 Earlier this year Sony invested $20 million in the development of exclusive titles for the PSN and we're starting to see the fruits of that effort in the company's "Only On PSN" program that launched this month.
Okabu will be released exclusively on the PSN on October 18, 2011.