Skullgirls Preview
New Challenger Approaching
Skullgirls is an upcoming 2D sprite-based fighter that is the first project for developers Reverge Labs, who are comprised of industry veterans. According to Reverage Labs, Skullgirls was created to "bring back the sheer inventive fun of classic combo-crazy 2D fighters without the abusable gameplay issues that they are also remembered for."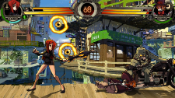 Similar to Marvel vs. Capcom, Skullgirls will allow players to select up to three fighters per battle and features gameplay elements such assists, tags, special moves, "hyper" moves, launchers, and more. In the event that you only wish to select one or two characters, the health and damage will be scaled appropriately in order to be as balanced as possible. Unfortunately, if you do choose to work with a limited roster, you will lose critical abilities like assists.
While it doesn't change up the formula in that regard, it does implement some technology that is brand new to games like this. There are built in systems to help prevent infinites and protect high-low mix-ups that will surely help the game be fleshed out in a competitive scene. It also features an online mode that uses GGPO, the online infrastructure implemented in Street Fighter III: Third Strike Online Edition. This is a first for a brand new title, and one of the more exciting features of the game.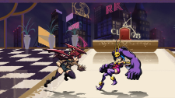 The roster is comprised of stylized, female characters that were designed by the man behind the unique art style of Scott Pilgrim, Alex Ahad. The characters are woven together by a simple plot in which they're fighting for a mysterious item known as the Skull Heart. This item grants wishes to those who are pure of heart, and turns those with impure intentions into monstrous creatures known as Skullgirls.
In total, there are eight characters, each with their own distinct personality and fighting style. These characters include:

Filia - A school girl with amnesia that fights with a parasite that resides on her head.
Cerebella - An orphaned circus performer who possess a living weapon hat.
Peacock - A mutilated war-orphan who was rebuilt with high-tech weaponry.
Parasoul - The princess of Canopy Kingdom, which is the setting of the game.
Ms. Fortune - A sole survivor of a gang known as the Fishbone Gang who swallowed a life gem that makes her immortal.
Painwheel - A character that was kidnapped by Valentine, and experimented on with Parasites and Skullgirl blood.
Valentine - The last surviving member of The Last Hope, which is a group of Anti-Skullgirl operatives.
Double - A mysterious nun that copies other fighting styles.
There is much to look forward to with Skullgirls, whether it stems from its interesting art style, or its seemingly clever combination of features from past fighting games. Hopefully it delivers on all fronts when it releases for XBLA on April 11 at 1200 Microsoft Points ($15) and PSN a day earlier on April 10.