Castlevania: Lords of Shadow - Mirror of Fate Preview
Traverse the Belmont bloodline and battle Dracula himself.
2D Castlevania games have been on a short hiatus since the release of Order of Ecclesia on the Nintendo DS in 2008. Four years later and we're finally seeing a new title, this one for the Nintendo 3DS. Development has shifted hands to Mercury Stream, the same team behind Castlevania: Lords of Shadow on the Xbox 360 and PlayStation 3. Fittingly, the brand new title, Castlevania: Lords of Shadow – Mirror of Fate is set 25 years after the events of the original game, telling the tale of Gabriel's descendants.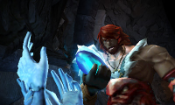 As you may know if you had the opportunity to play the expansion packs Reverie and Resurrection for Lords of Shadow, Gabriel Belmont becomes Dracula, which sets the stage for the latest adventure. Trevor, Gabriel's son, is on a quest to Dracula's castle to avenge the death of his mother and fight for the Brotherhood of Light, which Dracula has declared war against.
Despite the game kicking off with Trevor, you will progress through the Belmont bloodline, controlling multiple characters, including both Simon and Alucard, as well as one other mystery character. Each Belmont through the different eras has a unique set of abilities and skills, some of which can be passed on to future descendants.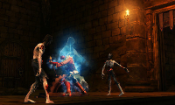 Players can expect the typical exploration-based gameplay the 2D games are known for. With the inclusion of a whip, swinging across chasms is now a breeze. A double jump provides some further range for the various Belmonts and a new note taking ability on the map will allow quick traversal back to relevant locations.
Combat has also seen an upgrade, allowing players to utilize a variety of magic abilities, combos, and weapons. Players can use directed attacks intended for one enemy or wide area attacks to hit all enemies in a given range. The area-based attacks will deal less damage to counteract the greater range.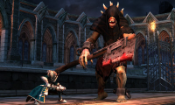 In addition to a healthy stable of melee attacks, players will be able to block and counter, utilize dark magic to power up all attacks, and engage a secondary weapon to hit foes from a distance. One known secondary weapon, the boomerang, can be charged and fired for a greater impact, though charging will render you vulnerable to attacks. Because secondary weapons deplete, players will have to be judicious with their usage.
The mass boss fights we're come to expect from the series will return; however, many of these will occur in 3D, rather than matching the 2D gameplay of the rest of the experience. Similarly, the actual graphical presentation is in full 3D, taking use of the capabilities of the 3DS.
The action adventure is currently scheduled for a fall release and an anticipated ESRB rating of T for Teen.