Castlevania: Lords of Shadow - Mirror of Fate Review
RECOMMENDATION:

A worthy purchase for those who enjoyed Lords of Shadow or are looking for a new type of 2D Castlevania experience. Everyone else should rent or wait on hefty price drops before checking out the latest in this series.

As a game critic, it can be extremely difficult to set your expectations aside when playing a game for review. At this point in my "career," I've become quite adept at seeing a game for what it's worth and reviewing it without allowing my expectations to impact my assessment. I found this extremely tough to do with Castlevania: Lords of Shadow – Mirror of Fate. I, like many others, expected something similar to a post-Symphony of the Night 2D Castlevania, but Mirror of Fate only resembles these titles on the surface. Digging deeper, it's clear that Mercurysteam has merely converted the Lords of Shadow experience into 2D, placing the larger focus on combat, with only a minor emphasis on puzzles and exploration.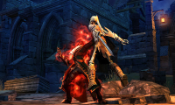 In and of itself, this is not a horrible thing. The combat in Lords of Shadow was quite smooth and the same holds true in Mirror of Fate. However, I found it quite easy to develop a mastery of the system and formulate tactics that could defeat each unique enemy in the small bestiary with little fear of taking damage. With very few puzzles and very little exploration, combat grows tiring very quickly when you are no longer being challenged by the featured enemy encounters.
Even if your combat performance is middling and your defensive maneuvers weak, Mirror of Fate features some aggressive checkpointing that'll help pull you through. Entering any given room will spark an auto-save and boss fights have midway checkpoints, coinciding with the start of each battle phase. Perhaps after coming off of a long quest through Dark Souls, I'm accustomed to a much higher level of challenge than what's featured here, but the heavy use of checkpoints made it so that I rarely had to try to succeed. With such a strong emphasis on combat, it feels as if the consequences around death should've been more pronounced.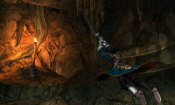 The other focus of the game is the retelling of the story of Simon Belmont and the Belmont family following the events of the original Lords of Shadow. The actual tale isn't too bad, especially as an alternate history version of the franchise story, but it's hardly enough to prop up the experience. The story bits come too few and far between, which keeps it from being a huge motivation to push onward. However, those that were heavily vested in the plot of Lords of Shadow will likely be excited to see how it progresses here, particularly with its numerous throwbacks to past characters in the series.
The concept of puzzles and exploration are similar throwbacks here. It's something they've taken and brushed off from past games and implemented here, without any of the complication or nuance that it featured in prior adventures. Starting with Symphony of the Night, players have had a clear picture of exactly where they are inside the grander scheme of the whole castle, along with a very definitive picture of what places have yet to be explored.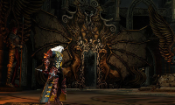 Mirror of Fate has no such construct. Each room in and of itself is a space to explore. Thanks to the near-linear progression of the game, any rooms you visit that feature locked doors or blocked areas are eventually revisited by virtue of constant forward progression. This takes some of the wonder and excitement out of crawling the castle and instead turns the experience into something of a one week tour of a foreign country that only stops on occasion to allow you to really take in your surroundings.
It's also worth noting that the loading time between rooms is atrociously high, making progression from room to room painful and slow. Each and every room almost becomes its own unique little segment to explore and solve puzzles in, rather than the expansive and sprawling castles you've encountered in the past.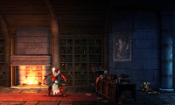 Depending on what you're looking for out of your 2D Castlevania, this could either be a huge letdown or a welcomed improvement for the flow of the game. I fall in the former group – while the new focus on action isn't a bad thing, I don't feel it should've come at the expense of the puzzles and exploration.
This is only exacerbated by the problematic controls, which feel both stiff and clunky when you're doing anything outside of combat. With the D-Pad tied up for activating the newly added latent magic abilities, the less ideal circle pad must be used for navigation, creating at least part of the problem.
While I've been tough on Castlevania: Lords of Shadow – Mirror of Fate, it's not an awful game by any stretch. For me it was a mostly middling experience that didn't offer much of what I want out of a Castlevania game, which is similar to how I felt of its predecessor. If you're ready for a change from the typical post-Symphony of the Night formula in your 2D Castlevania games, Mirror of Fate might just be exactly what you were looking for.