Donkey Kong Country Returns Hands On Preview
I can't believe it, but Donkey Kong Country is back ... and from Retro Studios at that!
After Nintendo announced that Retro Studios was reviving the Donkey Kong Country series during their press conference today, there was no question where I was headed to first.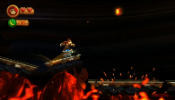 I'm happy to say that Retro Studios' implementation of the series does a great job capturing the spirit of the original titles. The demo features a total of four levels, complete with co-operative play. Unlike the old games, the co-operative play found here actually allows two players to concurrently play the game, activating switches and finding secrets.
I was able to play with my brother Phil, who was a frequent partner in past games, and together we seemed to have great chemistry, easily defeating enemies and collecting all of the various familiar collectibles strewn about the stage. Bananas, K-O-N-G and even banana coins could be found, if you were looking for them. The game also seems to feature a new collectible, puzzle pieces, but Phil and I weren't able to locate any while playing the demo.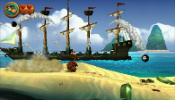 Control was fairly smooth, taking use of both the Wii Remote and Nunchuk to pull off the small moveset that has been traditionally featured in the 2D sidescroller. The A button on the Wii Remote handled a jump, while a quick shake was employed for a roll. Both the Nunchuk and Wii Remote moved in a drumming motion would trigger a ground pound.
Players can link up both Donkey and Diddy, and pull off some of the moves found in earlier titles, as well as some new ones. Diddy is able to use his jetpack now in order to give some temporary levitation. The peanut gun is also available in specific locations for the second player controlling Diddy.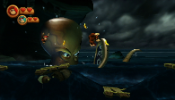 One of the levels in the demo featured a background plane that could be reached via barrel, giving the game a layered 2D approach complete with parallax scrolling.
The boss battle and boss character design had a distinct Jungle Beat vibe which was great to see, given that Jungle Beat was such a solid entry into the DK series.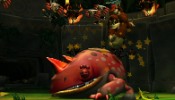 I was able to see others play a mine cart level, which is another staple of the series I'm glad to see return. When I have some time to check out play for myself, I'll add some impressions to this article.
Not much else is known about the game at this point, but there is some definite promise. I wasn't able to check out any more than two of the levels in my fairly brief demo, but I'm looking forward to getting back to the Nintendo booth for another look at the levels I missed.